Cozy. Isn't that what everyone wants their home to feel like? Like slipping on a pair of your favorite slippers or falling into a bed made with freshly washed sheets. The smell of coffee brewing or a yummy candle burning. Cozy is the feeling of being home, of being in your own private sanctuary from the rest of the world where everything is safe and warm and you can be totally in your element!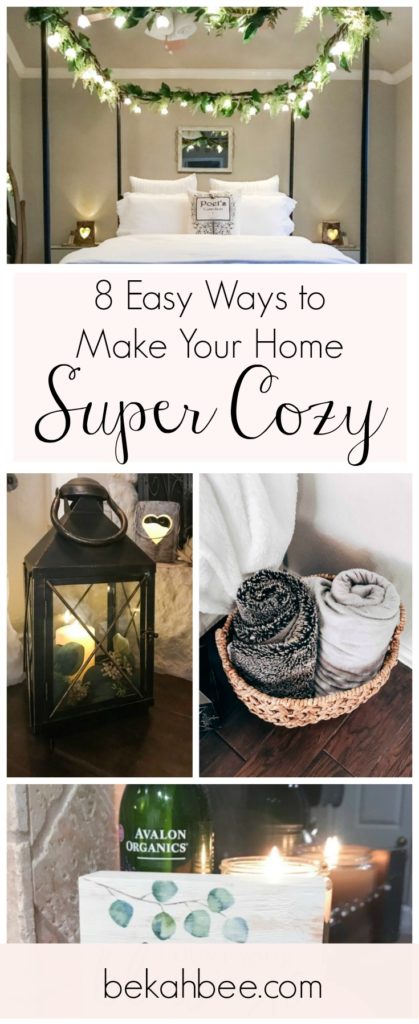 This post contains some affiliate links. For more information, see my full disclosures here.
My decorating style consists of a bunch of different influences, but the main word that always sums it up is Cozy. Cozy is my goal! My husband once called me "The Queen of The Coze" and it was the greatest compliment of my life! 🙂 I was so happy that the feeling I am going for comes across how I intend it to!
I tend to use a lot of the same types of elements all over my house, as my tried and true staples for making every room feel warm and cozy. They are pretty much fool-proof in making a space feel welcoming and comfy. So without further ado, I present my list of 8 things that make your home feel super cozy!
1.) Fairy Lights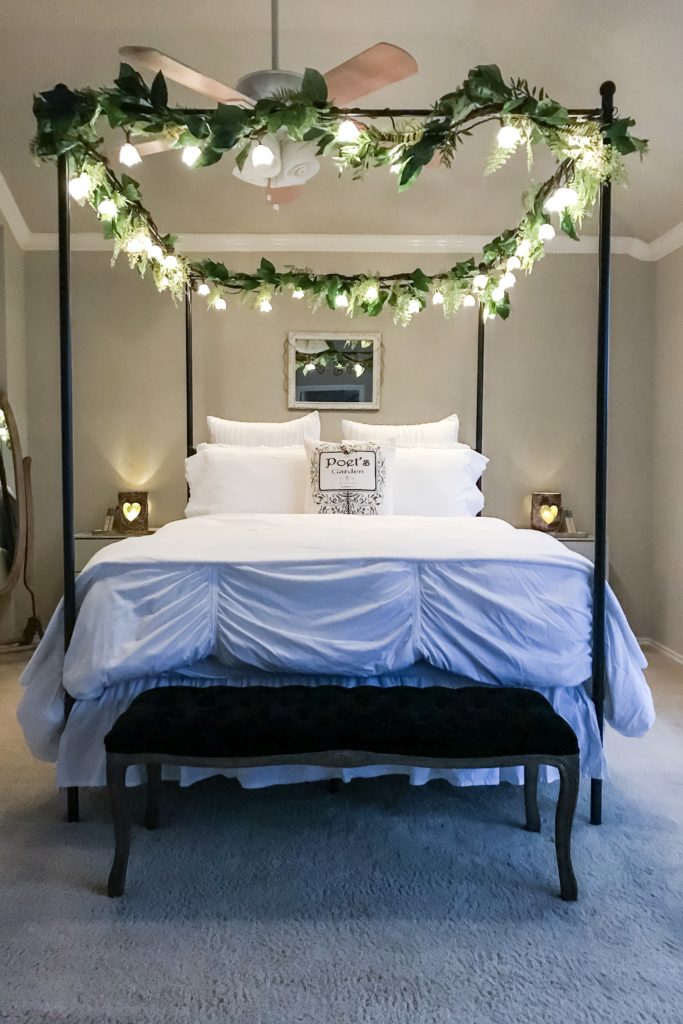 If I could only use one decor element for the rest of my life, I would always choose fairy lights! You could say they are kind of my signature decor item. I LOVE what they do for the whole feeling of any room, and I am gradually putting them in every.single.room of my house! Ever since I was a kid, I loved to create DIY canopies above my bed with fairy lights intertwined in them. I feel like a lot of people think that fairy lights are acceptable Christmas decor or will decorate kids rooms with them.
Yet they feel like they are too "kiddy" for master bedrooms or the rest of the home the rest of the year. Well, to each their own but if some little white lights can make your whole life more magical…then why not embrace them?? Life is too short to not enjoy fairy lights if you wanna! 😉 I love these pretty flower ones from Target.
2.) Candles & Flameless Candles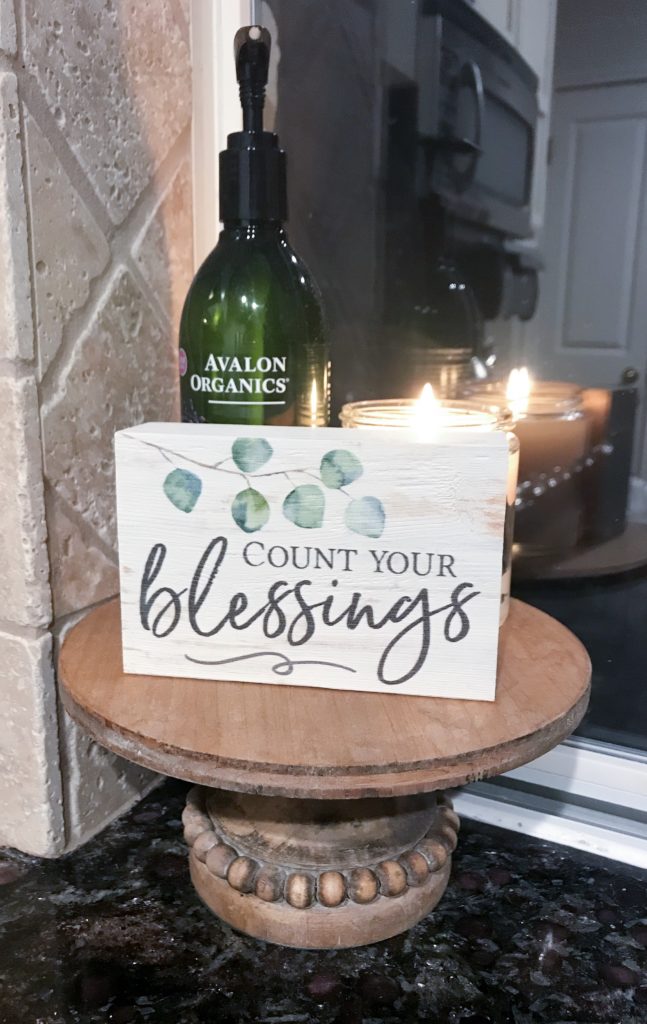 You will notice a lot of my list has to do with lighting and ambiance. Lighting is one of the best ways to make any space feel more magical and to create a cozy vibe. I love candles for the flickering lights and scent they provide. My favorite year-round scent from Bath & Body Works is Vanilla Bean for a warm and cozy feeling. If I know I will be chilling in a room for a while, then I will light a scented candle and enjoy it. The rest of the time, my secret is flameless candles!
I love the safety of flameless candles with pets. I love being able to have that flickering vibe going on all over the house without any risk of fire! The best, best, BEST ones ever are Luminara candles. They have the most realistic flickering wick and a glow that looks the most real. I have invested in a lot of these gradually over time. I love that I only ever have to change the batteries to keep them going strong!
3.) Lanterns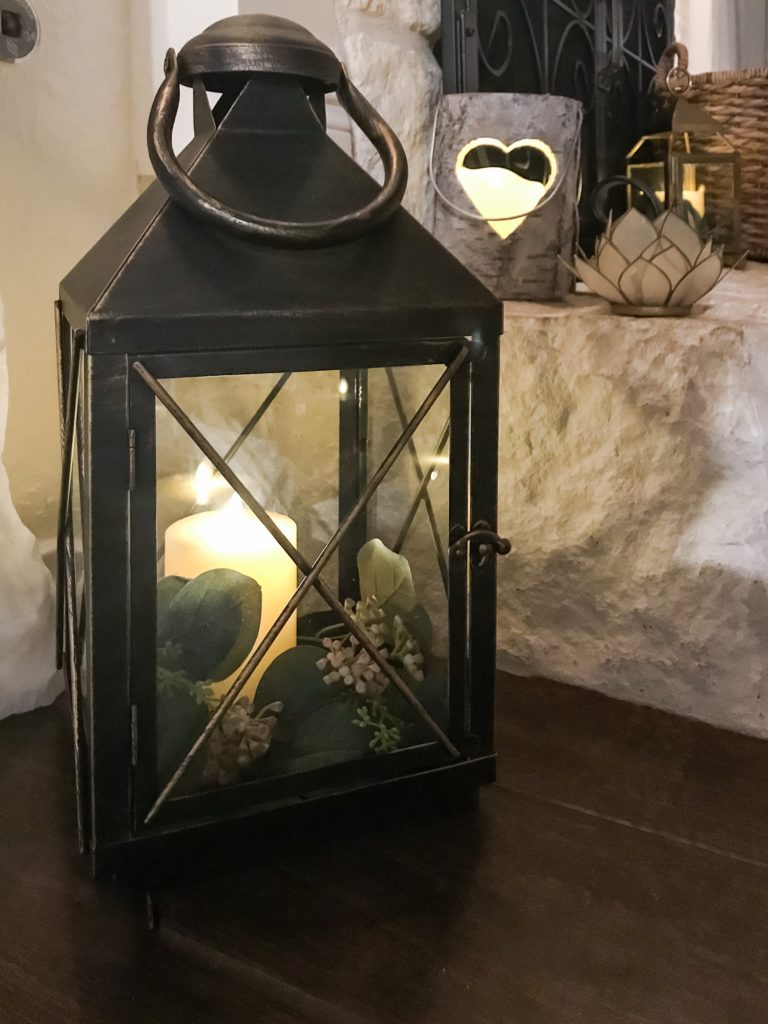 Pretty iron lanterns are a really beautiful way to house those flameless candles I was raving so much about! My favorite ones ever are these black ones from Pier 1 and some birch ones I found at Joann Crafts. I do try to vary different looks and styles for variety, but these are my fave! Another fun element to add to the lanterns are faux flowers and greenery, and I love switching them up seasonally. I like to use snowflakes and faux pine branches in the winter. Pumpkins and pinecones in the fall. And eucalyptus and flowers the rest of the year!
4.) Snuggly blankets & throws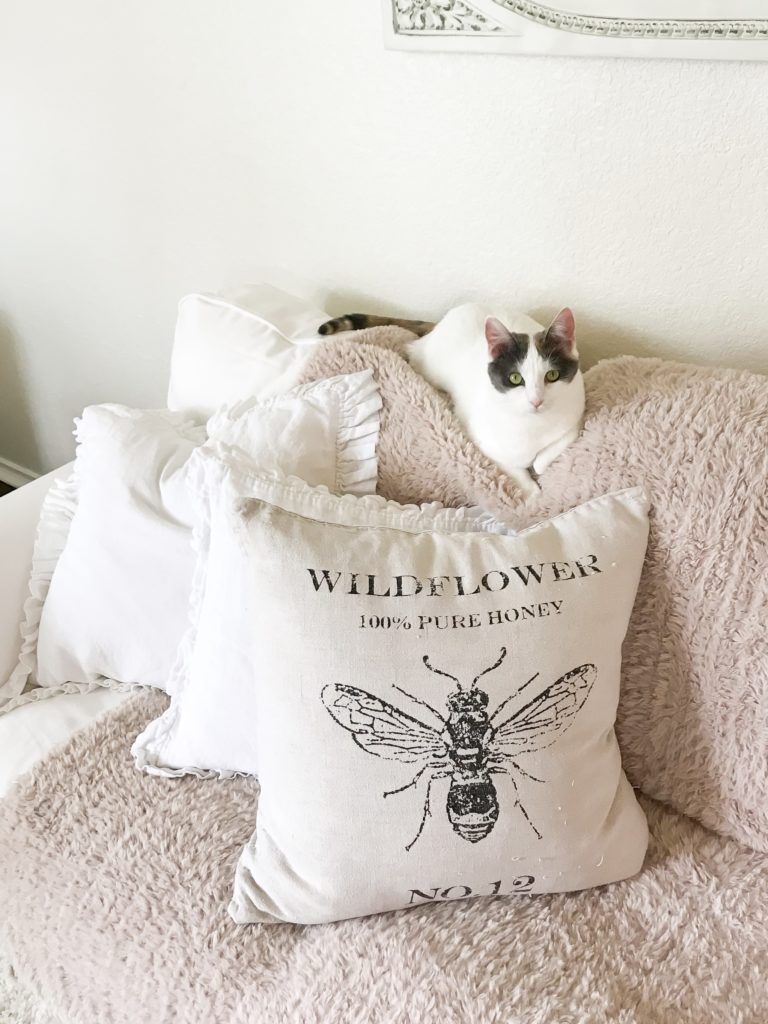 When you are talking about creating a cozy space, you MUST mention snuggly blankets…OBVS. Here my sweet Miss Esme Fleur is modeling on this softy-softest faux fur blanket from Pottery Barn. I may or may not have a bit of a blanket hoarding problem. I've never met a soft blanket or throw that I didn't feel was completely necessary to own! I know lots of people like to put away the faux fur blankets during the spring and summer. Not us. We like to cuddle under them all year long. Also, our cats are absolutely in love with all things soft and cuddly. So we keep them out. 🙂 Pottery Barn always has the best cozy blankets ever, almost every one in our house is from there!
5.) Baskets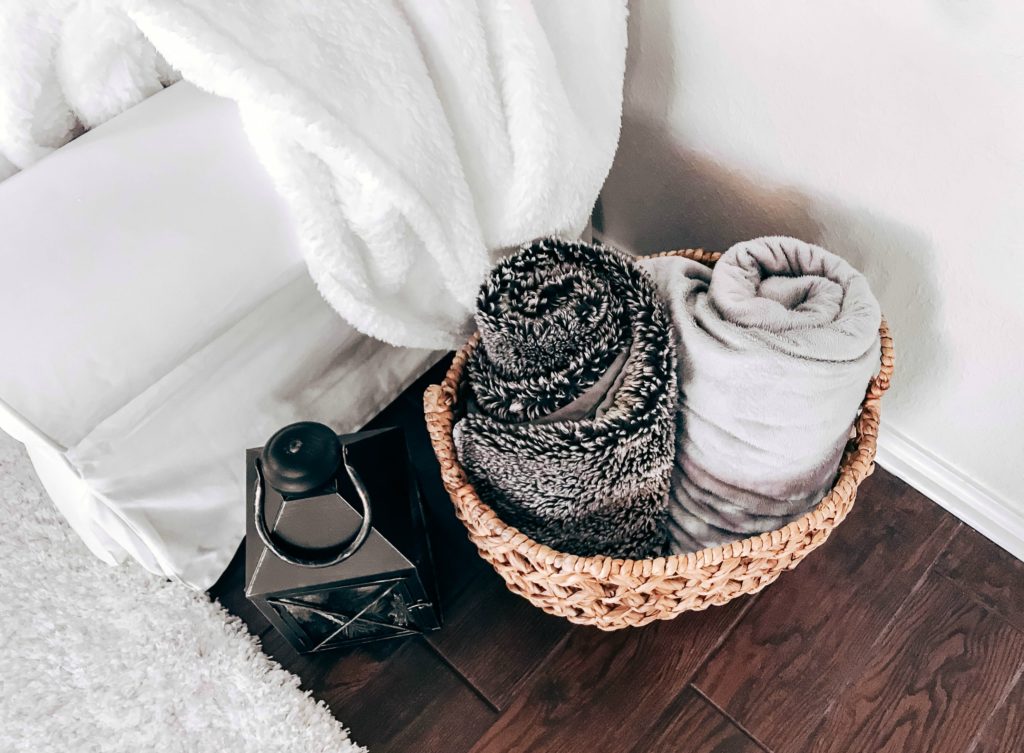 Speaking of blankets. When you want to have a cozy throw in every room, a great way to store them is in baskets! Seagrass baskets are my go-to and I love the warmth they bring to the color palette in each room. It instantly brightens it up. My decor tends to be in neutral colors so baskets are a perfect touch of that warmer tone for balance. This basket from Target is my fave. Homegoods is also amazing for baskets. I love storing magazines or other collections inside baskets as well. They are the perfect way to corral items in a neat and tidy way!
6.) Pillows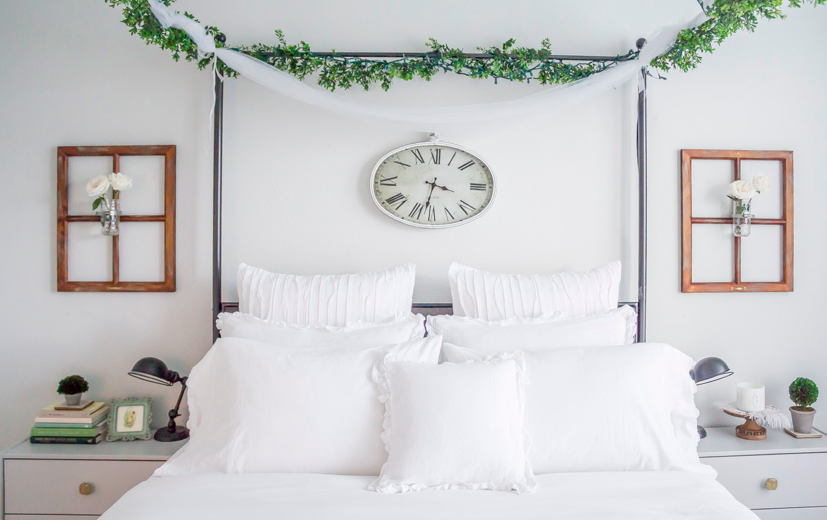 Piles and piles of pillows! I know some people hate the hassle of throw pillows, but I love having tons of them. In my mind, they are totally essential for that fluffy and cozy feeling, whether on your bed or the couch! It always makes me think of that scene with Ben Stiller from Along Came Polly. You know, where he goes crazy and starts stabbing all the decorative pillows on their bed? Because they drove him crazy! Haha! Yes, it takes a few minutes to take them off the bed each night. However, I just love how layered and soft they look. I did finally cave in our sunroom and stopped putting pillows on our wingback chairs so it is easier to sit down. But everywhere else: pillows, my friends.
7.) Curtains
Our sunroom is the perfect example of what a huge visual impact window coverings can have on the aesthetic of the whole room. I can't believe how naked the windows seem now in older pictures. Even though I wanted to keep it very light and airy with these inexpensive curtain sheers from Target, it still amps up the cozy factor in here times ten! Kind of like how hair softens and frames a face, I feel like curtains soften a window.
8.) Plush Area Rugs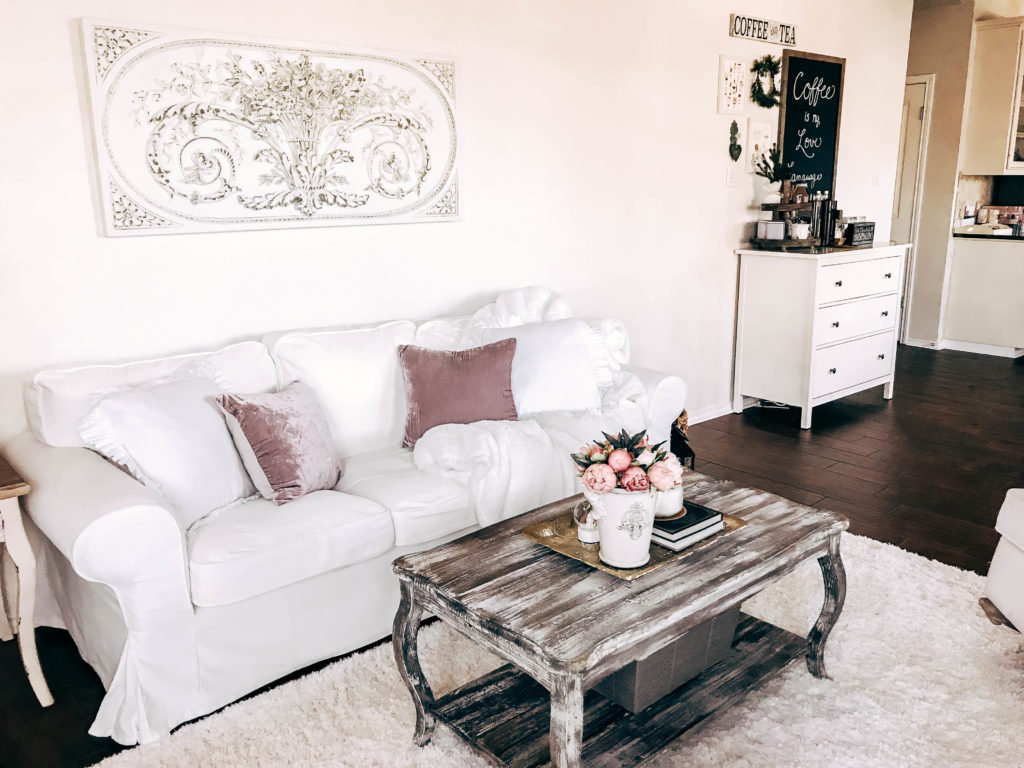 Even though we LOVE our wood look ceramic tile throughout our downstairs, we feel like it is super essential to pull each room together with a plush area rug. Without them, it feels a bit cold and sterile and you really miss having something soft to sink your feet into when you sit and relax. It made such a huge difference here in our sunroom when we got this shag area rug from Target. I will say rugs have been a bit hit or miss when it comes to quality and we have had to return a couple, so now we have a few favorites we know we actually like. Our cats adore sitting in the softness of our rugs.
9.) Bonus: CATS!!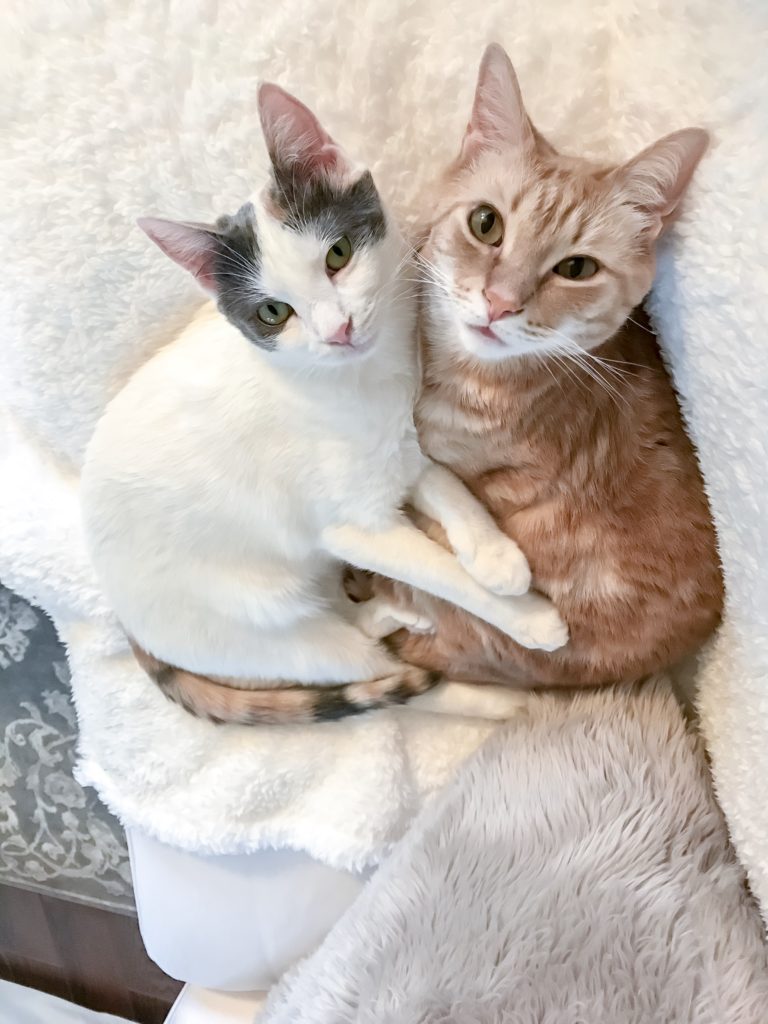 Of course, I may be just a bit biased on this last favorite cozy item, but I promise you there is nothing cozier than a sweet, fluffy and furry feline friend! I mean, they are soft and cuddly and cute to look at! What's better than that to make a home super cozy? 😉
Well, that's it my friends! I hope you enjoyed my list of all my very favorite ways to make any home super cozy, comfy and inviting. Do you have any fave cozy things I may not have mentioned? I would love to hear your thoughts! 🙂