Hi friends! Welcome to my home which is all cozy and decorated for fall! Grab a warm drink and I'd love to have you over for my Fall Home Tour!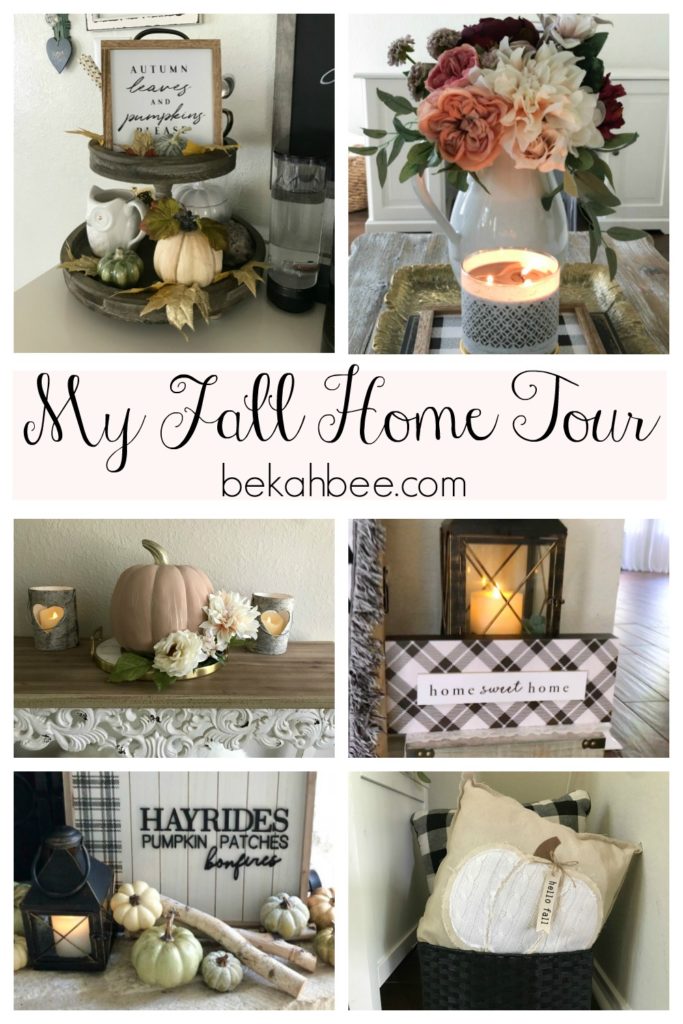 This year I was inspired by some of the non-traditional colors that have been popping up everywhere. I love how seasonal decor can be so customized to your personal preference these days! You will see I have a lot of pink (yes pink!) pumpkins and some pops of deep red plum on a backdrop of some black and white plaid and buffalo check. And then, of course, my everyday neutrals I like to have around the house!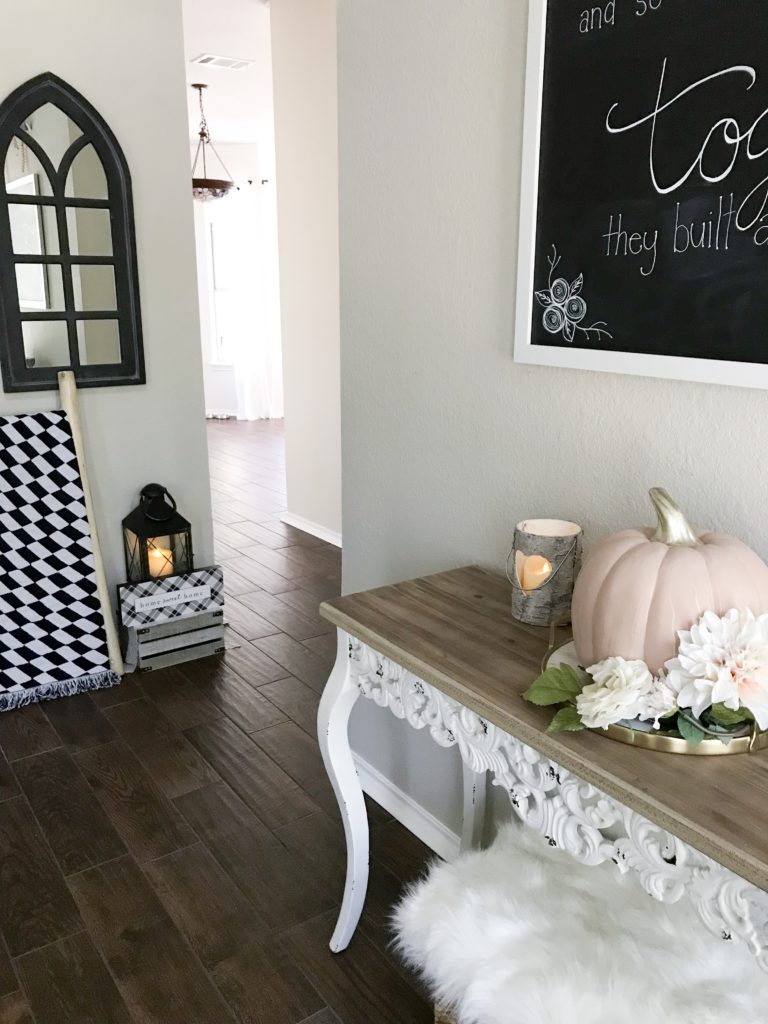 The Entryway
Over in the entry, I have my "blooming pumpkin" on the little table, and birch lanterns with flameless candles on each side. It's really just a super easy thing to do where you surround a pumpkin with some faux flowers and this year I went super simple with just a few of them on one side. I love how it looks kind of "cinderella-ish", if you will. 🙂 And then I have a little nook under the mirror in the corner with a blanket ladder, lantern and cute Home Sweet Home sign from Hobby Lobby. I loved that it has the black and white plaid that inspired part of my theme this year!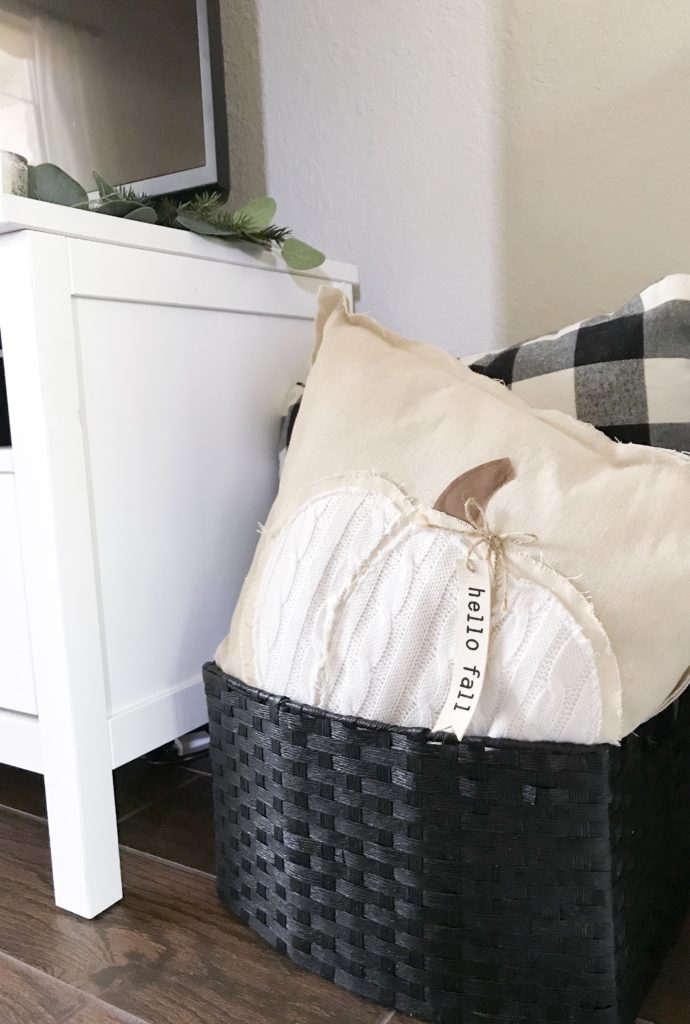 Living Room
A cute hello fall pumpkin pillow and buffalo check pillow peek out of a basket for a little fall-ish touch!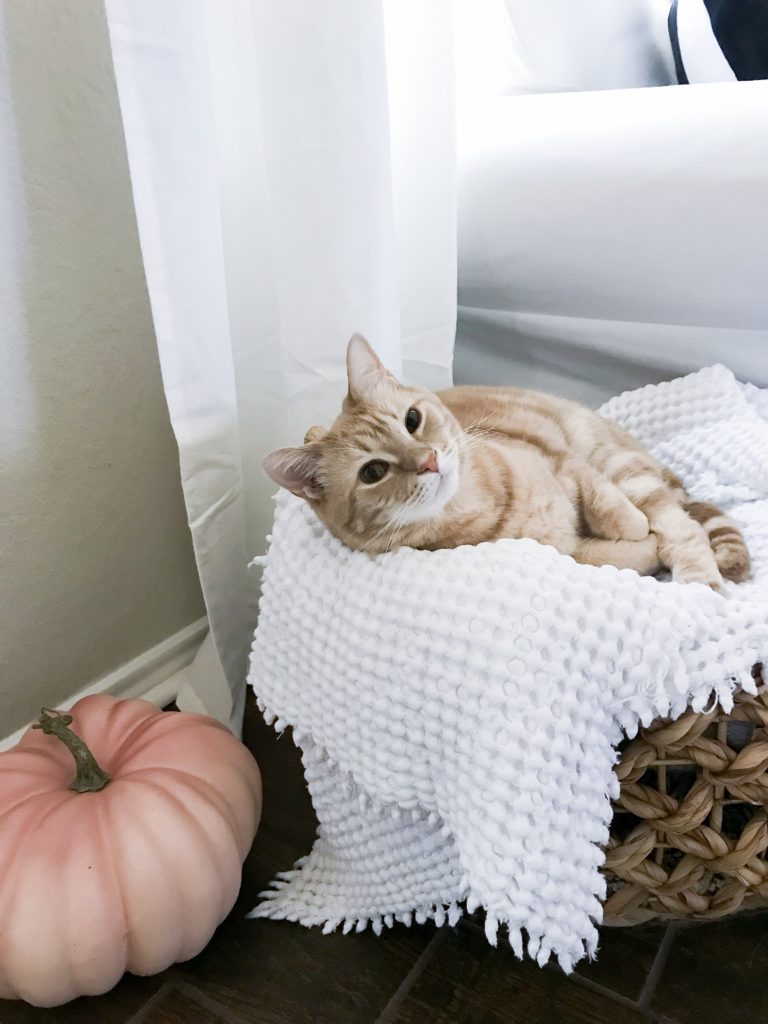 And my little pumpkin Milo with a pumpkin! This guy is a huge stinker who gets into everything, but you would never know it when he is all cuddled up or sleeping sweetly. Looks can be deceiving, after all. 😉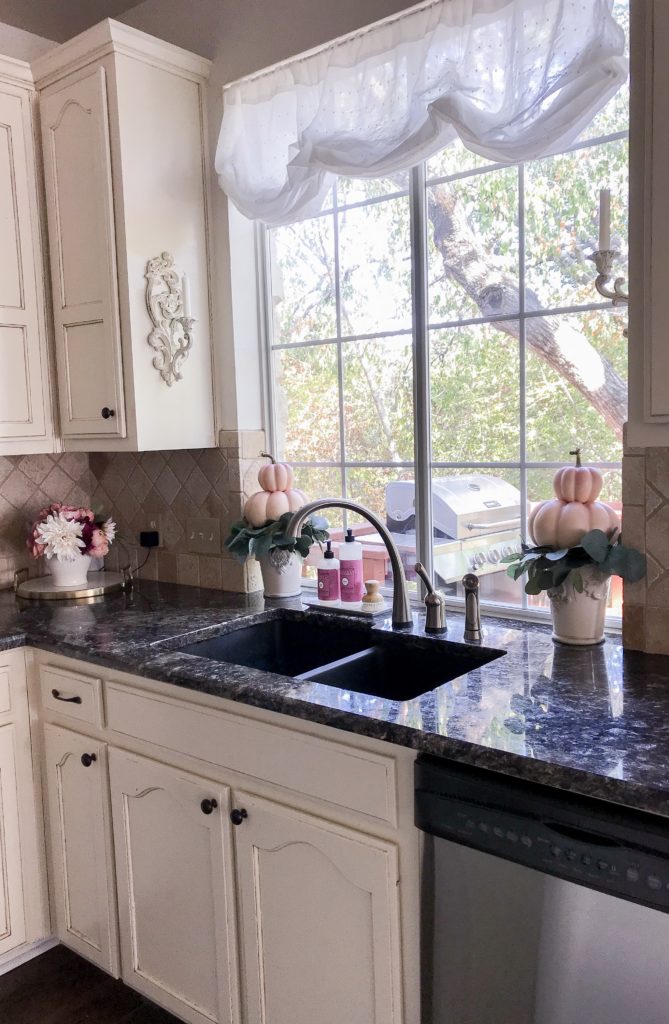 The Kitchen
My kitchen sink underneath the window is one of my favorite spots in the house! I love being able to look out at our amazing oak trees and all the furry creatures who visit on a regular basis. I have been loving the Mrs. Meyer's Mum fall scent lately, it is so nice! I made these DIY pumpkin topiaries (super easy!) and put them on either side of the window.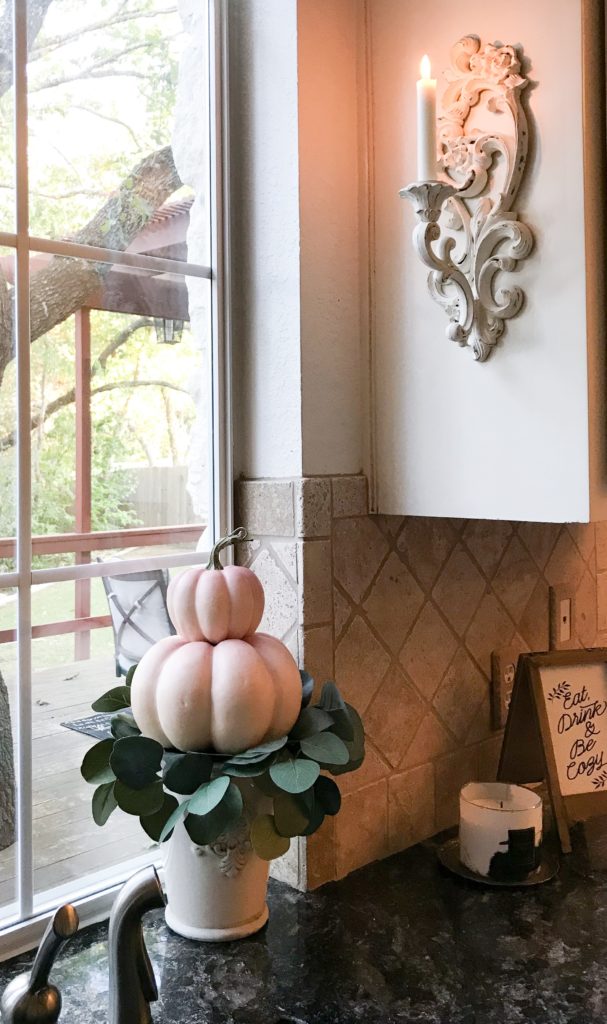 These pretty french style sconces came from Etsy, and I love the touch they add to this area! I was totally inspired by the sconce lights that the amazing Kristy Wicks has beside her sink, and did something similar with these. So magical!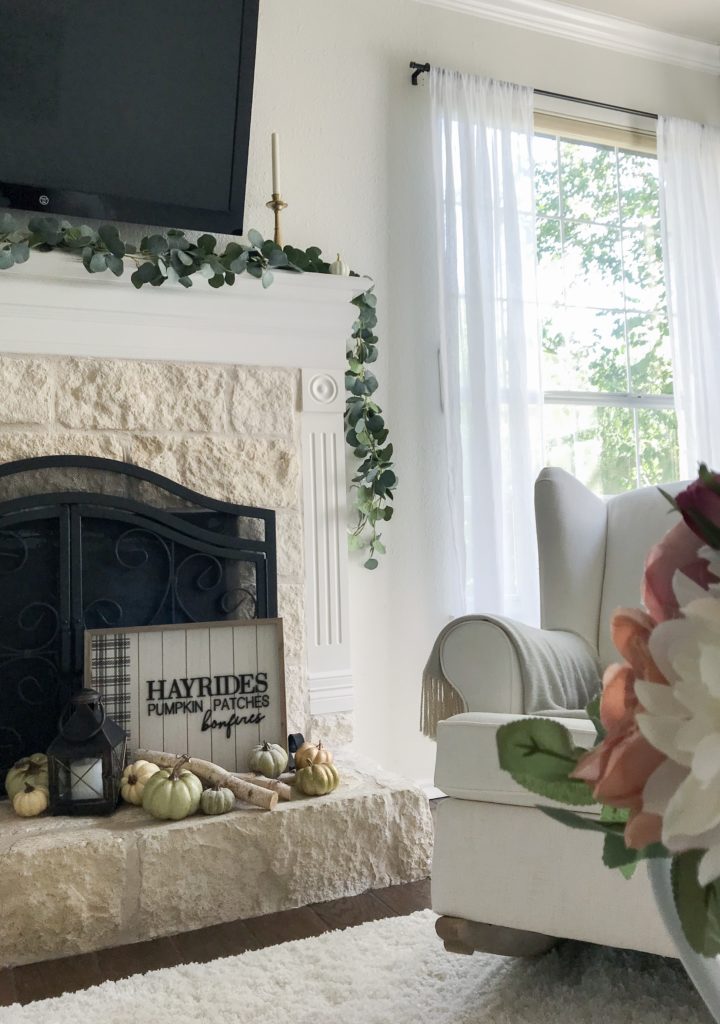 Sunroom
The sunroom is my favorite room to decorate for each season! My sunroom reveal post with all the details is here if you want to check it out.
I LOVE having a fireplace to decorate around, it's so cozy. I kept it pretty simple on the mantle with some faux eucalyptus garlands, flameless taper candles, and, tiny white and gold pumpkins. On the hearth I did a little more elaborate set-up with the cute sign I found at Kirkland's. Lots of faux pumpkins in various shades of gold, yellow and green, a few birch logs and a lantern complete the look.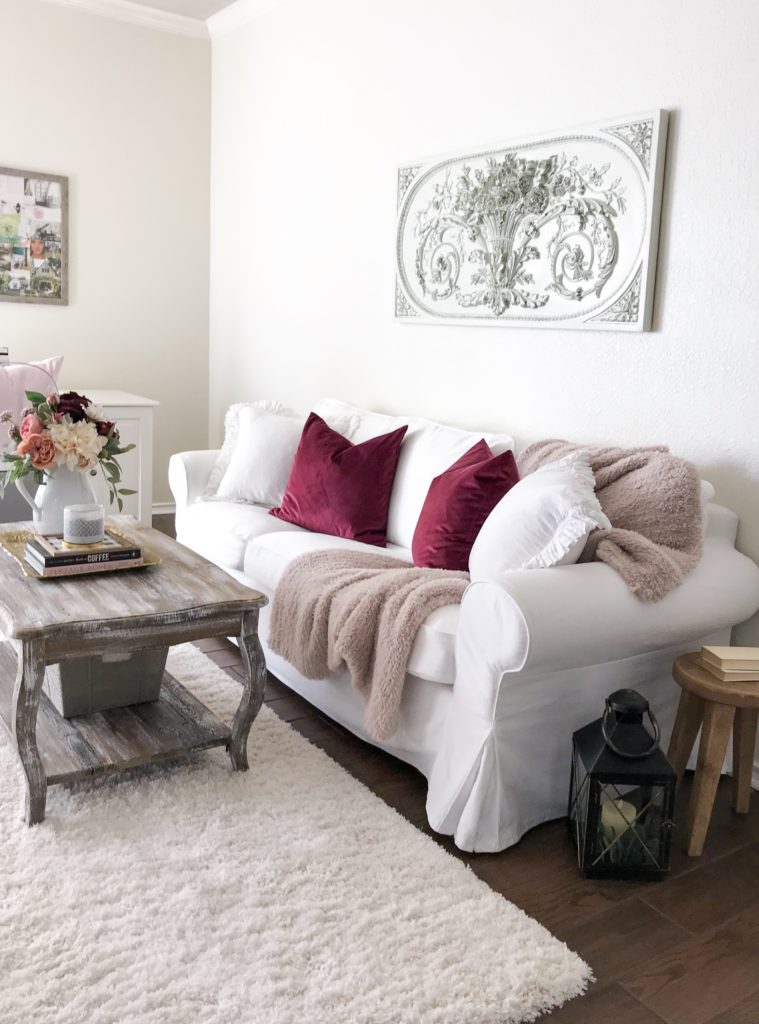 This cozy sofa is where I sit every morning to read my bible, plan my day, and most of the time where I blog! It's super cozy and comfy with lots of soft textures. I am in love with the deep red plum velvet pillows I got from Hobby Lobby which were the exact deep berry color I was hoping to find! I loved doing something so different from my normal comfort zone, just to switch it up for fun! It was actually really funny cuz my husband was shocked I got this color since it was "so not you!" Haha. What can I say, sometimes I can be surprising. 😉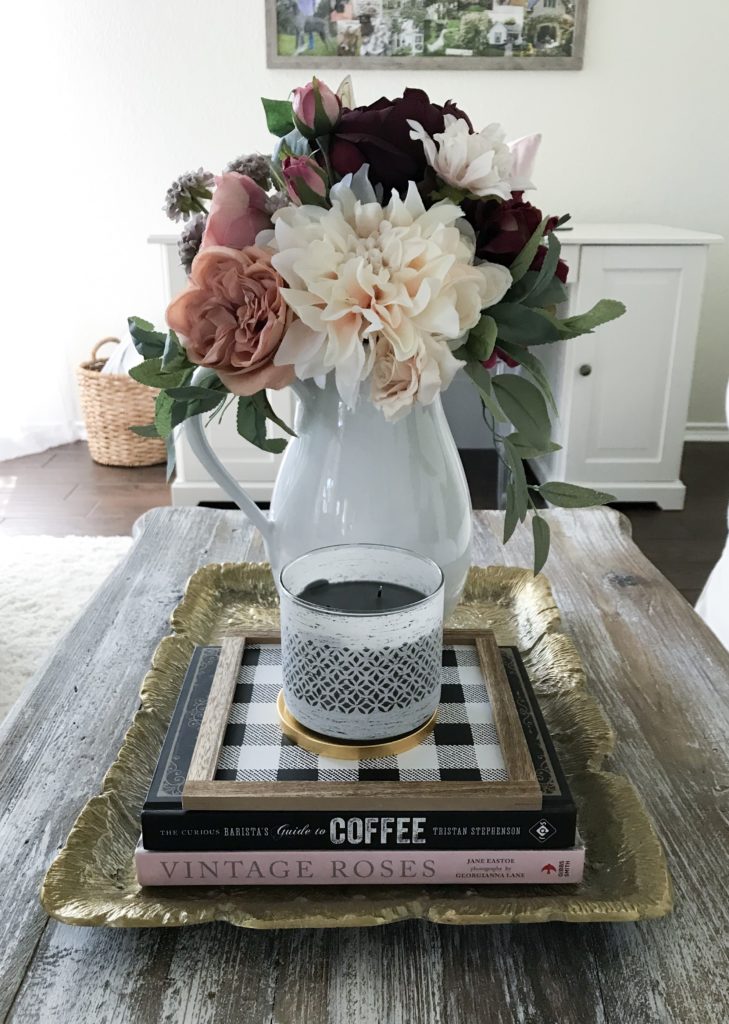 This huge faux floral arrangement I added to my coffee table totally pulled all the colors I was incorporating all together! I was SO impressed this year by the pretty florals at Joann's and went back several times to get more! I love how it all looks wild and natural for an organic and whimsical touch. The Marshmallow Fireside candle from Bath & Body Works is one of our all-time faves for fall!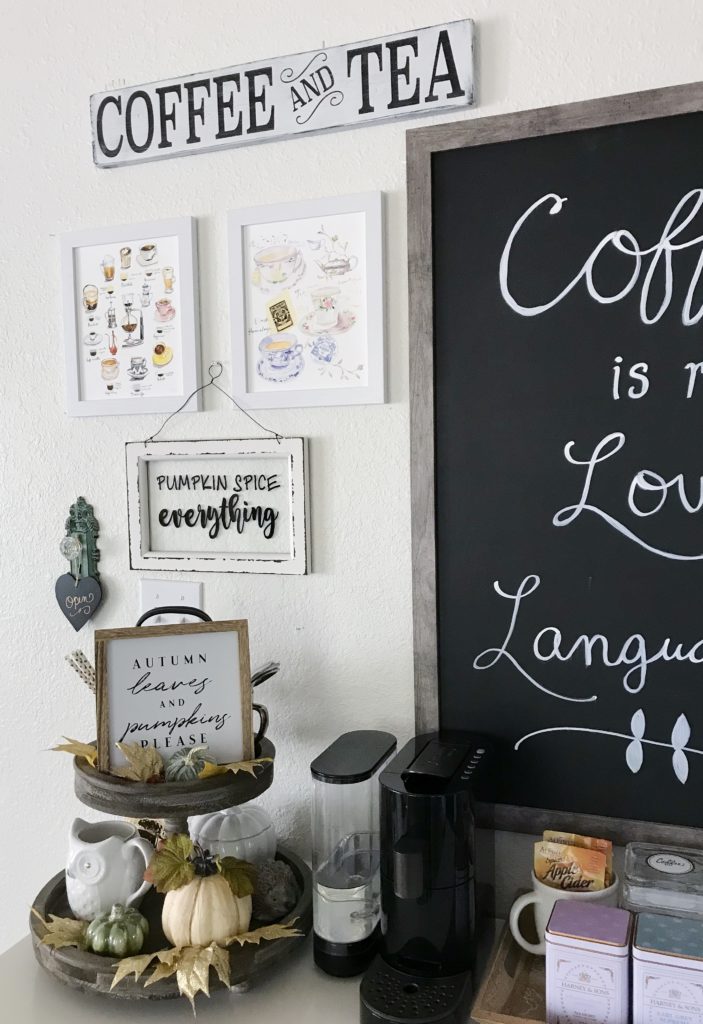 Coffee Bar
The coffee bar is another favorite area to decorate seasonally! There are some things I keep up there all the time, but I like switching out all the decorative accents for each season. I styled my tiered tray with this cute little sign from the Target dollar spot, and added a bunch of autumn leaves and pumpkins of course!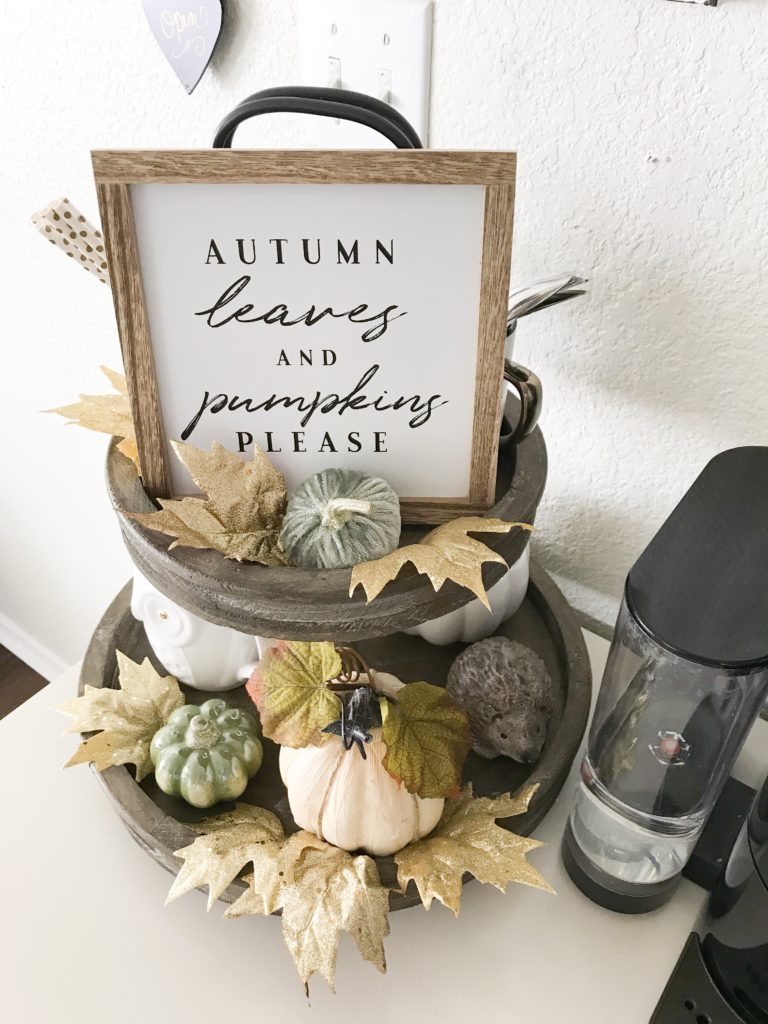 The color palette here ended up being mostly gold, golden yellows and green and I absolutely love it! I also added some hot apple cider packets for fall!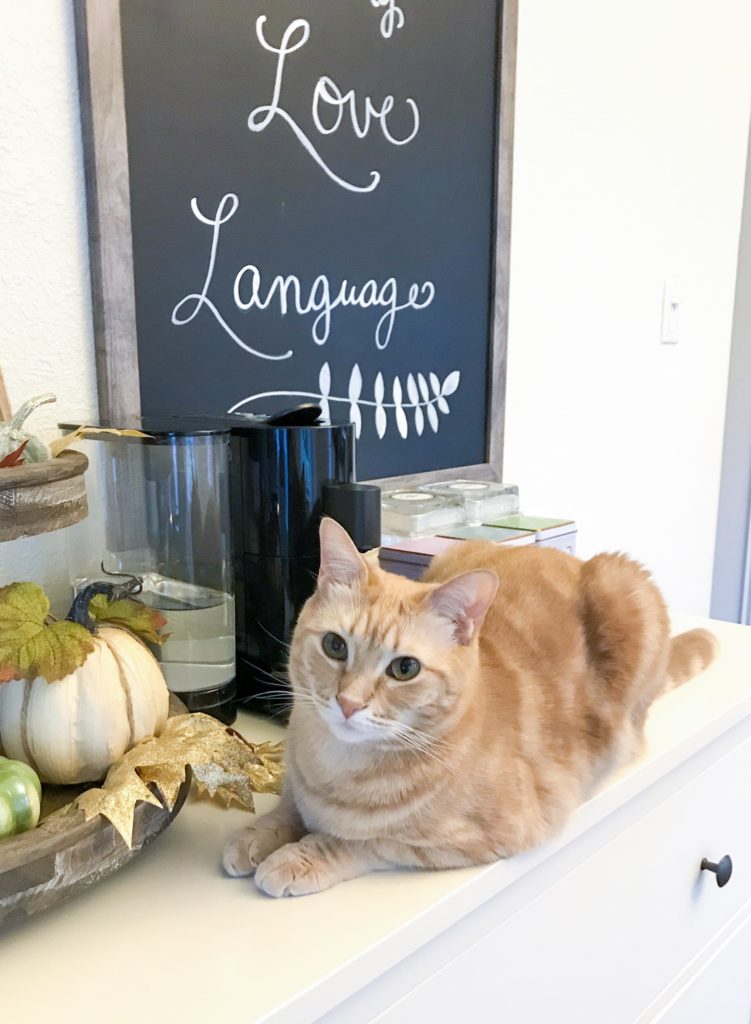 And once again, my pumpkin posing with a pumpkin! Haha. I swear, I didn't put him up to it! Milo knows a good photo opp when he sees one! 🙂 After All, he knows he is the cutest thing ever.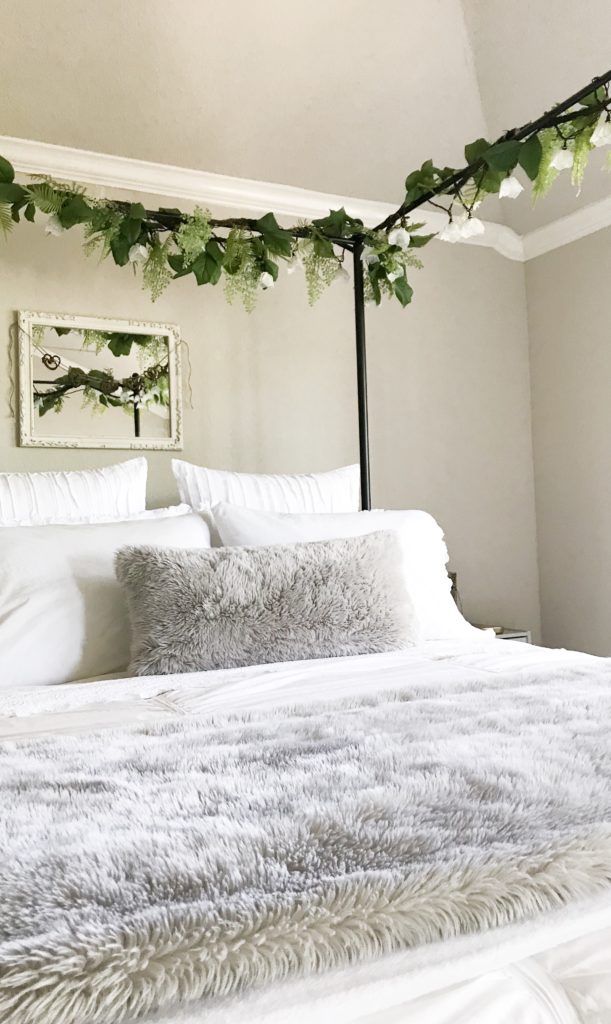 Master Bedroom
And the last place I decorated was our master bedroom. You can see my full master bedroom reveal here if you are interested!
I kept it super simple in here and just added coziness and warmth with this light grey faux fur throw and accent pillow from Target last year. They are so soft and cozy! Our cats approve and give them two paws up. 🙂
And that's it for my fall home tour this year! I hope you enjoyed seeing what I did for fall and maybe got some inspiration for your own. 🙂 If you haven't seen my Fall Home Tour video yet, you can check it out here! Happy Fall my friends!