After living here for over a year and a half, it is finally time to share with you guys my first 'mostly complete' room reveal in our new home! Except for a few little details, I am finally feeling like this Sun Room is done! It is the most complete room so far in the house and I am loving hanging out in here since it is super pretty and cozy! My style, in general, is a blend of cozy, French, romantic and whimsical so that is the vibe I was going for in here, and I also wanted it to feel very light and airy too. So without further delay, welcome to our Cozy Cottage & French Inspired Sunroom! 🙂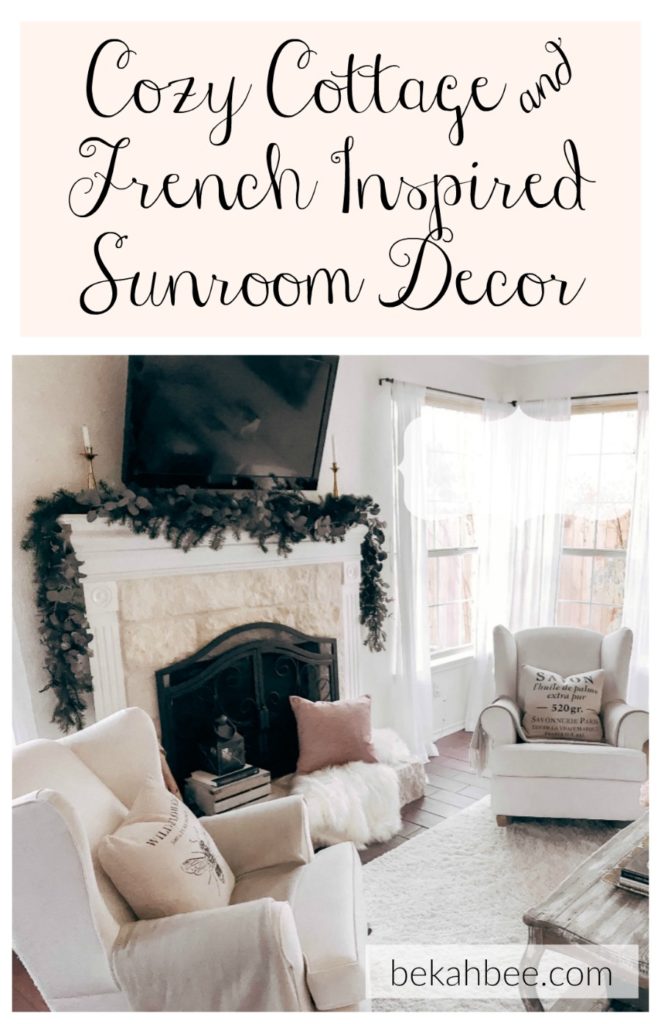 We always called this room the sunroom since the first day we saw the house, it just feels like a sunroom to us. Might be kind of funny, since it isn't super bright and sunny in here most of the day, but it just has so many windows with awesome views of our woodsy backyard!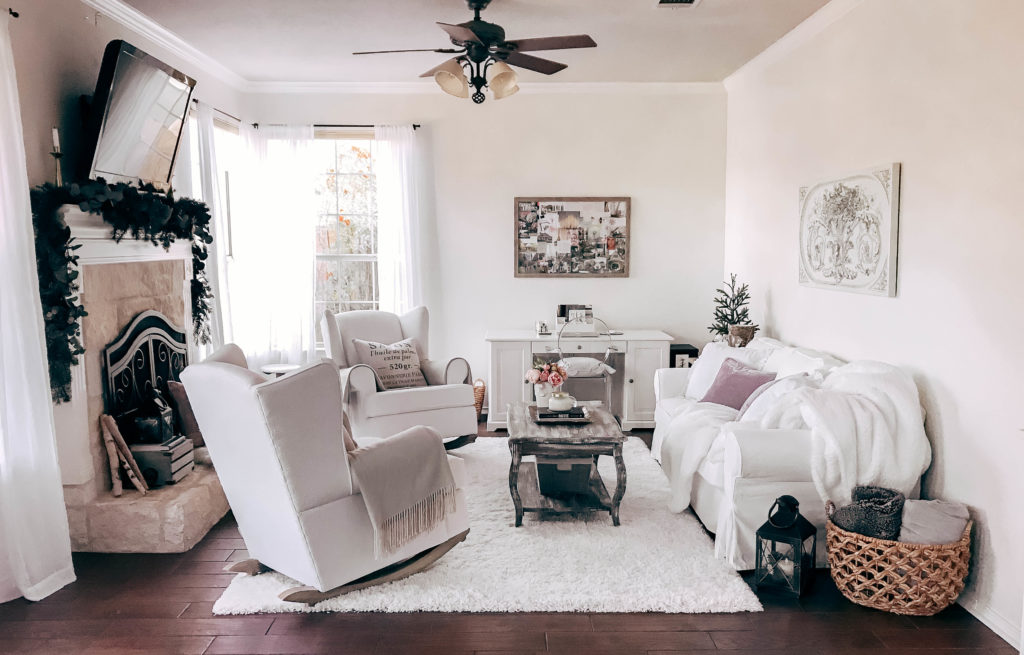 This is the room I love to spend the mornings in since the sun is really nice in here at that time. It is such an inspiring place to start my day with a cup of coffee!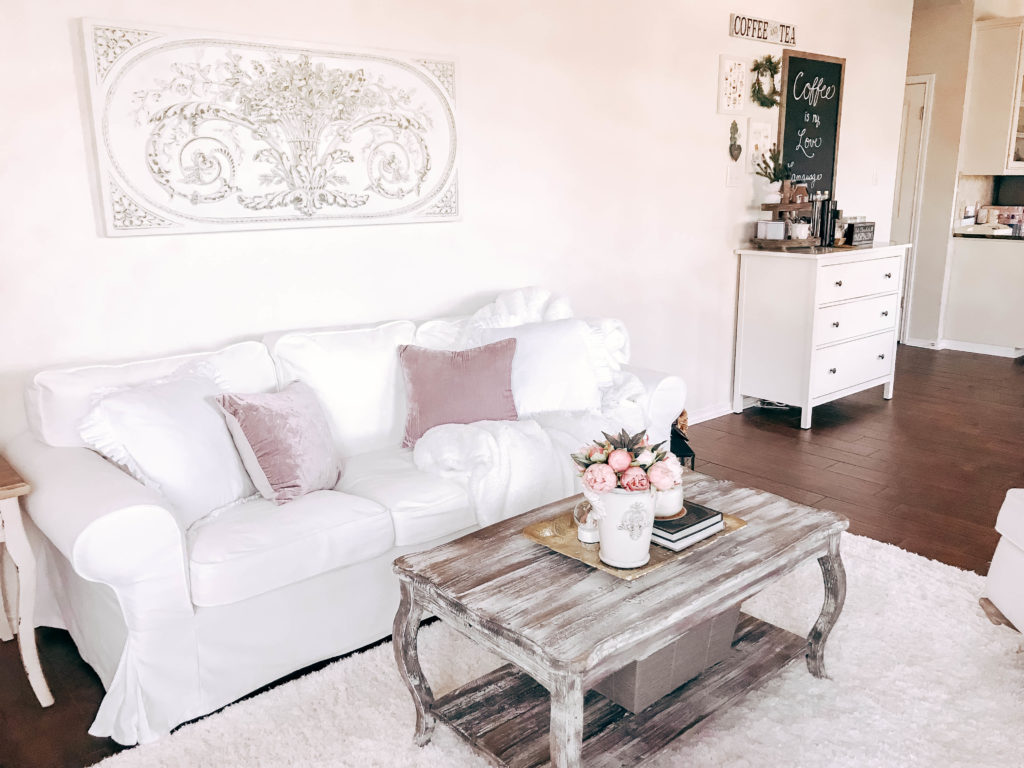 We also tend to relax in our wingback rockers at night with a glass of wine or whiskey and debrief about our day or life in general. I love it SO much because I was able to bring that vision of us sitting in wingback chairs on either side of the fireplace to life! And it is just as nice and relaxing in real life as it was in my head! 🙂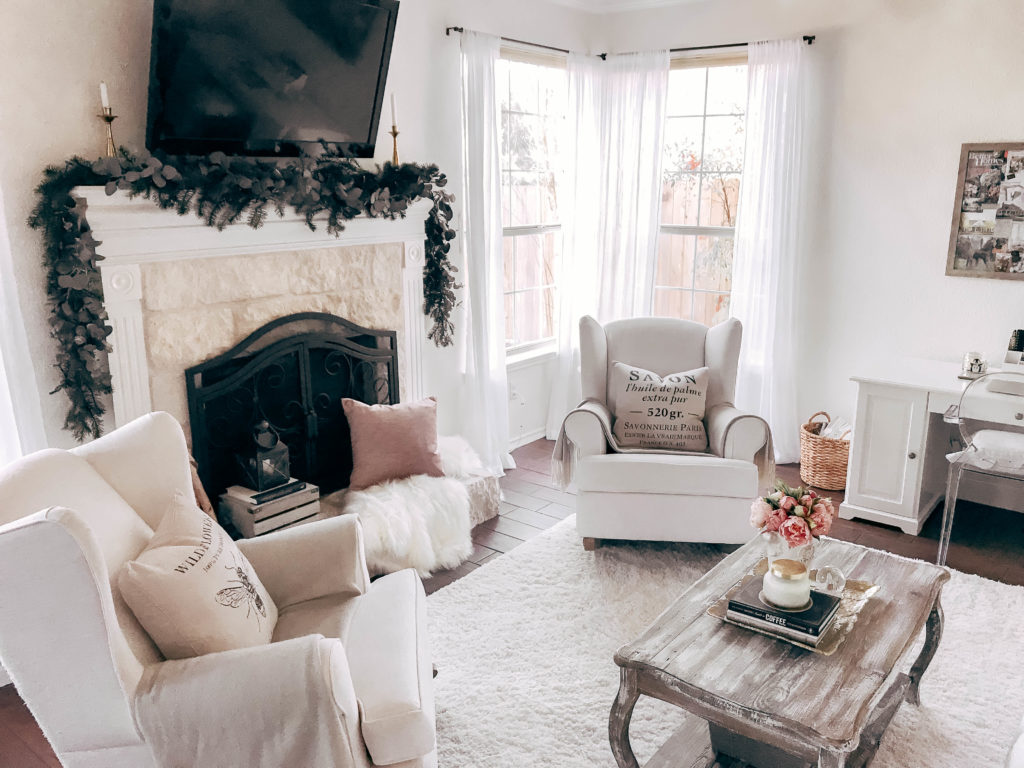 After searching for exactly the perfect chairs, I got super lucky and found these convertible wingback rocking chairs from pottery barn kids. The main issue I was having finding the right chairs was that most of the pretty ones were SO uncomfortable! I LOVED the ones from Restoration Hardware and they totally had that romantic French vibe I wanted. But when we sat in them in the store we were not impressed. Since I wasn't willing to compromise on comfort, even for a super pretty chair, I was so happy to find these. They had one on display at my local store, so I was able to go in and sit in it before getting ours online.
They are so cool because they have that fun element of being able to rock in them, but also being the pretty wingback design in my vision. And you can purchase stationary feet for them too, which I think is so neat! I also hit the jackpot because this particular fabric selection was on like a crazy deal the day I got them. It was basically 2 for the price of one at normal price! Find of the century, I tell you. Everyone who comes over loves them and always asks where we got them. We are SUPER happy with them!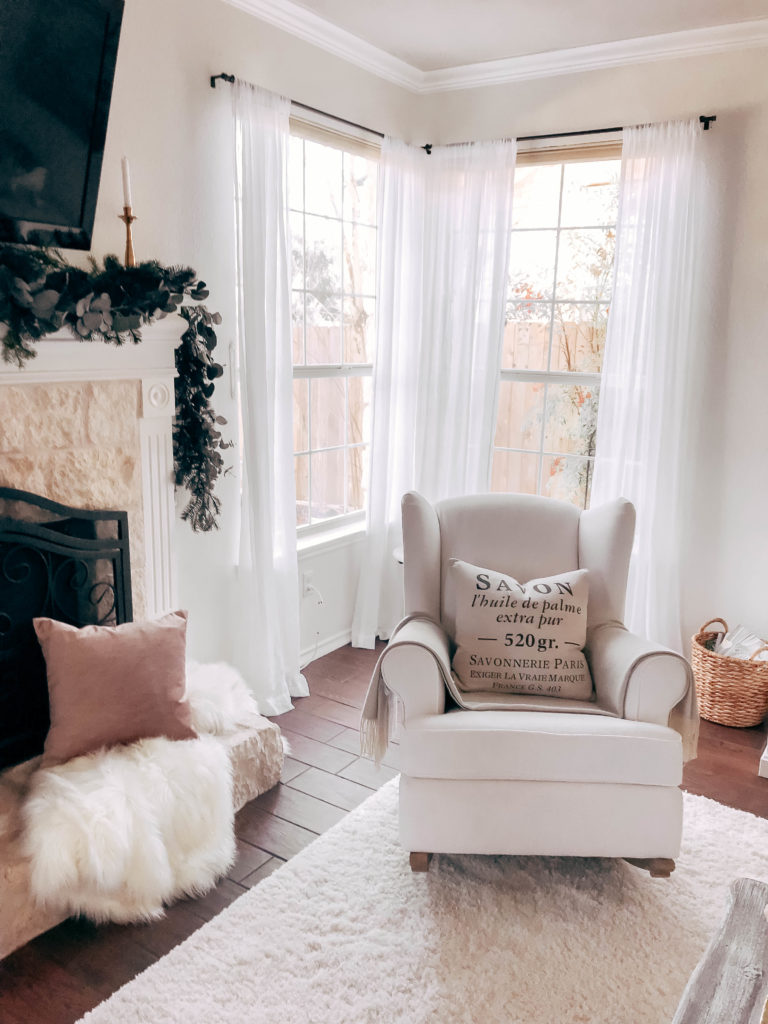 I am learning that it takes a while for all the little details of each room to fall into place. But I am trying not to rush the creative process. I am super pleased with the results in here so far!
This little nook is my office area, which I keep super minimal and clutter free. I love it because I can look out the windows when I am needing a little break or some inspiration.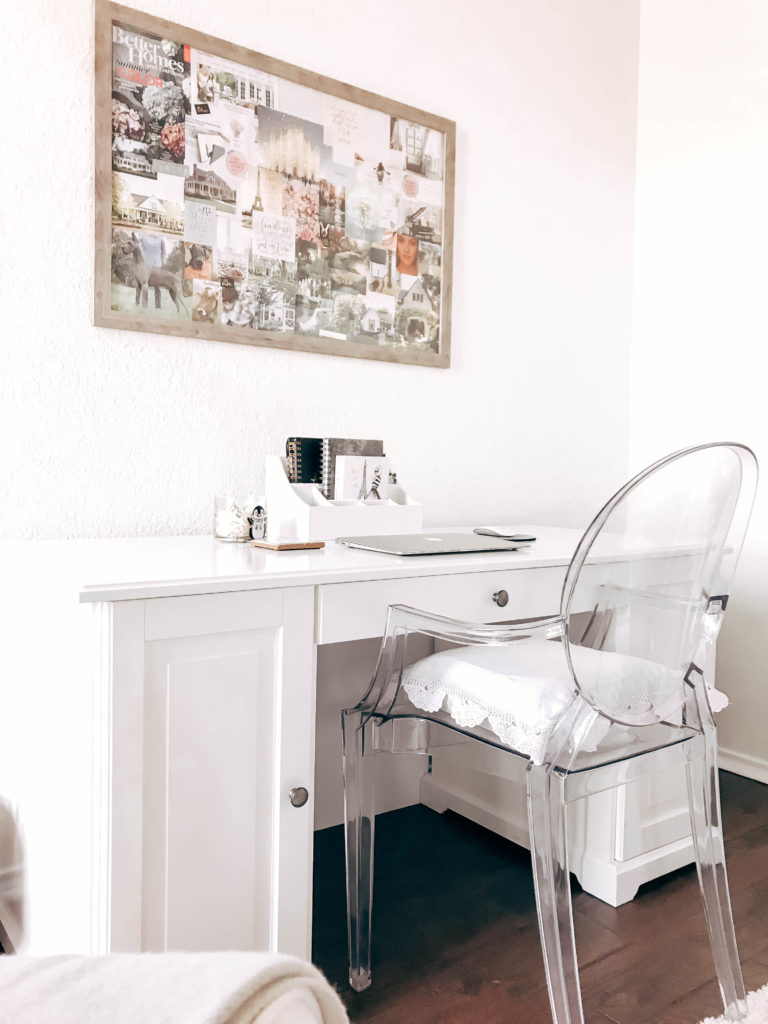 This little corner is my favorite wintery decorated area at the moment.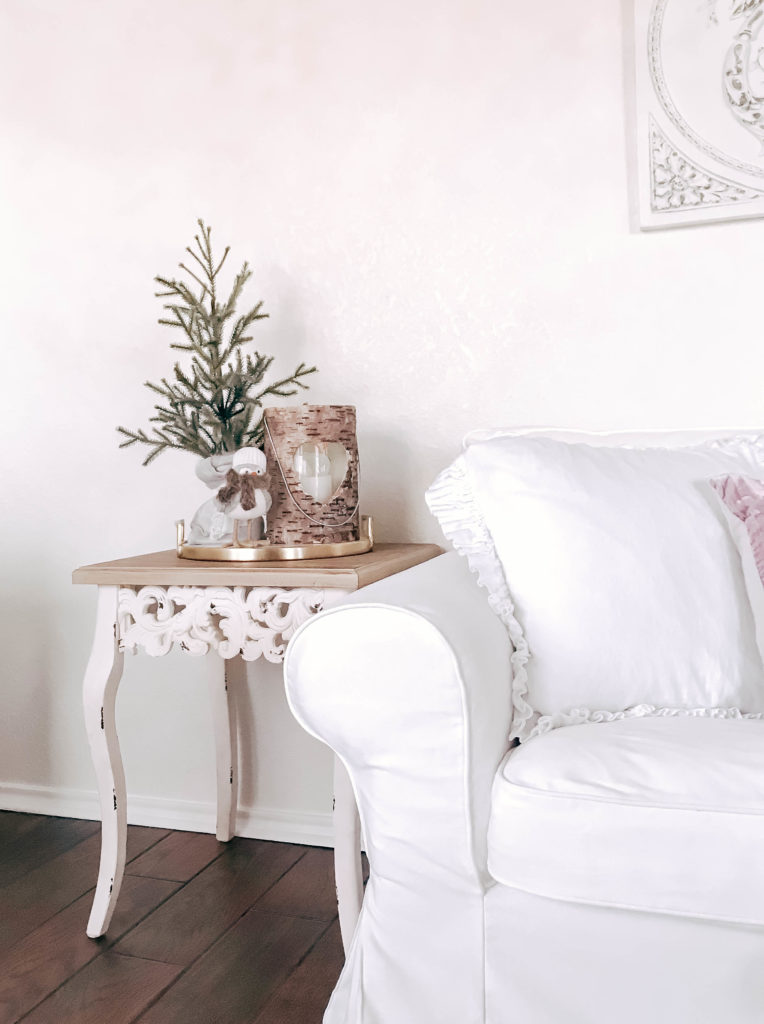 Some simple coffee table decor.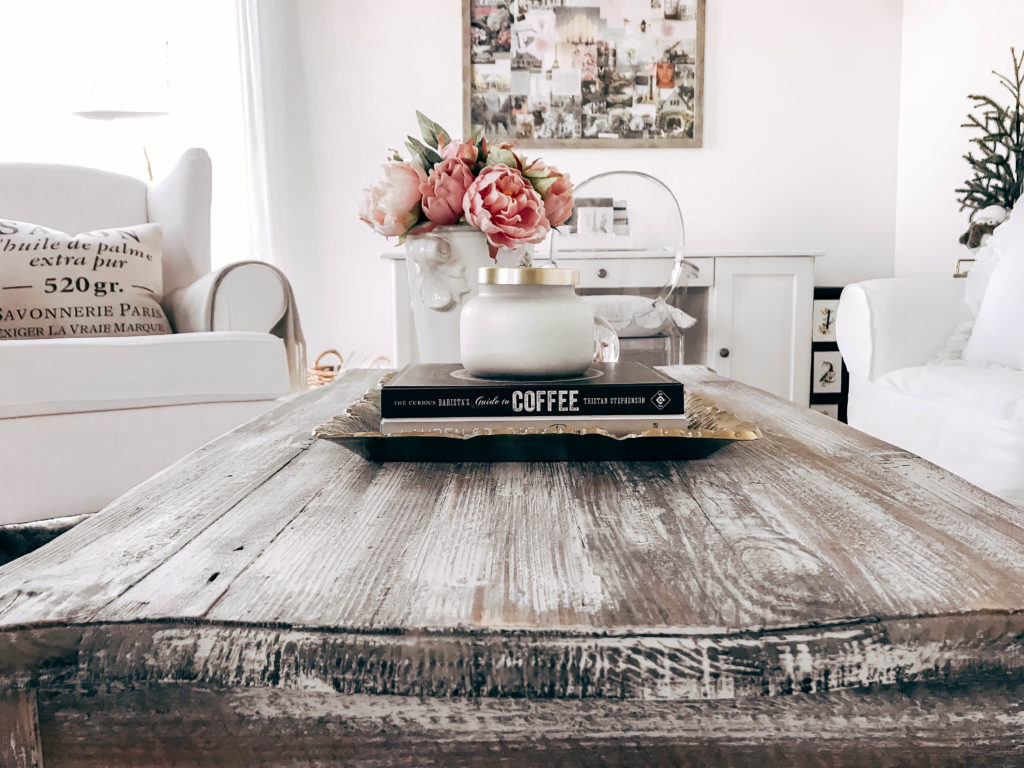 You can never have too many cozy throws on hand, in my opinion!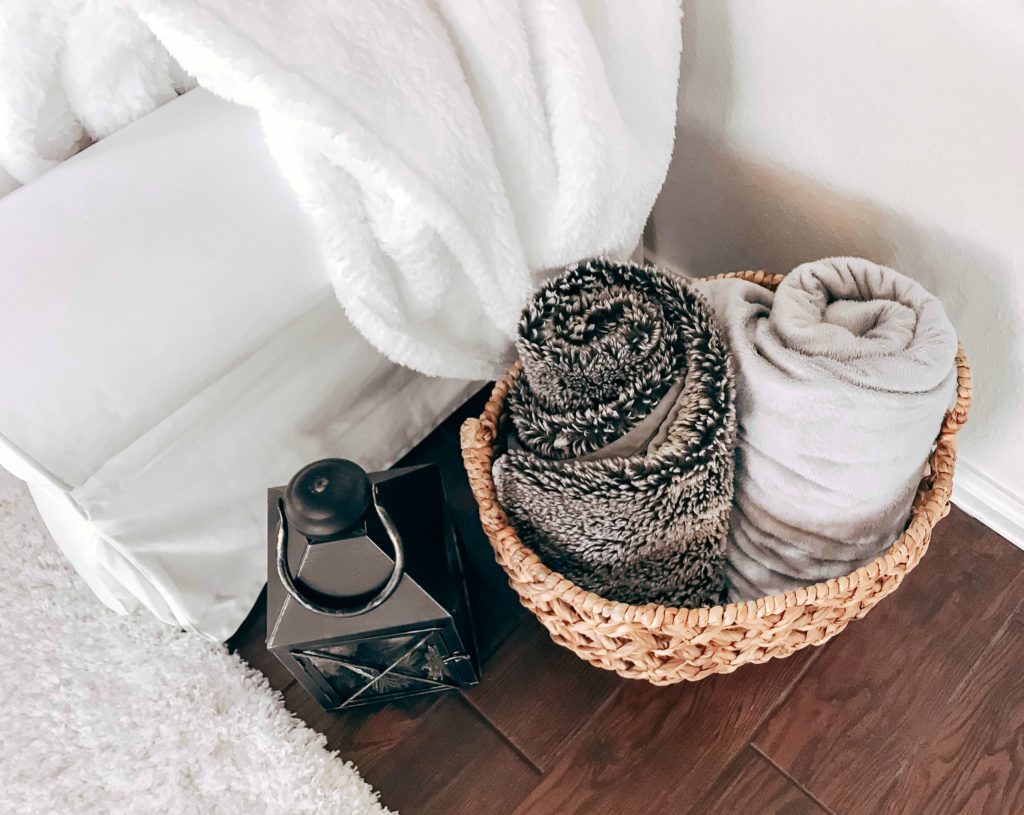 The only things I am waiting on to be able to complete my vision in here are:
Replacing the fan/light fixture combo with a cool french look chandelier
Taking down the tv and replacing it with a gold anthro mirror. It will look SO amazing when we do it! I am totally that girl who HATES having the tv be the focal point above the mantle. I feel like it is such a waste of a charming area! If it were up to me, I would hide all.the.technology things! But we watch our shows at night in the living room anyways.
Have an electrician come and remove the wiring sticking out of the walls. They are totally an eyesore. I have done my best to cover them up with the garland on the mantle for now!
We need to have someone come and inspect our chimney before we light any fires. It is very cool that this fireplace can do either gas or wood fires! It will be SO COZY in here when we can have a roaring fire going! 🙂
I should mention that we also want to change the paint color someday. We will probably wait to get all the downstairs painting done in one shot.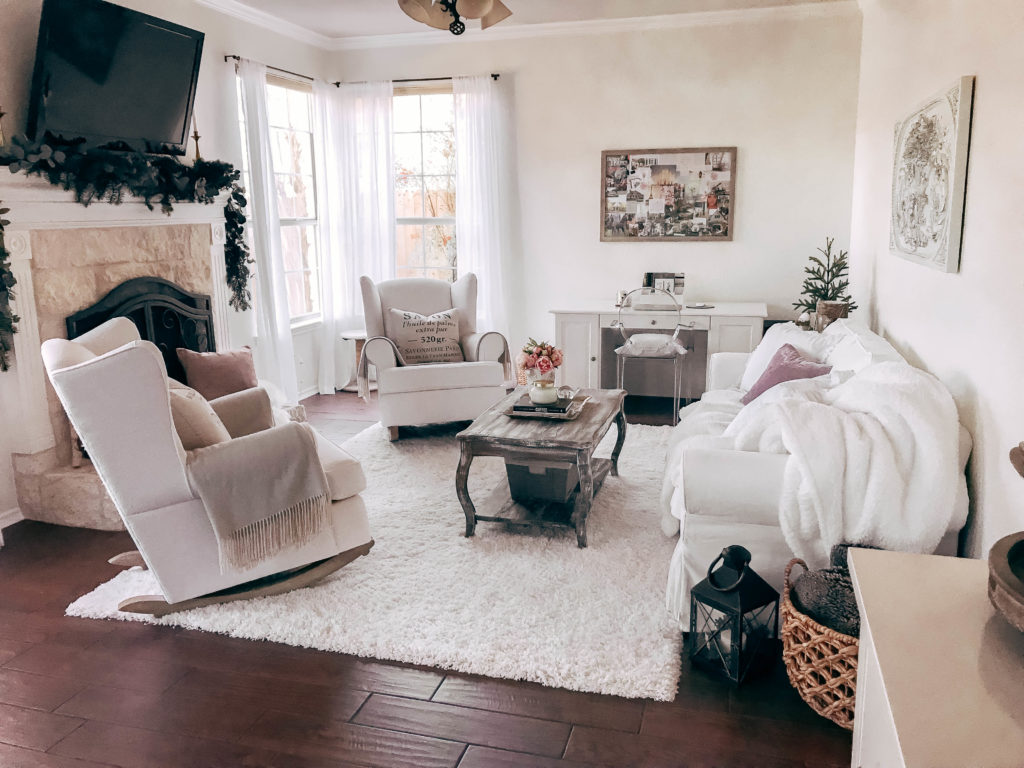 And there you have it! Our happy little sunroom! We love love love how cozy it all is. Hope you do too! Thanks so much for stopping by this little blog of mine. I hope to see you around for more lifestyle and decor updates soon. 🙂