Since becoming more aware of the toxic ingredients found in a lot of conventional beauty products about 4-5 years ago, I have been trying a ton of different natural and non-toxic makeup and skincare! Of course, reviews have been super helpful in finding the best things to try. But one thing I have learned for sure is that everyone is different and their skincare and haircare needs are going to vary a lot from each other. So finding the things that have worked great for my particular needs has been kind of a long journey! My skin type is combination. It's also very sensitive and extremely acne-prone with a lot of post-acne scarring to heal. When it comes to foundation, I prefer a matte finish. My hair type is somewhat fine, naturally wavy and frizzes very easily, especially in the humidity!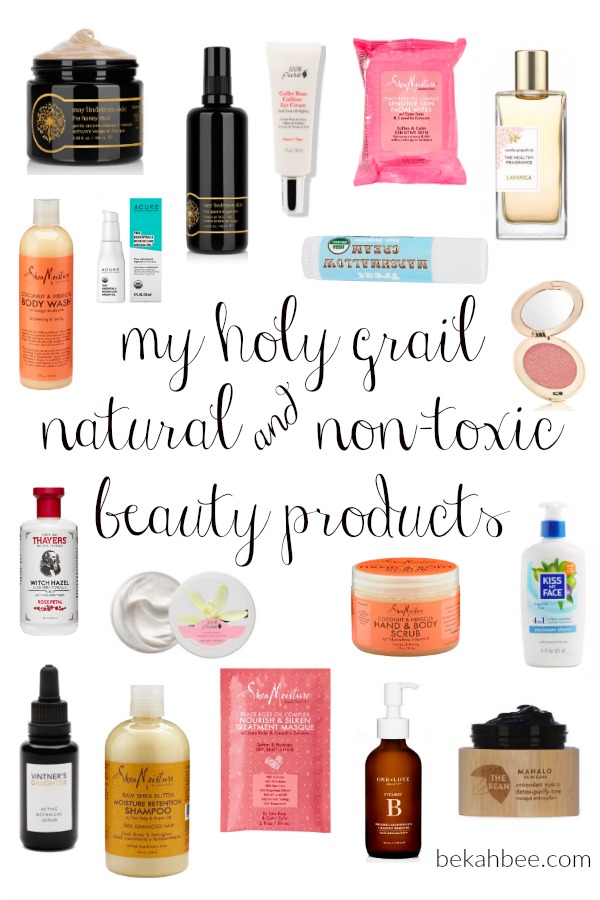 This post contains affiliate links, including Amazon.com. As an Amazon Associate, I earn from qualifying purchases. For more information, see my full disclosures here.
After a lot of trial and error, here are my very favorite natural beauty products that I think are excellent and actually provide great performance! I tend to be quite picky when it comes to beauty products and get so frustrated when a product just doesn't live up to the hype. I also am not really satisfied when something gives me just "okay" results: those are the types of things I try to keep searching for something awesome on and usually stop when I find the thing that impresses me the most in any category.
Although green beauty has come SO FAR since I started this journey (seriously it's about 100x easier to find great natural products now since it became more popular and some of my staples can be found at Target now) there are still some things that I am searching for a more amazing version of. I used to just deal with my inferior natural products in those categories, but these days I am just getting the conventional versions until I find a better alternative. I got kind of tired of being dissatisfied with the performance on things like hair styling products, etc.
Another huge factor in this journey has been budget, of course! As my husband and I have gotten to a more financially secure place as we get a bit older, it has been easier to justify investing in some of the more pricey big-ticket items, as long as the payoff is worth it! I have definitely noticed a HUGE difference in certain skincare items, for example working way better the more pricey they are.
Sometimes you get what you pay for and others, a budget option works great! Currently, I have an assortment of budget and high-end green beauty faves in my lineup. I don't always have all of these things on hand, as I tend to get the nicer things as budget allows, but these are all the things I find the best in each category!
My favorite natural perfume is the Lavanilla line. The most delicious one I think is Vanilla Grapefruit, but it is an almost equal tie with the Vanilla Lemon. They are all super yummy though!
The items below are my staples as well, but are somewhat less natural:
My go-to foundation is the Jane Iredale Full Coverage Mineral BB Cream in shade BB3. I don't consider this completely a Holy Grail but it's the one I tend to go back to over and over because it is pretty great and nothing else works as well for me yet. The coverage is amazing and I love that it has SPF, but it is too glowy for me and I always have to set it with powder, which ends up making me look a bit too cakey, but it's ok for now till I find something better.
I really really loved Gressa's Serum Foundation when I got my first bottle, but this current one is a bit too glowy and I stopped it for a while because I was breaking out and switching back to it was something I had just done. I will decide soon if I still love it or not! My current go-to concealer is the Hynt Beauty concealer, and it is pretty great but I am also still hoping for an even better one.
The list of things I still am searching for a Holy Grail on:
Foundation
Pressed powder
Concealer
Eyeliner
Concealer
Eyeshadow
Mascara
Deodorant
Hair Styling Products
A few of these I had found things I really loved at one point, but sometimes the formulas changed or maybe the other things I layered with them changed. I have heard great things about the entire Fitglow line, including their mascara but have yet to try any of their products.
Well, there you have my updated line up of the best green beauty, natural and non-toxic things I have found, please let me know what YOUR faves are! I always keep a running list of new things to try and ones that get rave reviews from other people. 🙂
Shop this post with my affiliate links below: