Is anyone else SO excited that spring has finally sprung? I tend to really love the transitional, more temperate seasons of fall and spring but winter is usually just a tad too cold and long for me! And I love summer, but not the part of it where it gets super humid here in Texas! Anyways, one of my favorite times of year is when all the trees start to blossom. Such a beautiful way to transition from winter to spring. I recently made a few changes to our Master. So without further ado, I present our Woodland Fairy Cottage inspired Master Bedroom refresh for spring!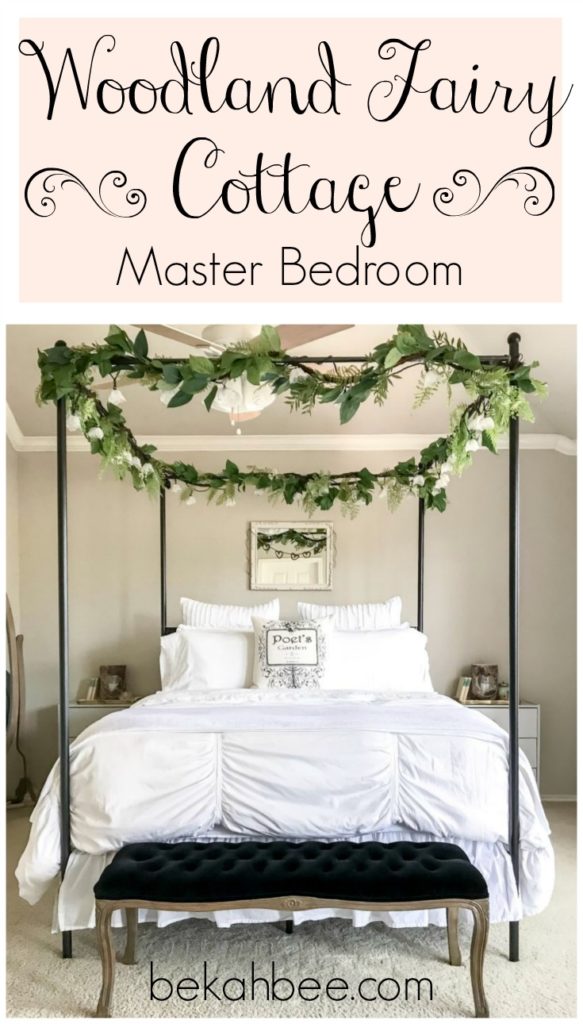 This post contains affiliate links. For more information, see my full disclosures here.
So I originally had quite a different theme I was going to use in here. But sometimes the vision that you have in your head doesn't work out as perfectly in real life and you just learn to roll with it! That's what kind of happened here. I had this really specific vision for a long time and collected some things for it, including a piece of custom art from Etsy.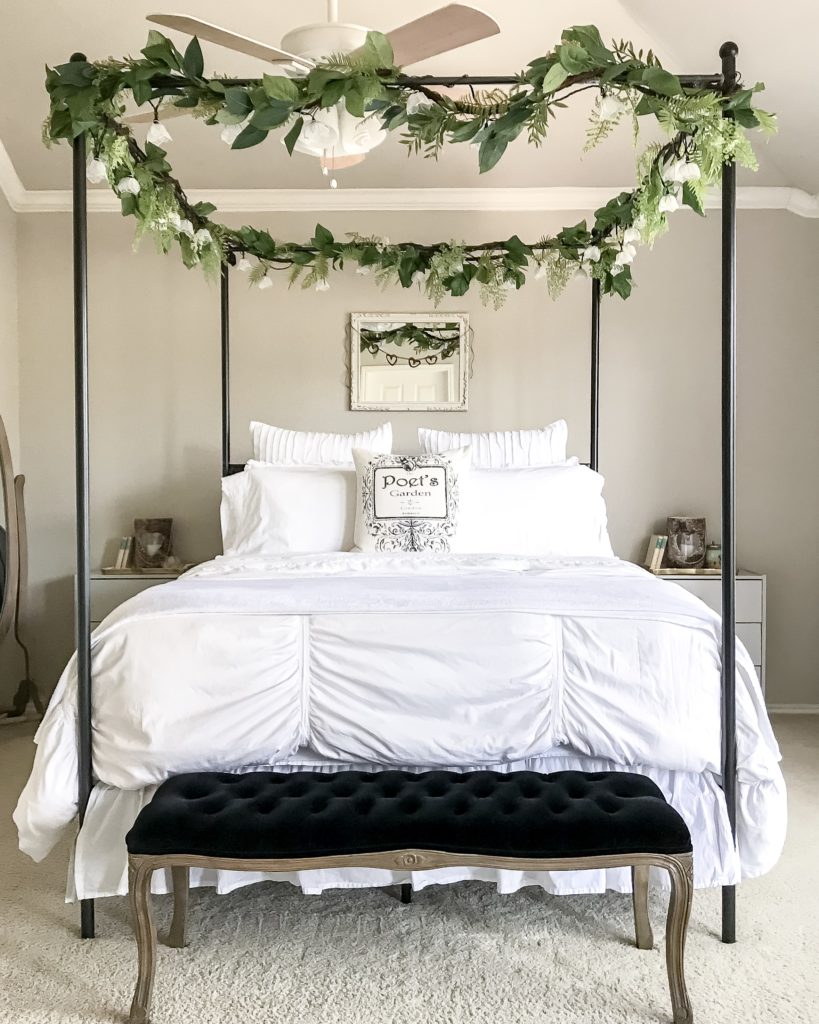 But when I finally pulled it all together, it just wasn't doing it for me! I won't say what it is just yet since I think I can make my vision come to life eventually, we'll see how it all works out! But the colors on my Etsy sign just ended up not working as well as I wanted, and the font wasn't exactly perfect.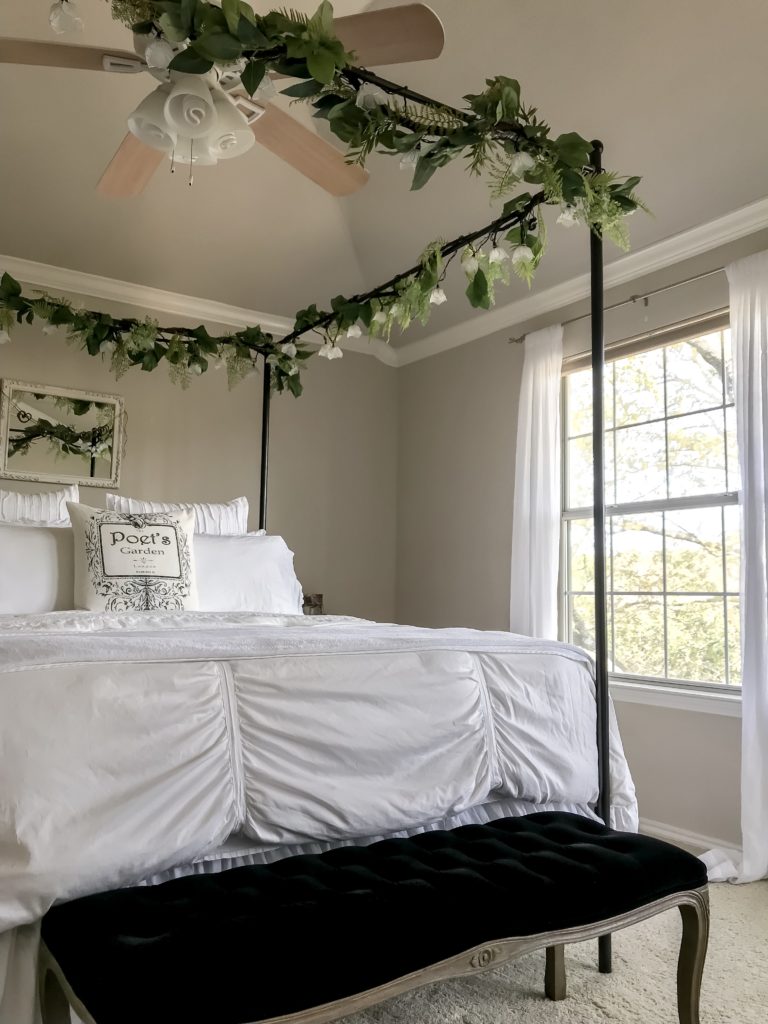 Even though the custom art cost a good bit (since it was my main splurge item) I decided it's silly to try and force it if I didn't love it! It just tends to happen sometimes in home decor, and there's no shame in starting over. 🙂 The problem was that it had taken me forever to actually put it all together, and in the meantime, I had another vision forming in my head: this light and airy spring look I put together! My decor style tends to be very organic and whatever I am feeling like currently, and the cool thing is that nothing is permanent and you can do whatever is inspiring to you at the moment!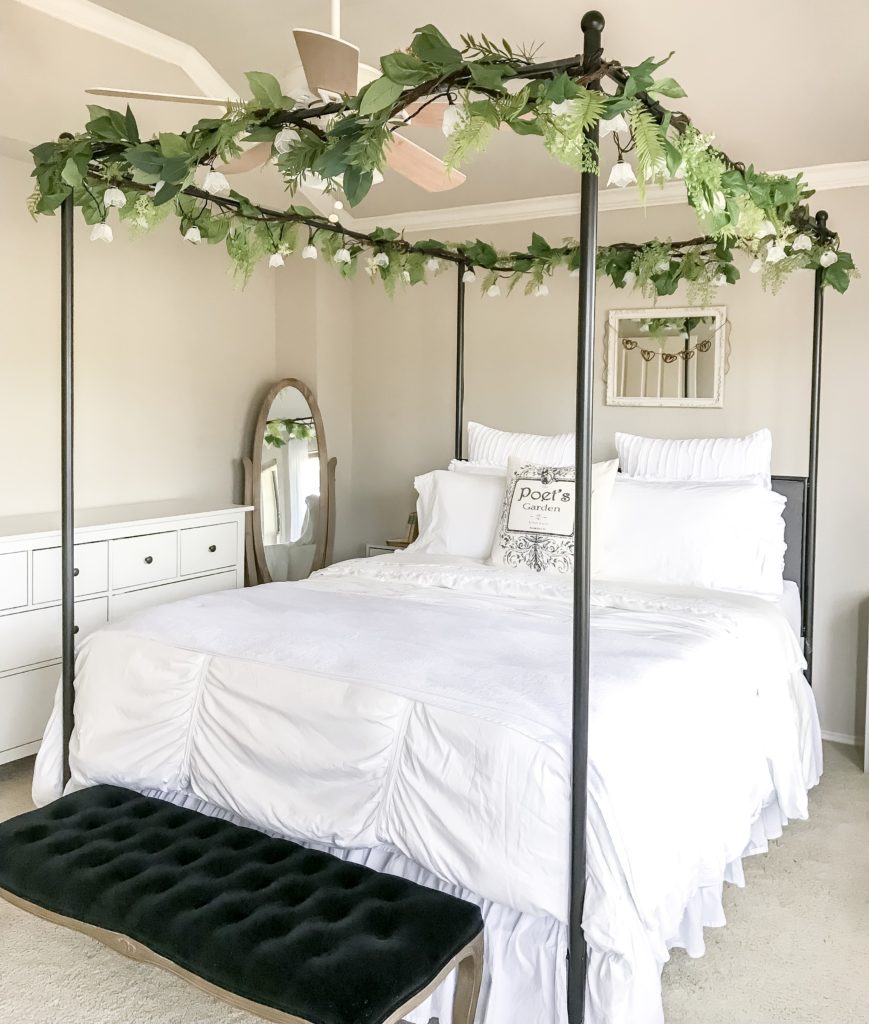 My mind was swirling with this green and woodsy, whimsical look. Like something you would stumble into in a magical, enchanted wood, where the fairies live. That look tends to be something I am inspired by in general but usually tempered by other elements as well. This master bedroom refresh is pretty much pure Woodland Fairy Cottage, and I am loving it!!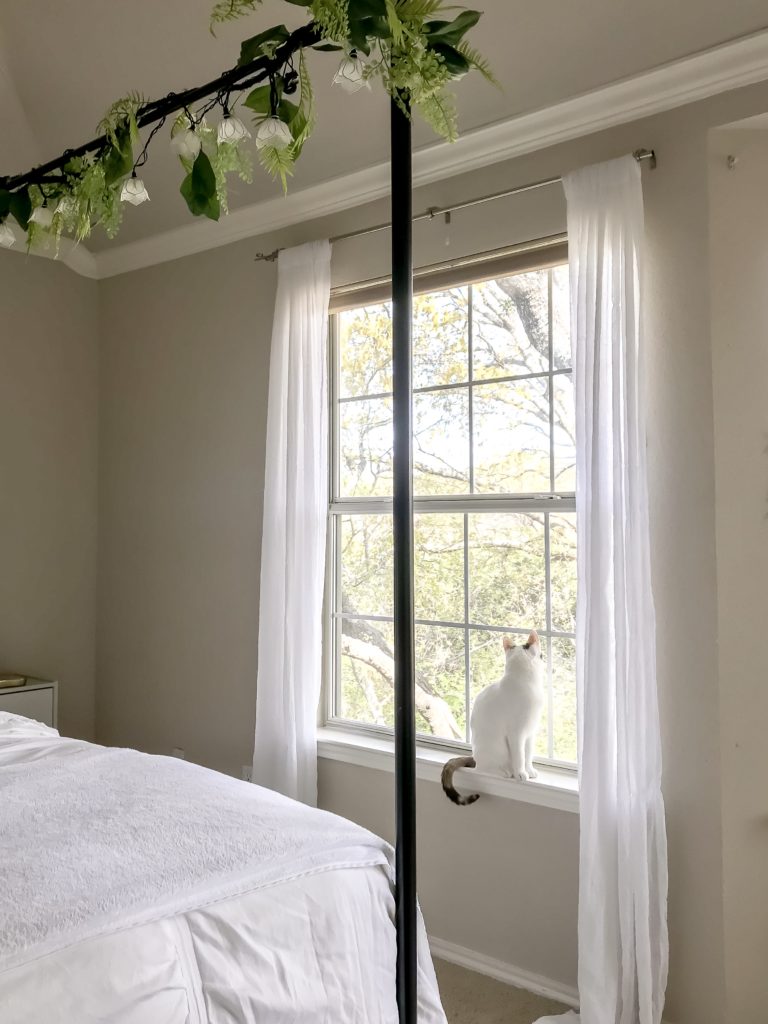 It took a while for me to find the perfect garlands for the canopy, and wouldn't you know it I already had one of them from last spring that I never ended up using. When I tried it out, it was exactly the look I was going for! Luckily I was able to find more of them this year at Michaels.
I wanted to use the white flower string lights I love so much from Target and needed something that would pair perfectly with those. They were on our mantle last year, and I just loved how magical and enchanted they looked.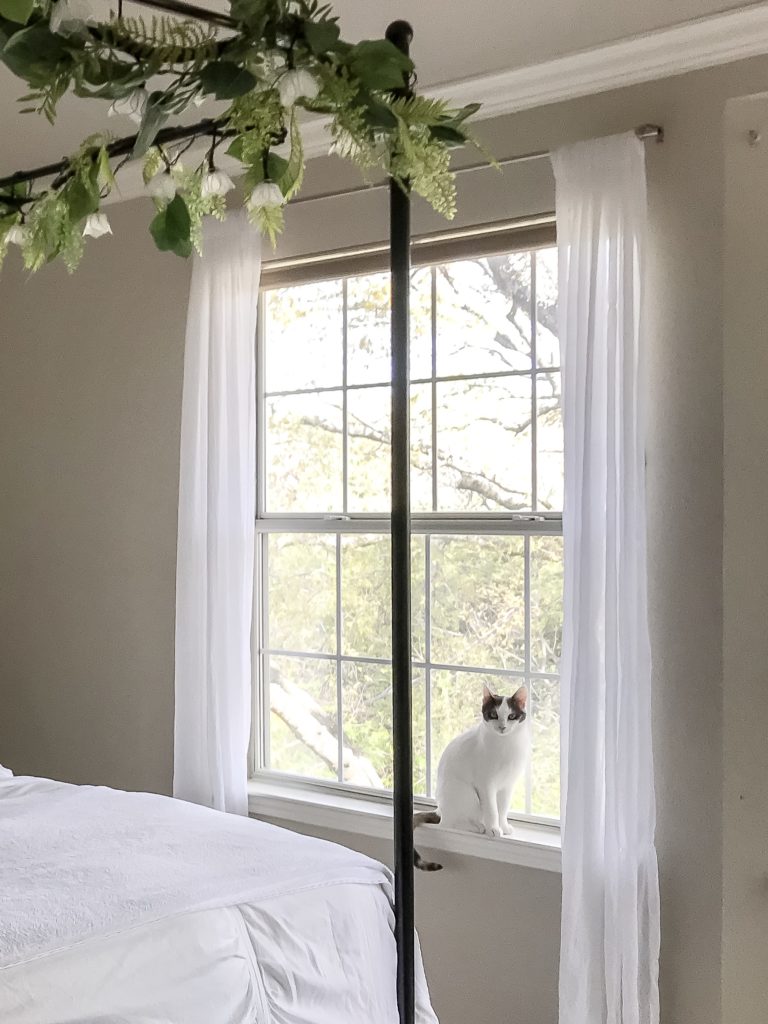 BTW this little angel baby just melts my heart, I love her SO much!! She is my constant sidekick and follows me everywhere. She is literally pure sugar. My sweet little Miss Esme Fleur! 🙂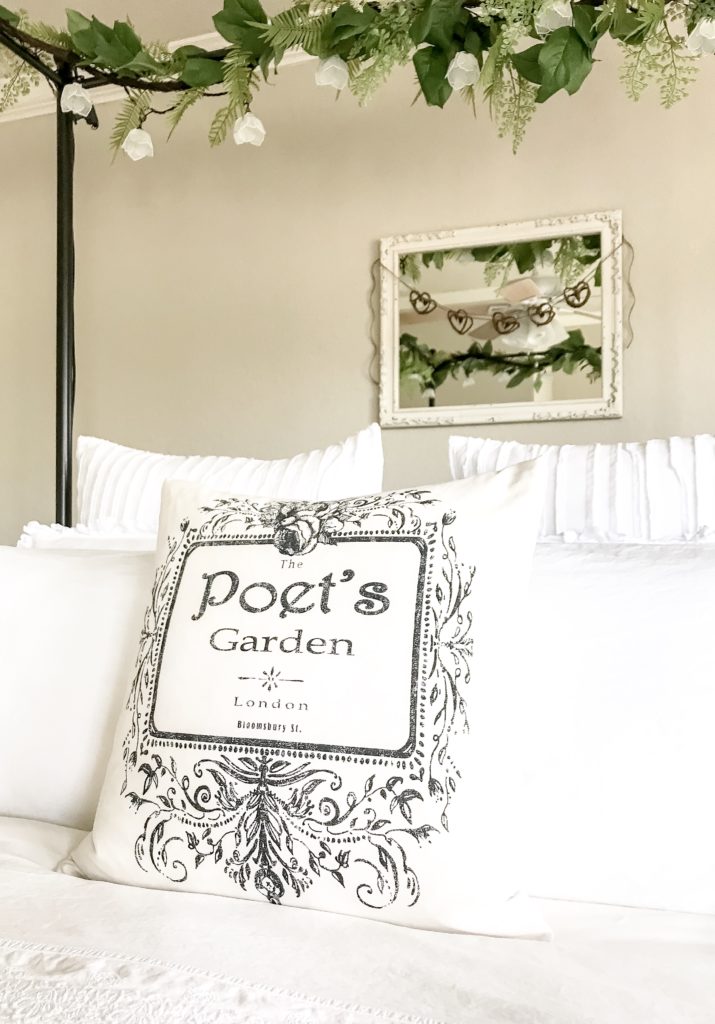 I got this pretty pillow at HM Home many years ago. So romantic! Perfect for the dreamy look I wanted in here. Since my art piece didn't work out, I was pretty stumped on what to put above the bed. So, for now, I used this pretty and simple white mirror. And strung a very simple DIY twig heart and twine garland across it.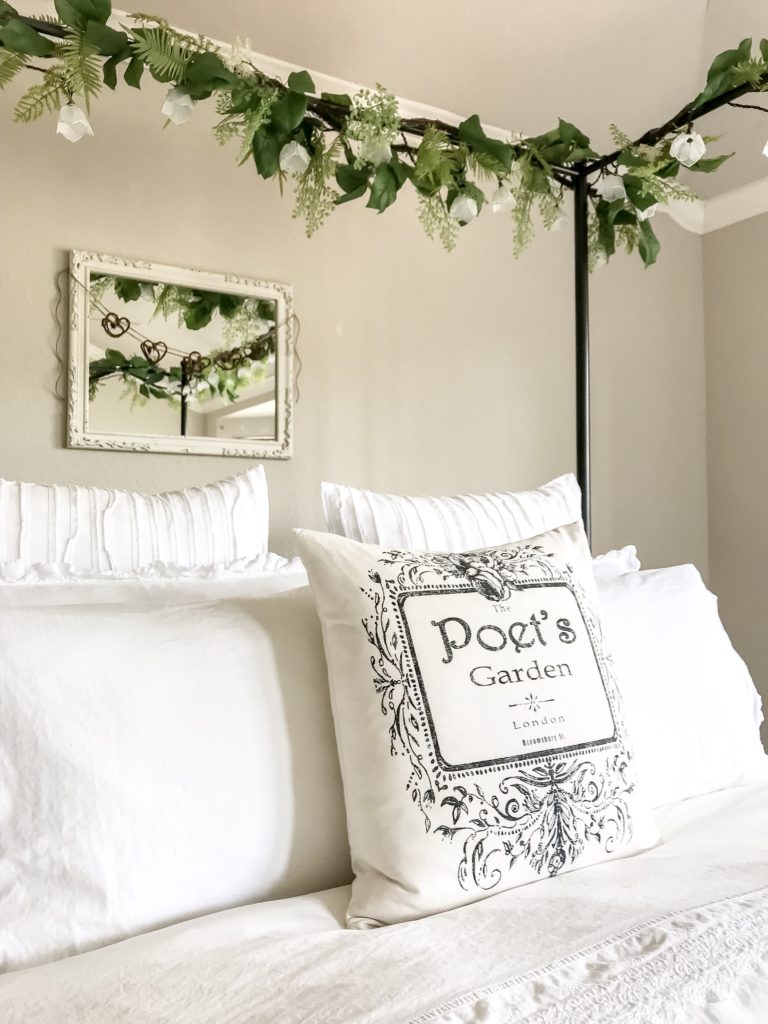 Even though it looks so pretty and fresh during the day, my favorite time is at night when the fairy lights are on. These birch lanterns I love so much were perfect details for each nightstand! Flameless candles on timers go on at just the right time each evening.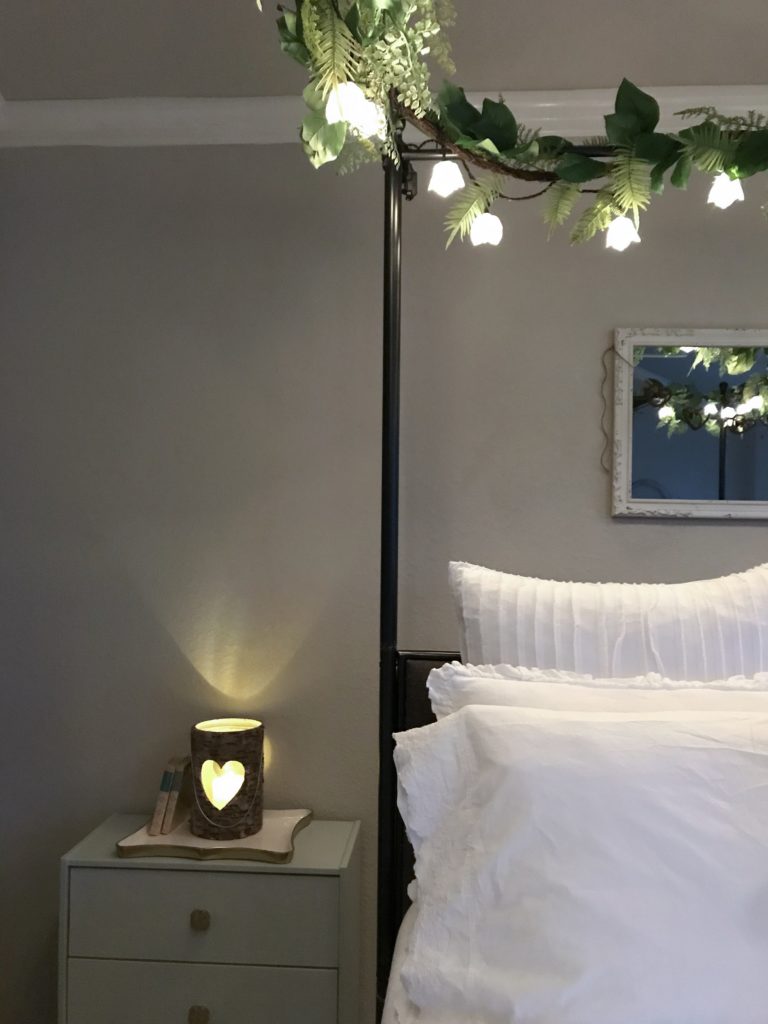 Creating a romantic and serene oasis in the Master Bedroom is such a worthwhile thing to do. It makes ending the day in it so peaceful and magical!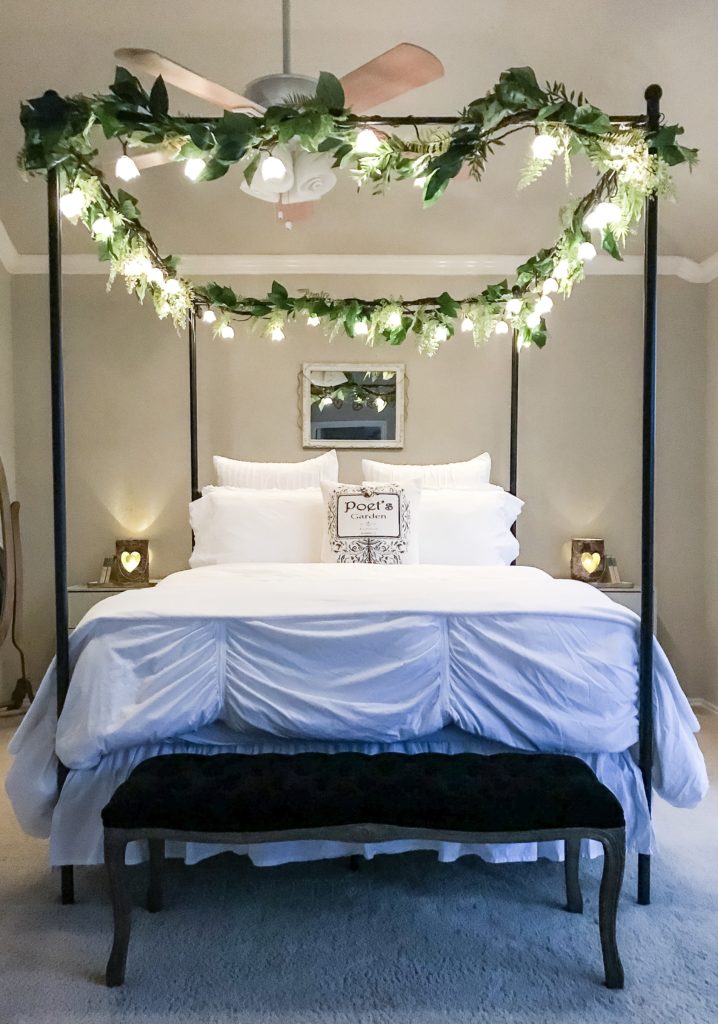 Since I have home decor ADD, I will definitely change things up sometime soon I am sure. But I am loving our little Woodland Fairy Cottage Inspired Master Bedroom right now! 🙂 I've never actually seen A Midsummer's Night Dream, but this totally reminds me of all the pictures and illustrations I've seen of it.
Do any of you change your room decor up by seasons or your mood? Or are you more of a set it and forget it type of person? I'd love to hear your preference in the comments! 🙂
Shop this post with my affiliate links below: