Recently I have been stepping up my self-care with an awesome new addition: taking bubble baths!! So I thought I would share my self-care routine: relaxing bath edition!
Our new house has this amazing garden tub in it. And I was so excited about it when we moved it because I love it when there is a dedicated bathtub. When it is separate from the shower because I feel like it's so much easier to keep it clean!
I had been meaning to get around to taking a relaxing bubble bath in here ever since we moved in a year and a half ago but never got around to it! You see, I'm not really someone who takes the time to take a bath! It's not that I don't like them, I just never make the time for it.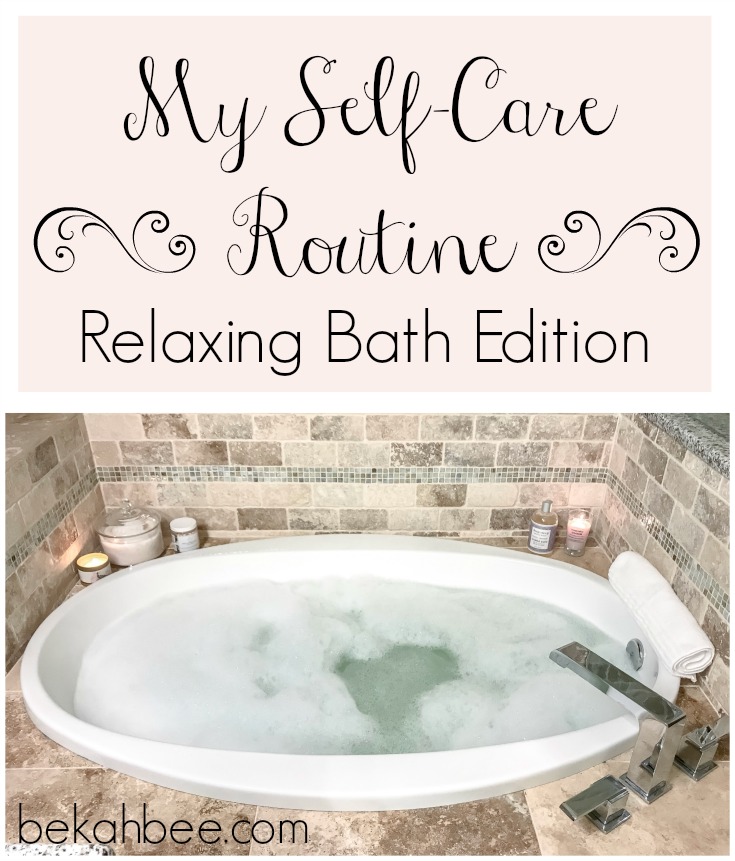 This post contains affiliate links. For more information, see my full disclosures here.
Recently life has been super stressful with so many life emergencies in our house and I was feeling especially worn down. When an Instagram friend posted a video of a divine looking bubble bath with candles lit and everything, I was like "that is what my soul needs!"
So I made time for it, and I am telling you guys it.was.MAGICAL!! I recently switched over to nighttime showering since it makes more sense these days and helps me get all relaxed at night. So I made time for a nice bath instead one night and was instantly hooked! I don't think it will be a nightly thing since I really like to take my time when I do it. But I am shooting for at least once a week, two if I can swing it!
Ever since I have been slowly gathering some luxurious bath time essentials to really enjoy the experience.
So far I've collected these supplies!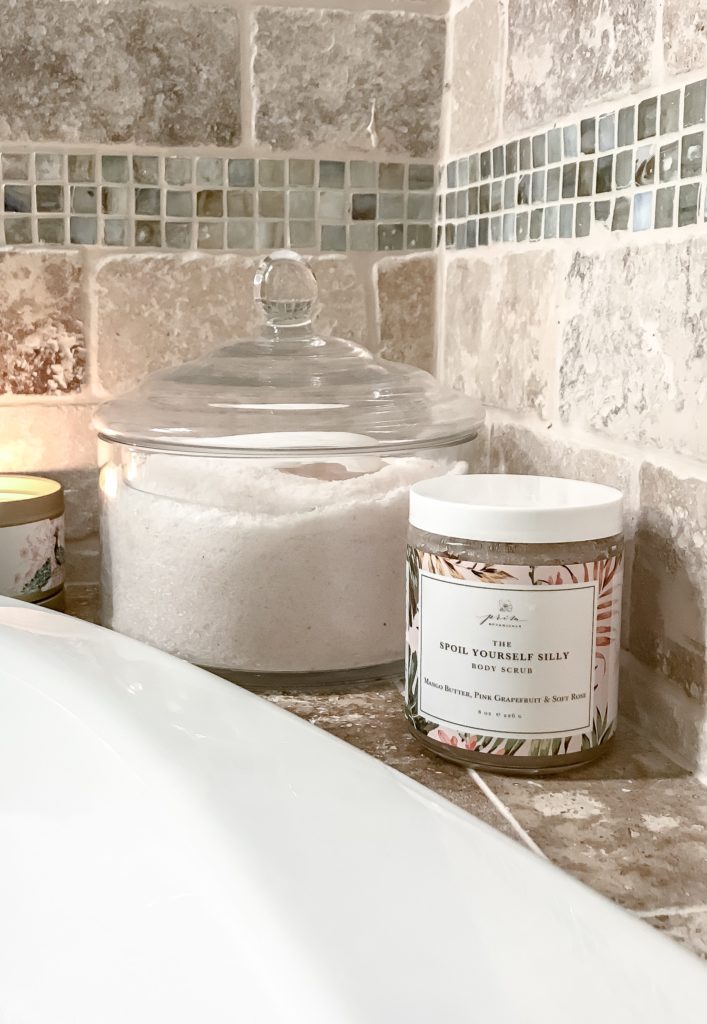 I am loving this Spoil Yourself Silly body scrub from Prim Botanicals, it smells so nice-rose with undertones of pink grapefruit. For my birthday, I got a gift card to Anthropologie (my favorite!) and got this and the matching body oil. Super luxurious combo! Prim Botanicals is a cool green beauty brand I had heard of before, but never tried till now. The packaging is also so pretty!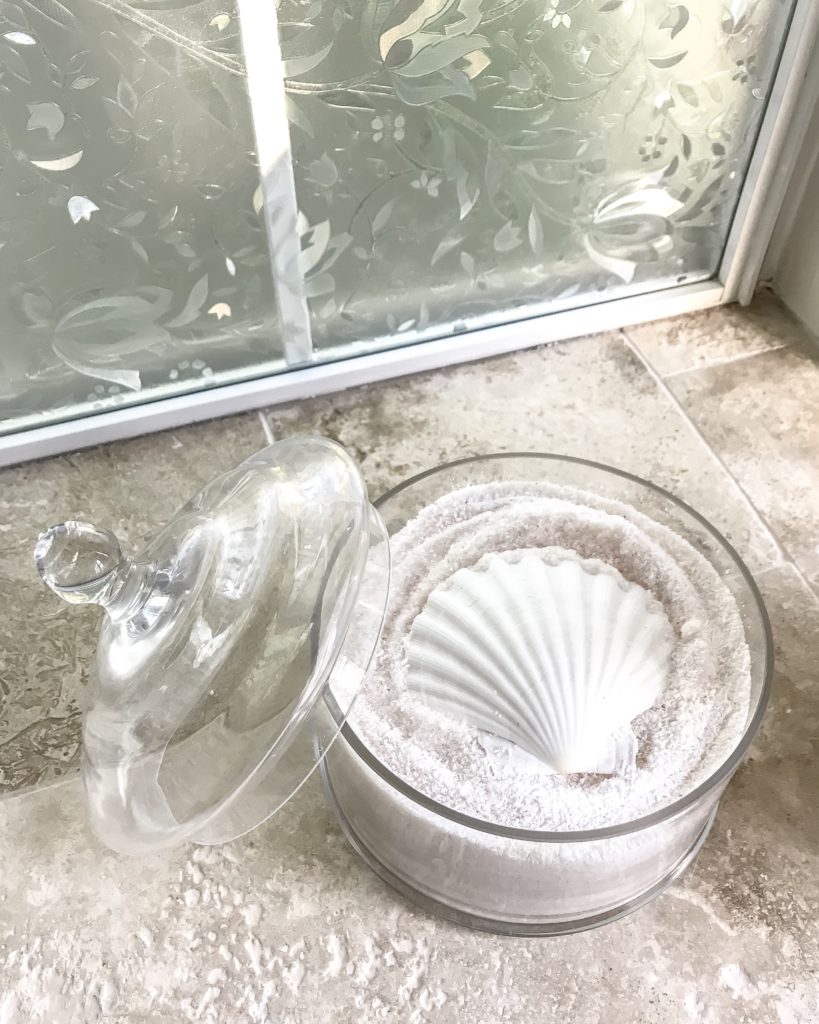 One of my favorite details that came together for all my bath supplies is this gorgeous glass canister I found at Pottery Barn which ended up being the absolute perfect way to store my bath salts! I can't take any credit for the idea since I saw it on their website using a seashell for the scooper and I was obsessed!
It turned out even prettier too, I think since I found these pink Dr. Teals bath salts which look just like pink sand, don't you think?? Especially together with the seashell. I thought it was just the cutest idea ever, and it makes me so happy! The jar was the perfect size to fit in this corner nook too, and pretty so I can keep it out all the time. I am super into making storage look pretty if it is going to be out on display.
The bath salts smell amazing too! Fresh and citrusy, and I think it is the bergamot note I smell the most.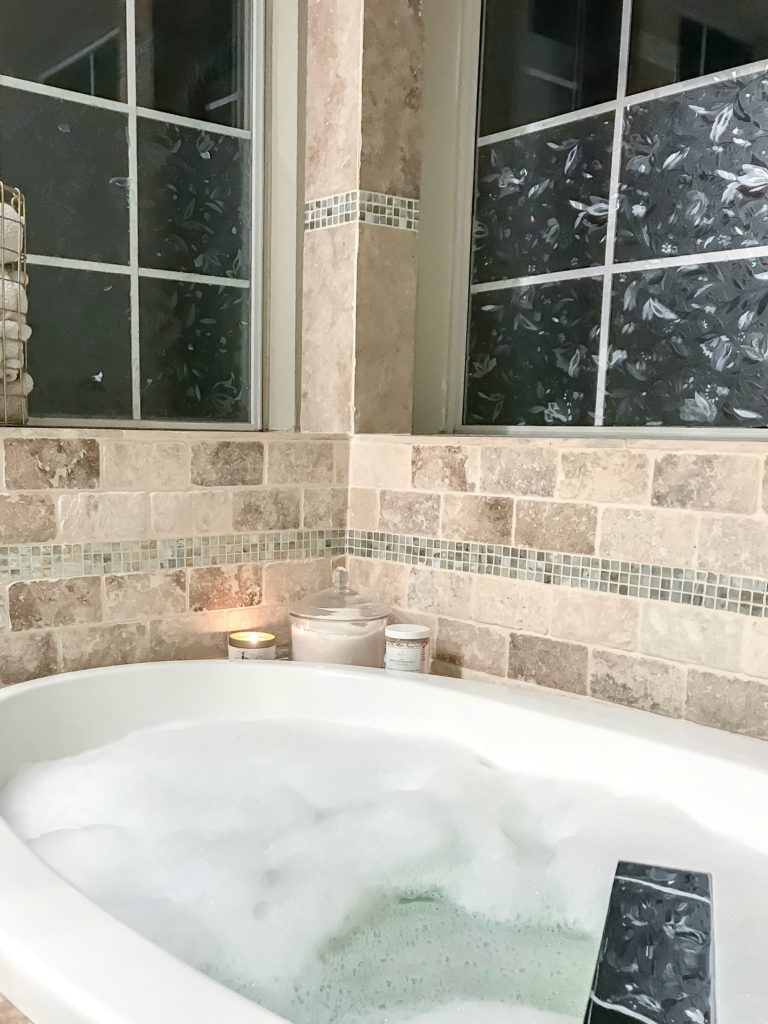 On a relaxing bath pamper night, here is what my routine generally looks like!
Turn on relaxing music on my Alexa Dot in the bathroom. I've been favoring soft classical instrumental since that is what tends to help me decompress the most. My fave album ever for this is Yanni, In My Time. I also enjoy Debussy, especially Clare de Lune.
Put my favorite face mask on. I use Mahalo The Bean for a weekly detox, or especially if I am breaking out at all. And May Lindstrom The Honey Mud if I want extra moisture or a calming effect on my skin.
If I want a bubble bath I do that, or if I want some soothing muscle bath salts I use those instead while I run the bath.
Light a calming candle. Target has some really nice ones lately and I picked one of those up!
Just sit and relax in the bath for at least 20 minutes! Normally my mind works overtime when I am getting ready in the bathroom or showering in the morning, but during a bath, I have been trying to simply let myself BE. Like totally in the present moment. I focus on the sounds of the water splashing, or on the flickering of the candle. And to just exist without thinking really. This has been SO good for me, and so re-centering! My mind literally never stops, so this is so necessary sometimes.
After I really just let myself sink into the bath and totally relax, I will rinse off quickly in the shower and slather the body oil all over my body, or at least my legs.
Get into comfy PJs!
I always put lotion on my feet and massage them a little extra, before putting on cozy soft socks. This is like the best last little relaxing part! And it makes my feet super soft in the morning.
Then I just enjoy how generally zen I feel! It is fabulous.
In fact, my hubs even noticed how relaxed I seemed afterward and was kind of jelly! Haha. I told him I would totally create a relaxing bath experience for him if he ever wants to take the time for it one day. 🙂
Sometimes I will also bring a little glass of red wine and a snack in too. Once I brought my wine and two homemade chocolate chips cookies in with me and I swear I thought I had died and gone to heaven!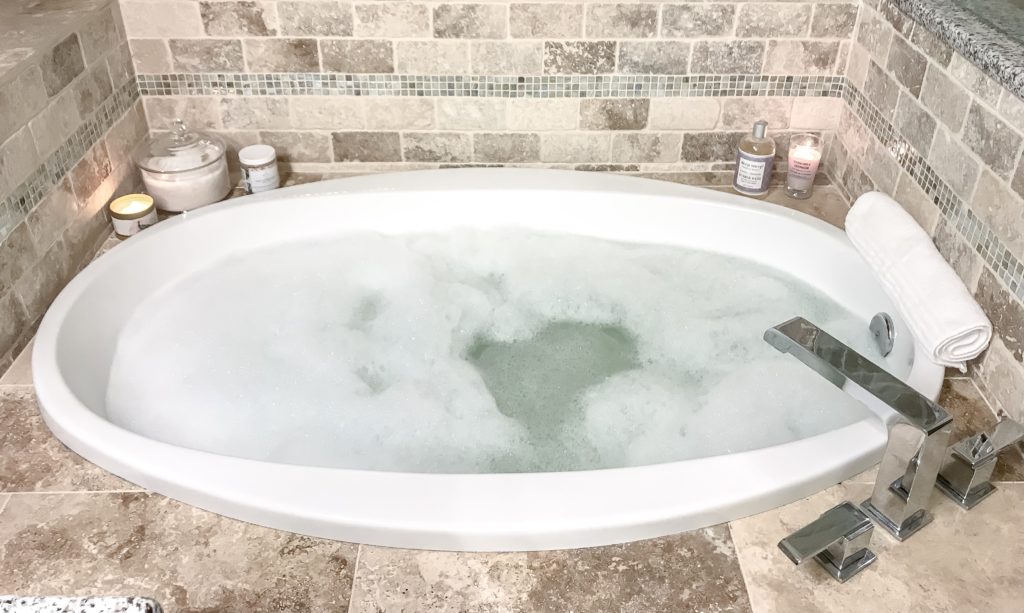 In this crazy busy world that we live in, where we never take the time to stop and unwind this has been the best thing ever for me. And it totally refuels me to be able to be more productive in the days following!
So there you have my new and improved, self-care routine: relaxing bath edition! I highly recommend trying to take more time for yourself too! Do you have a beloved self-care ritual that helps you to unwind?
Shop this post with my affiliate links below: