Oh glorious day, a beautiful day for an organized pantry reveal! If you have been following me on my Instagram, and watching my stories at all you will know that I started tackling my pantry which was quite the disaster back in March. It was actually even worse than the before picture but I had already gotten rid of a few things which were driving me crazy since it was a mess and I couldn't find anything! I have been chomping at the bit to finally take the time to create a little haven in here, where it looks pretty and I can actually find what I need to cook with!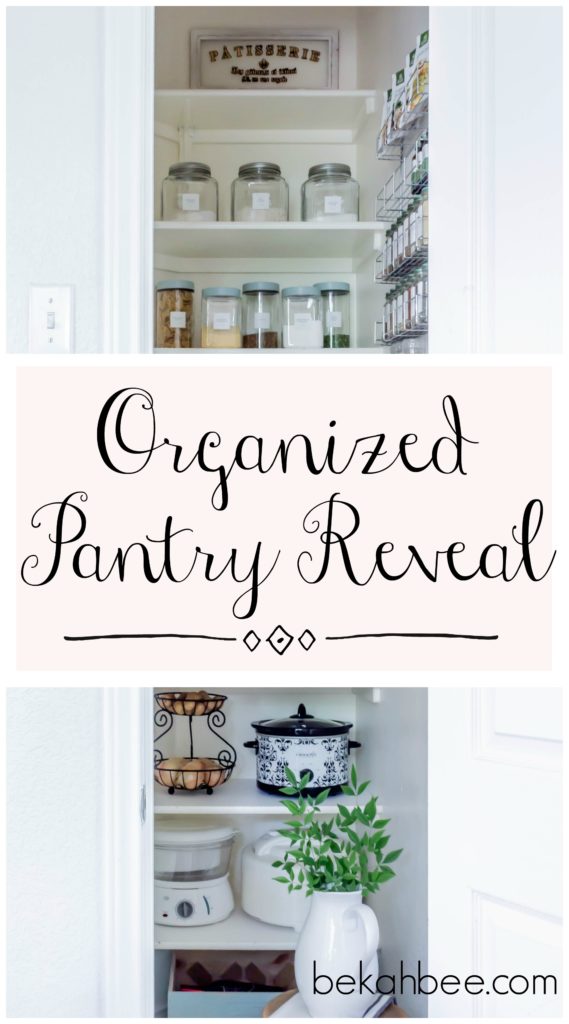 I am beyond excited that everything has finally come together and I can finally share my pretty and organized pantry with you all! This has been one of my favorite projects recently since I LOVE neat and tidy pantries so I was super excited to finally tackle my own.
Here is my newly organized, neat & tidy pantry in all its glory!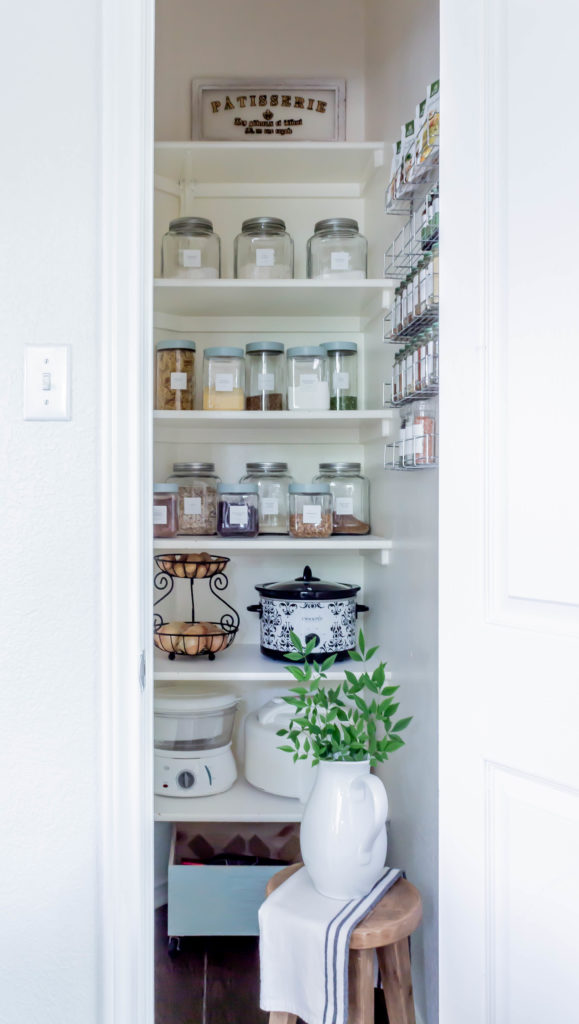 This post contains some affiliate links. For more information, see my full disclosures here.
By the way, be sure and read to the bottom of the post for a super fun giveaway I am doing! Sorry, the giveaway has ended! But be sure to check out the Paper & Pear Etsy store! 🙂
*Update!* So I updated the pantry since this post, and have a whole video of my new pantry organization tour if you are interested below!
And back to my original reveal and post below! 🙂
OK. Let's give you the ugly truth of what it looked like before! Pure chaos I tell you. The pics are pretty grainy, I just snapped real quick on my phone and tried to lighten them up a bit!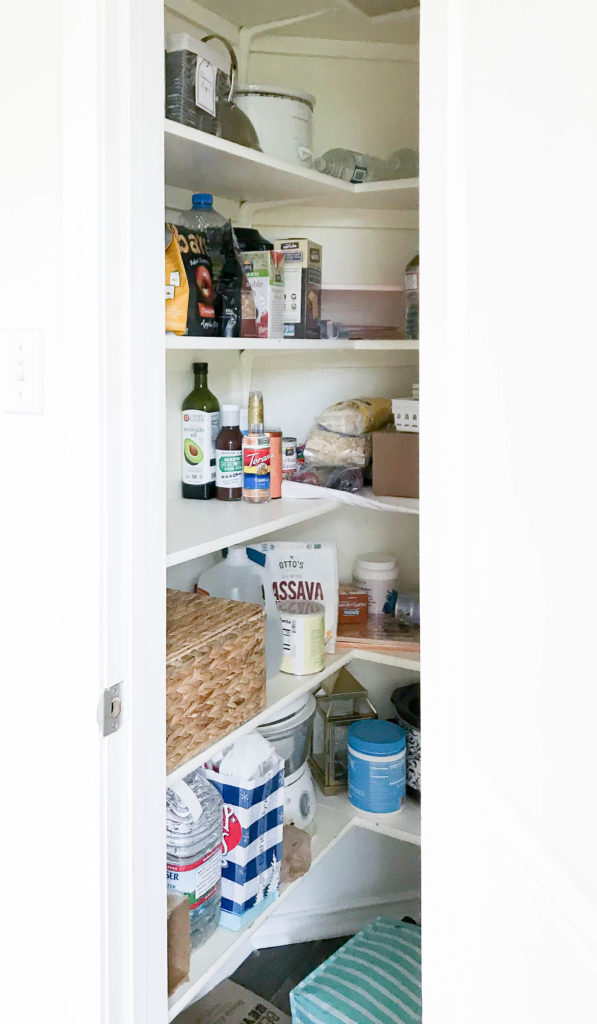 Just a bit ridiculous right?! Seeing this when I walk in now is a definite improvement! I am so thankful to finally have a walk-in pantry, I've never had this much pantry space in our apartments before. And especially not a pretty, Pinterest-y and organized pantry!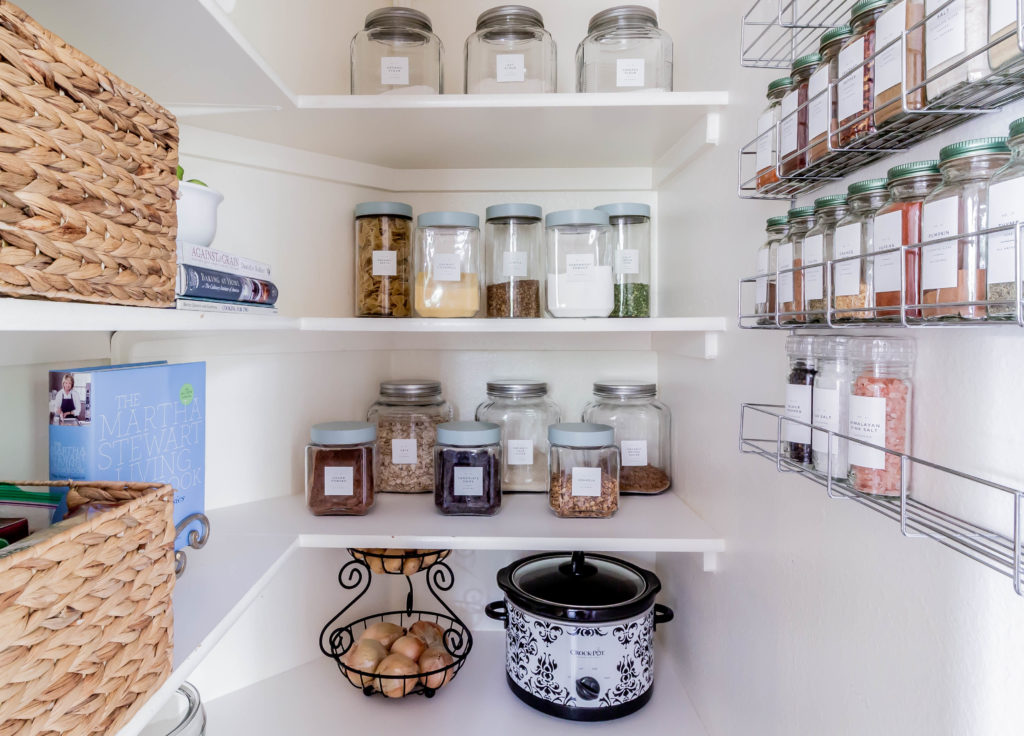 After I started organizing, I quickly got everything to a place where it was about 80% finished but my absolute favorite details are the ones that came together at the end and took everything to the next level!
First I found some amazing spice jars on Amazon because I really wanted to put all my spices into a set of new, uniform jars. I was SO excited to find these amazing jars which got great reviews, and they didn't disappoint! I am a huge packaging snob/nerd and love everything in a pretty container or package. So the Simply Organic spice jars have always been my favorite, I think they are super pretty! However, I had a bunch of spices already and didn't want to just buy a set of all new Simply Organic Spices.
So I was thrilled to come across these jars that are the same ones used by Simply Organic, just without the name of the spice on top. But the green iridescent lids were the same and the jar is exactly the same! So I got them, and along with a few existing SO jars I had on hand already, now I have a beautiful set of all matching spice jars! (the size that is the same as the SO are the 6 oz ones, not the 4oz!)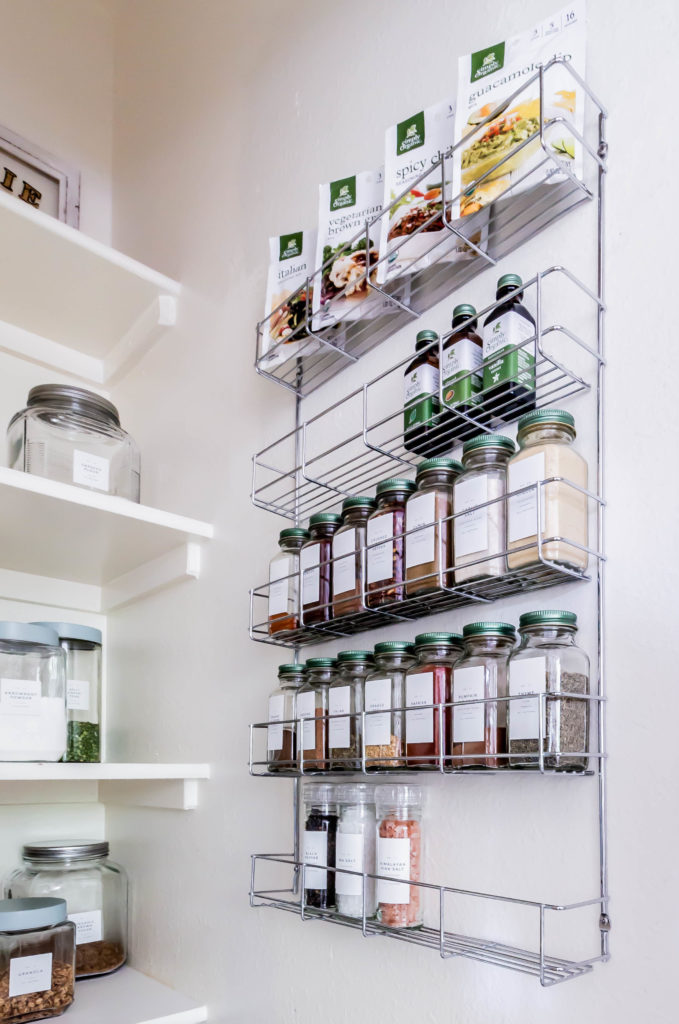 My next discovery was by far my favorite and I was actually a bit giddy to find it! I knew it would totally tie everything together perfectly. I found these classy and gorgeous spice and dry good labels on an Etsy Store called Paper & Pear. You guys, I am literally obsessed! I wasn't into the idea of writing my own labels this time, and this was a much prettier option! They are so simple and understated, yet very elegant. They seem to just elevate things that much more! I never thought I could be so excited to see all my flour and baking supplies lined up! And the spice ones were the perfect way to make my new spice jars complete! Aren't they simply gorgeous?!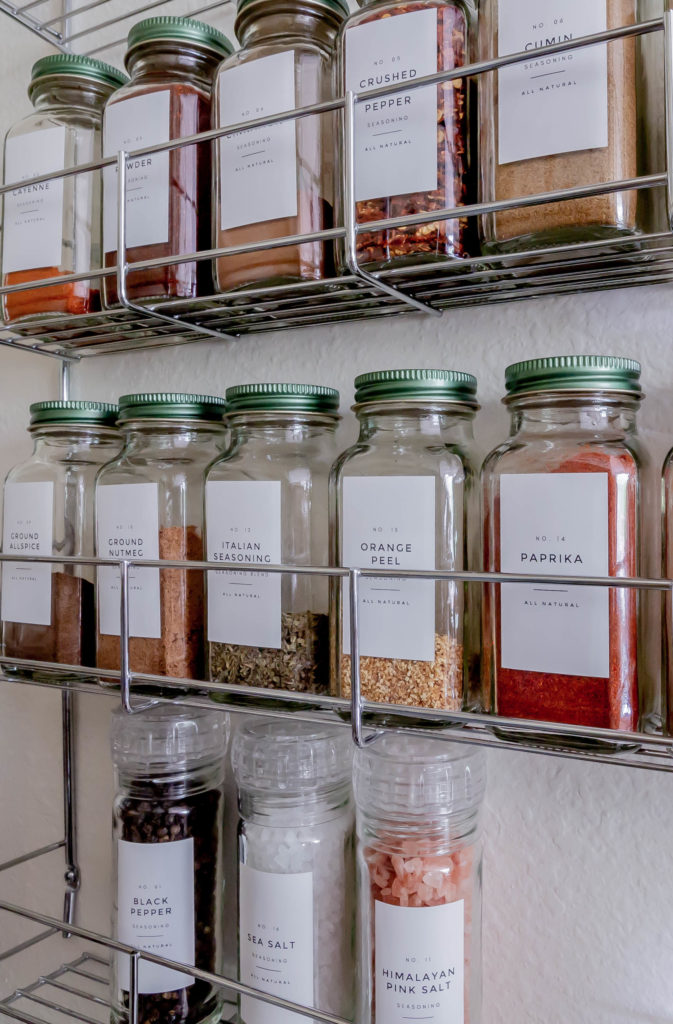 Also, I was looking everywhere for the perfect matching grinder jars for black pepper, pink and sea salt and finally found all three at my local HEB in pretty clear jars. I love how they look! You can see more of the details on the labels in this close-up shot.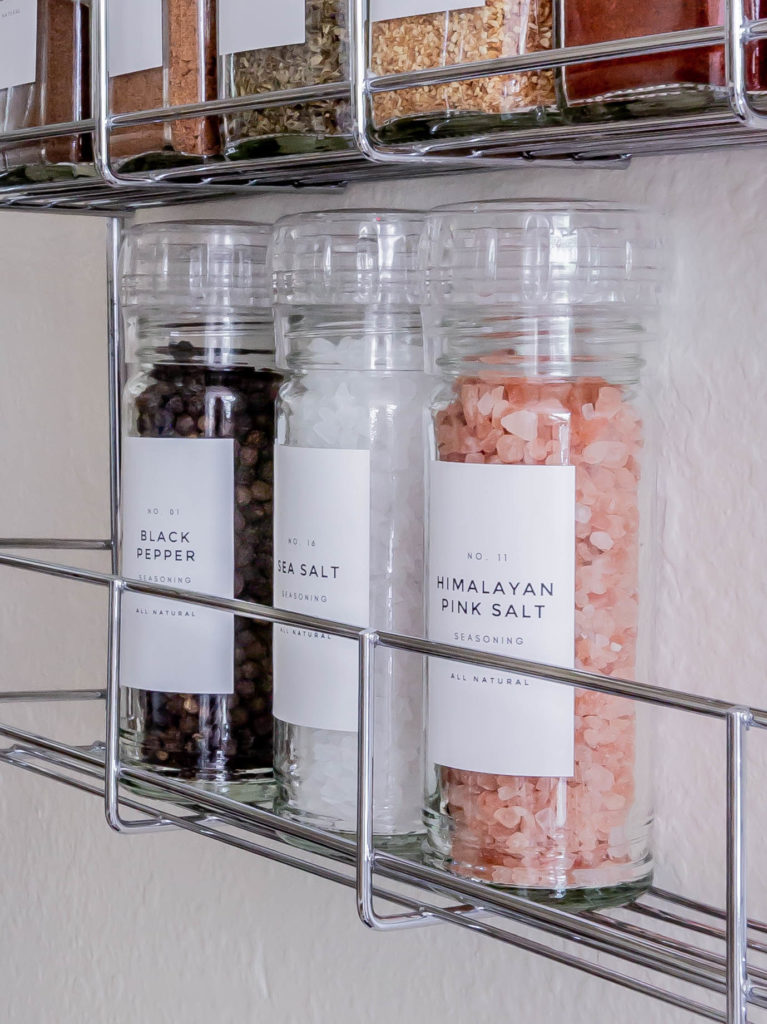 Basically, everything else for the project came from HomeGoods, one of my favorite home stores! They have the best unique items for storage around. I was really feeling these pretty glass jars with the soft aqua lids. And I got some seagrass baskets to corral my other pantry items. They have my favorite seagrass baskets! And I feel like they are way more affordable there than other places. The cute French Patisserie sign came from World Market. I put it above all my baking supplies since it seemed appropriate!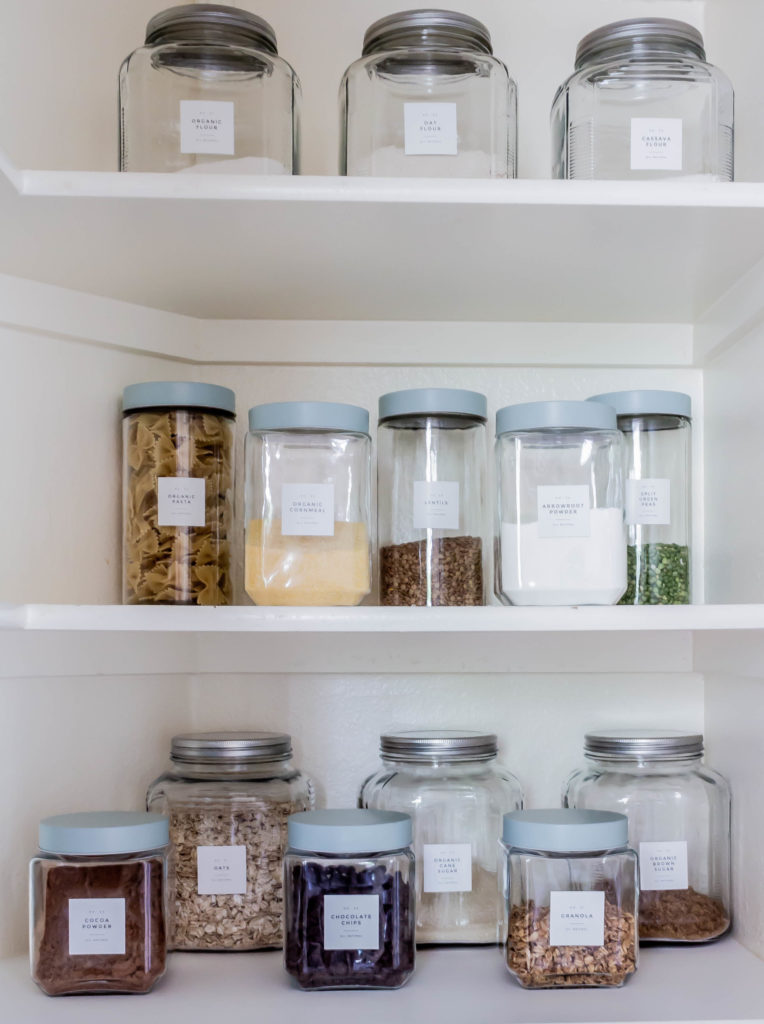 On the left side of the pantry I stored all my paper towels and kleenex, jar of snack bars, baskets of miscellaneous items and cookbooks.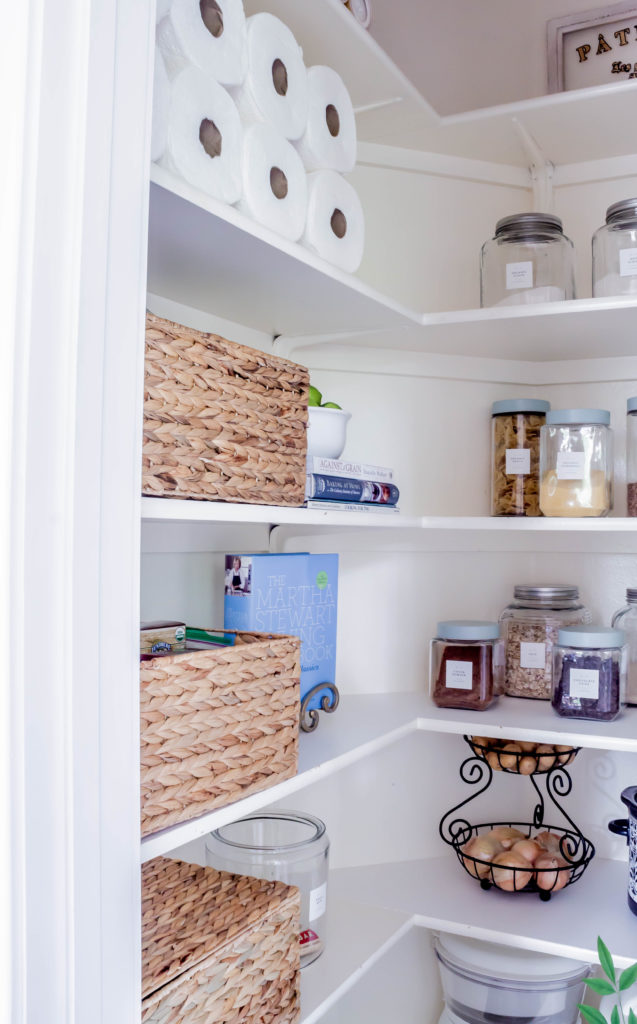 A couple of my cookbooks that were pretty enough to display in here!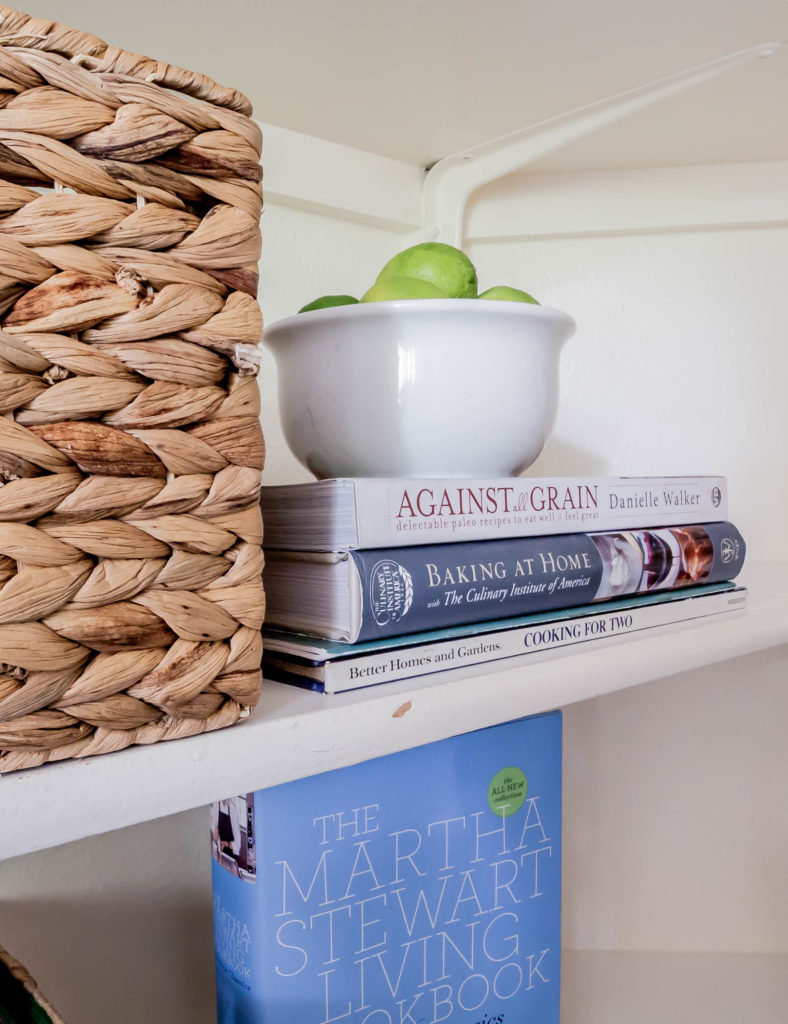 No organization project is complete without first decluttering and purging! Tons of things got put in my goodwill bin and I only kept the pure essentials. I had two crockpots and decided I had no need for two, so one of those went as well. I have learned how to purge ruthlessly since order is so important to me. I've only ever regretted getting rid of something I don't currently use maybe twice in over 12 years of marriage and moving tons of times. So when in doubt, I give it away!!
It's so funny to me how different people are, and how some get so excited and passionate about some things that other people don't care about. But all my fellow organization lovers will totally relate to my glee on these finds right?? Neat & tidy pantry, lined up in rows in pretty packaging with lovely labels? This is my dream right here guys! 😉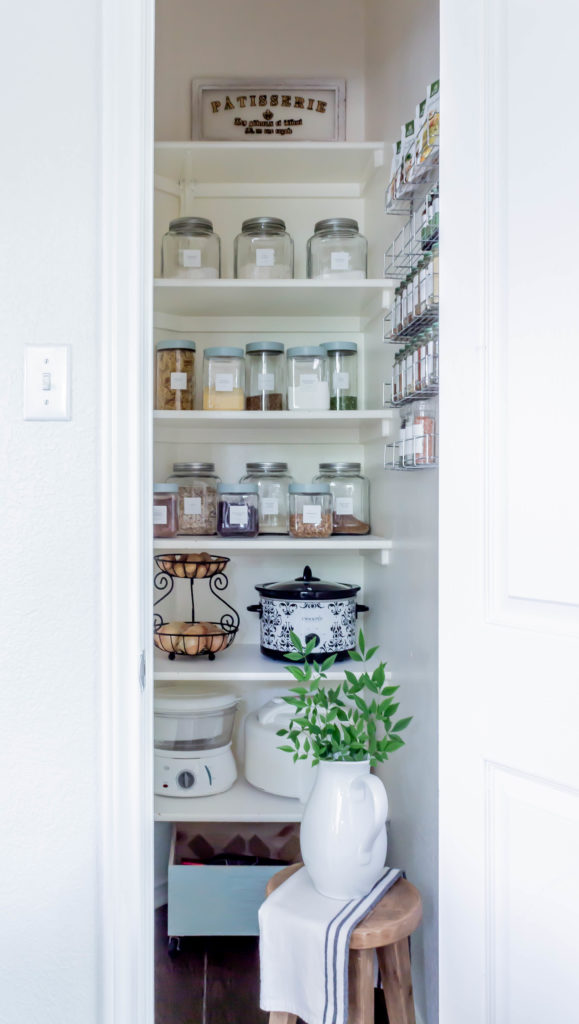 Be sure to check out Kim's Etsy Shop here! She has some ready to ship options of the most common spices and pantry goods. Or you can completely customize your own. I chose the custom option because I had a lot of items not found on her ready-made labels. She was so helpful in helping me decide the right size for my spice jars! I got the 20 pack of custom Modern Spice Labels in the style 2.25t x 1.25w White. And the 20 pack of custom Modern Pantry Labels in style 1.8″ Square White!
Thanks so much for stopping by my blog today and I hope you loved the pantry before and after! Tell me, are you an organization nerd like me?? Does an organized pantry make your heart happy? I know there are tons more people out there in the same club! 😉