Do you guys dream of perfectly organized linen closets like I do?? And search Pinterest for ideas of ways to make them super organized and efficient? Simple and pretty linen closet organization or any organized closet for that matter are some of my fave things! I LOVE seeing things neat and tidy! Ooh, it's the best feeling ever. I know not everyone gets this obsession with things being in order. But those of you who are the same way totally know what I mean! 🙂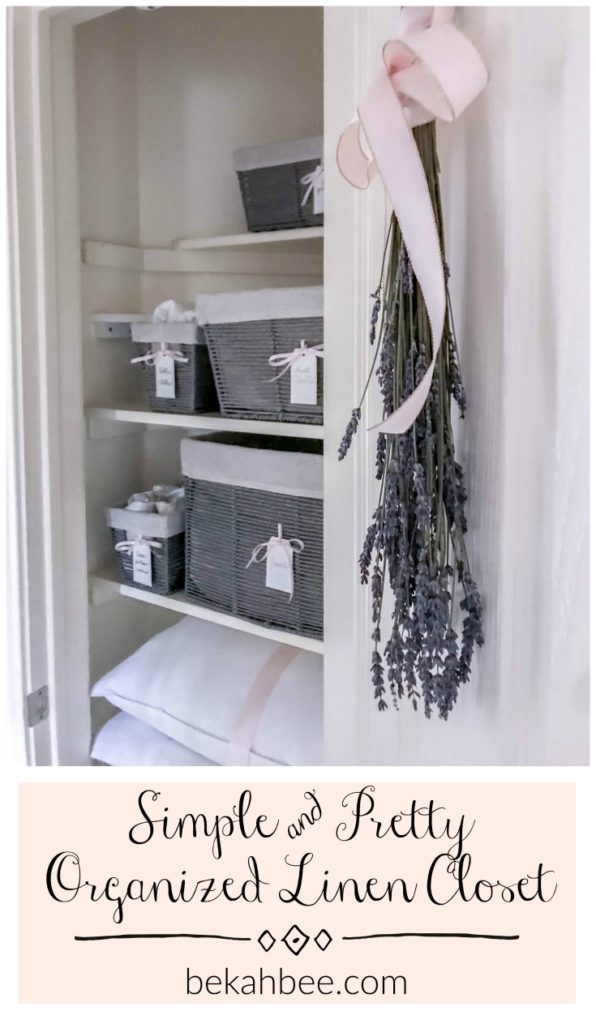 This post contains affiliate links. For more information, see my full disclosures here.
Something I have been just itching to do since we moved in a year and a half ago, is get our linen closet all organized. Well, I finally got around to it! And let me tell you, it makes me happy every time I look for something in there now, instead of it being a bottomless pit with things piled everywhere!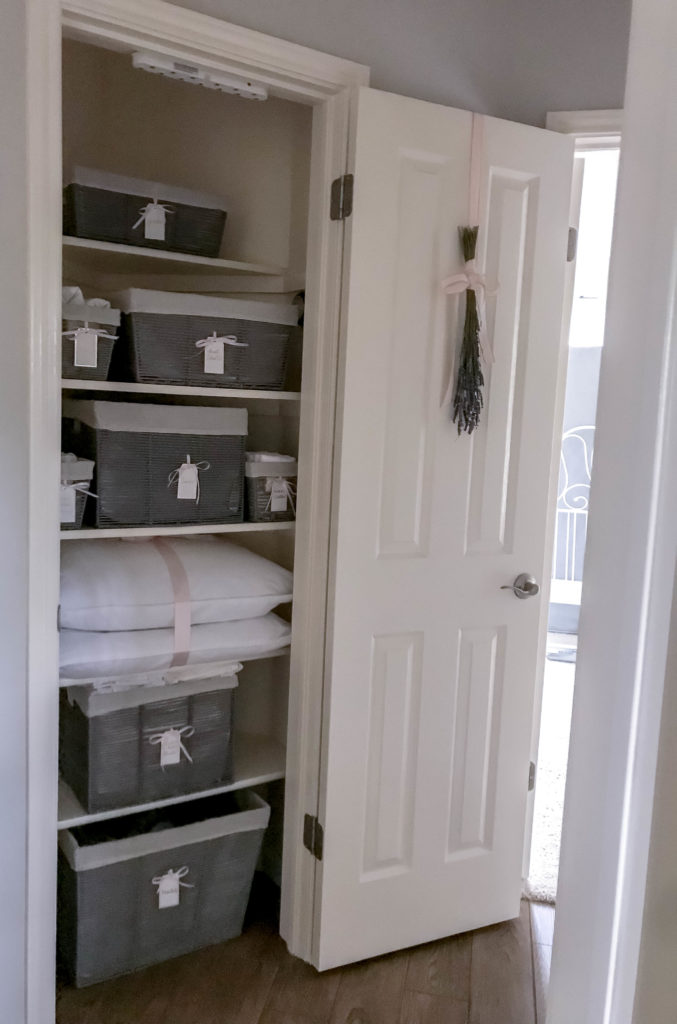 Because this closet is kind of a weird shape (with a triangle-shaped back) I knew I needed to find some kind of baskets that would hold a decent amount of things, and yet be the right size to fit each shelf. A while back, I fell in love with a pretty grey twisted paper hamper from Target and thought about getting it one day. It turns out the same line has baskets of various shapes, so I decided those were perfect for this project! I think they are just so pretty! They also come with a removable natural linen color fabric liner. That is really cool in case I want to take them out to wash them for any reason.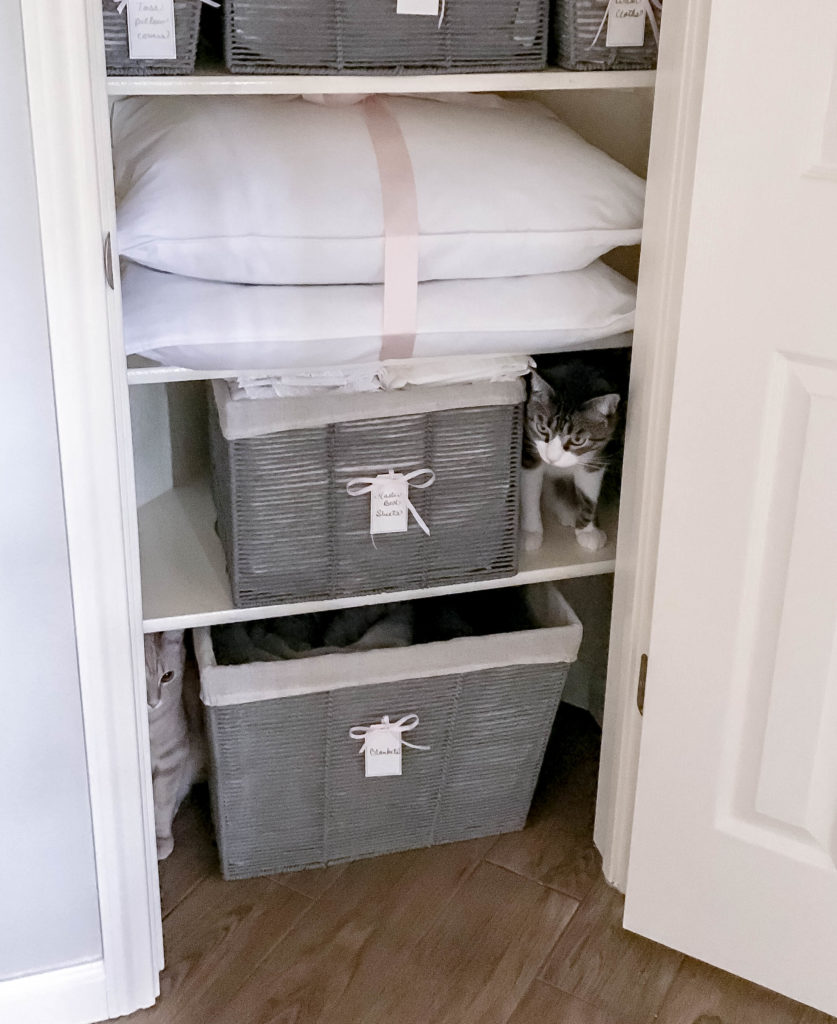 Some pretty adorable little photo bombers decided to stop by and crash my photoshoot!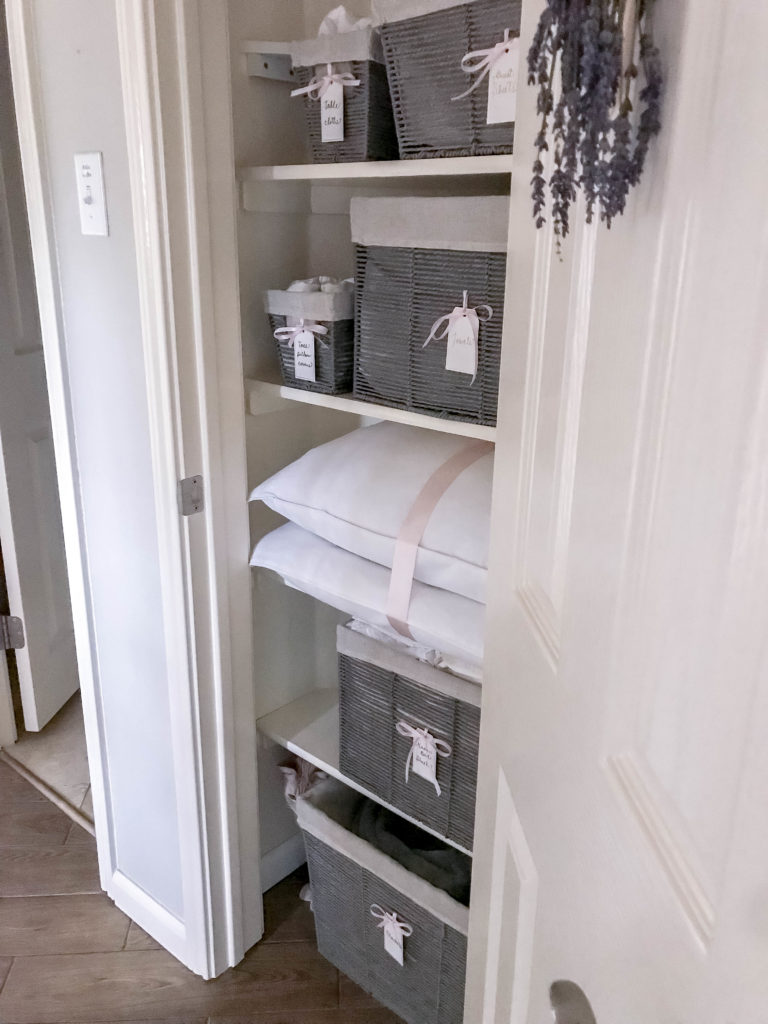 I knew I wanted the baskets to have hanging paper labels and I found some cute gold rimmed ones at Michaels. I labeled each one with a gold marker and tied them on with some pink ribbon for a pretty combo with the light grey. It took a bit of fiddling around with different ideas for the labels, but love the way it turned out with the simple grey and pink color scheme.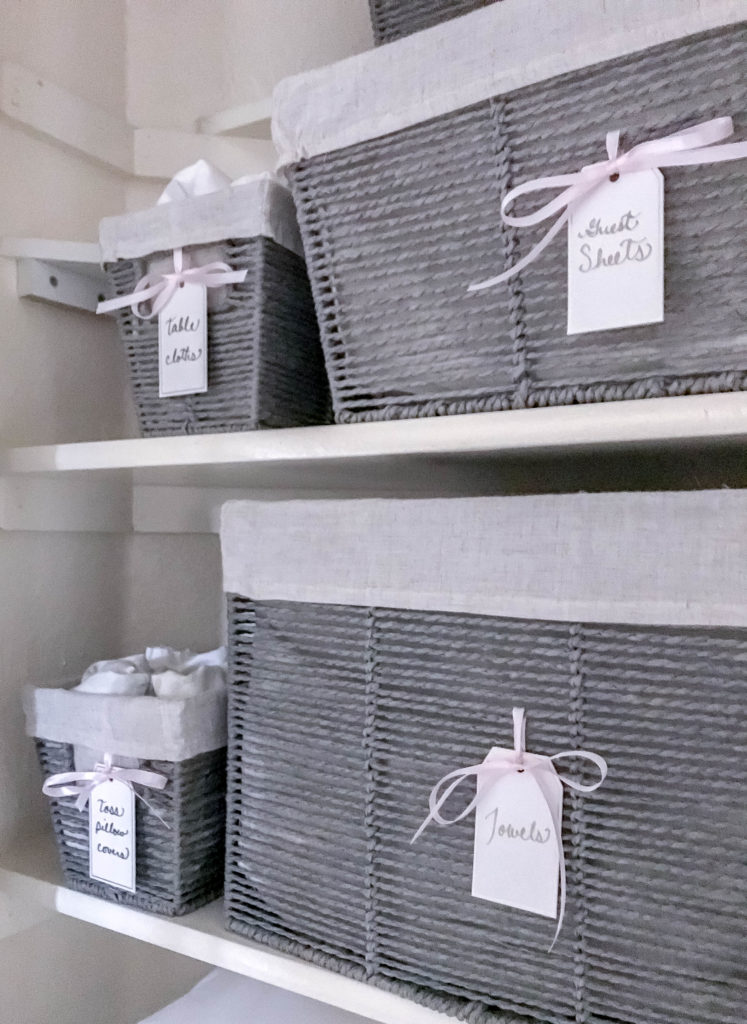 After I figured out which basket would fit on each shelf, I decided which ones to use for what items. I sorted everything into tablecloths, sheets, towels, washcloths, toss pillowcases and blankets. Also, I put together a nifty basket filled with travel size guest necessities, fun little extras to have on hand in case anyone forgets anything while visiting us! I have always wanted to have one of these, so I had a blast thinking of things to fill it with!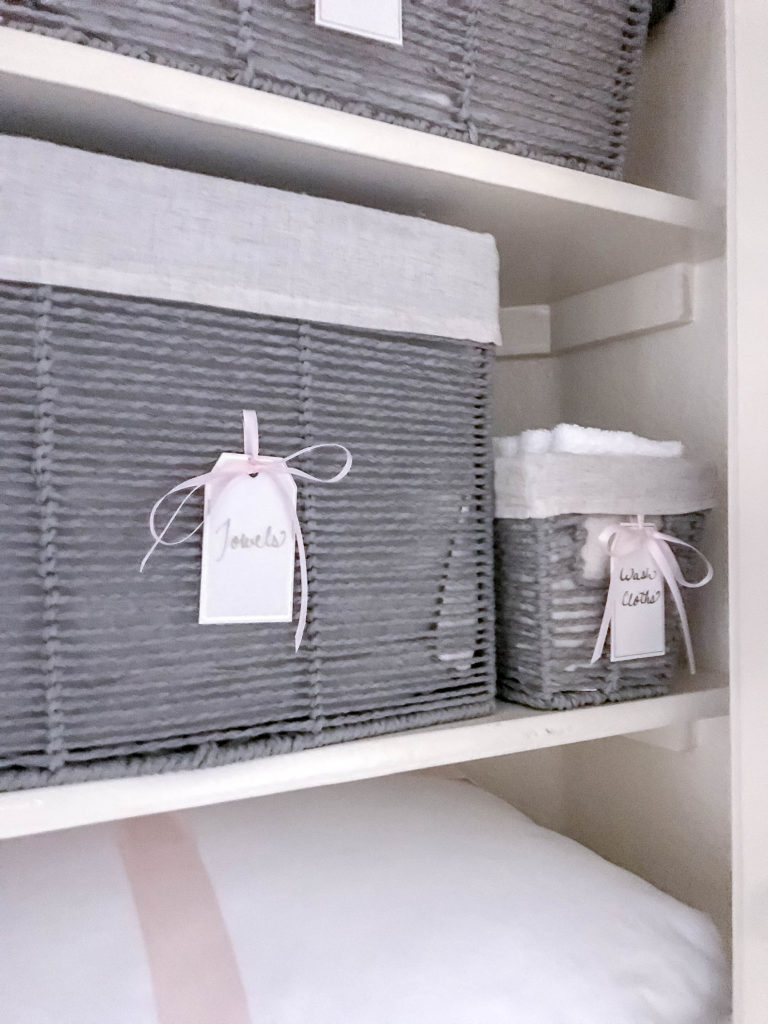 Here are the categories I have for everything so far. It may change over time and need a bit of tweaking!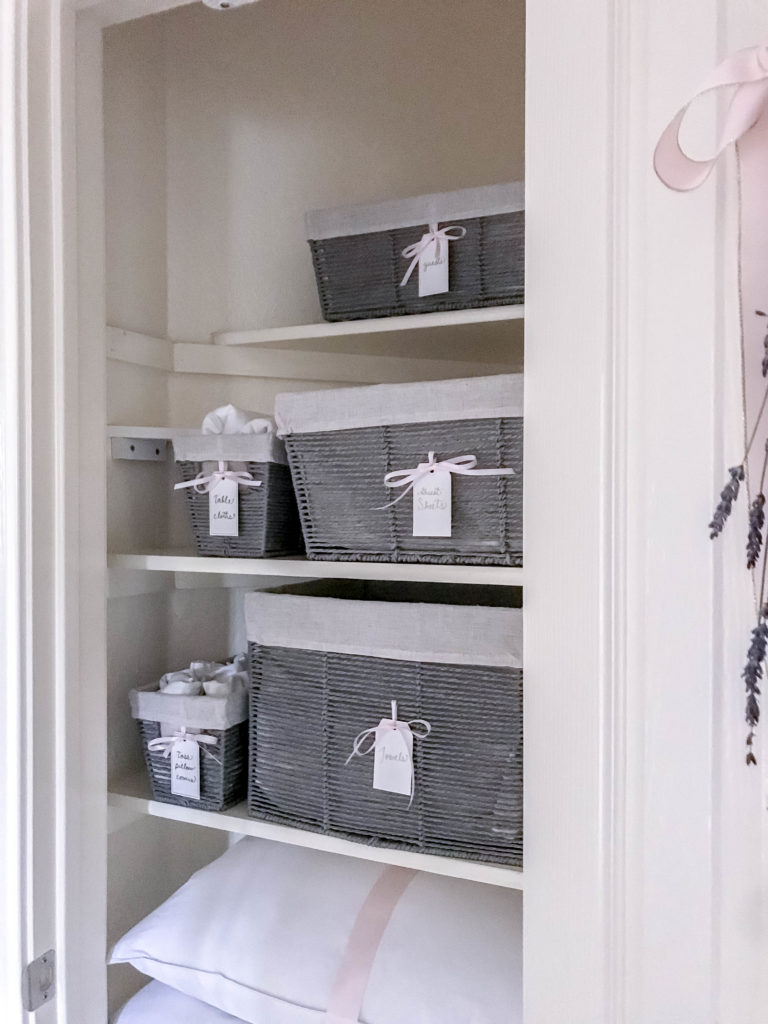 Guest Necessities
Table Cloths
Master Bed Sheets
Guest Sheets
Towels
Washcloths
Toss Pillow Covers
Blankets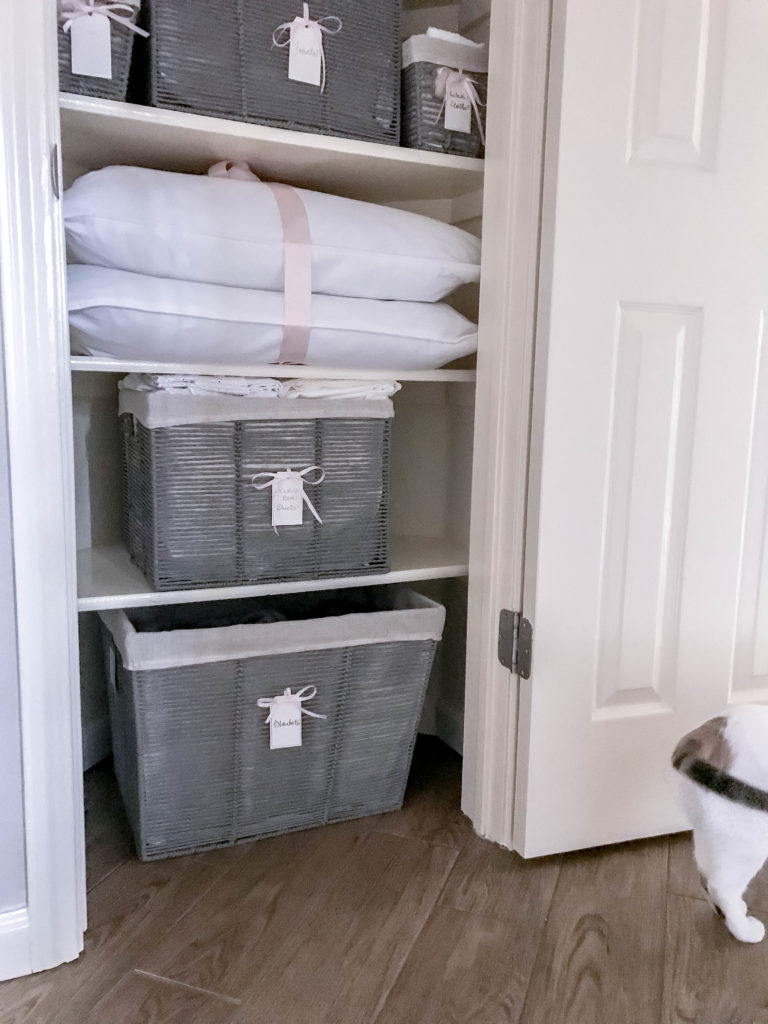 To make everything smell pretty and fresh, I added a sachet of lavender to the guest sheets basket and tied a bunch of dried lavender onto the inside of the door. Probably one of my favorite little ideas I've ever come up with! Now it smells amazing every time I open the door, while naturally scenting all the linens. Yay!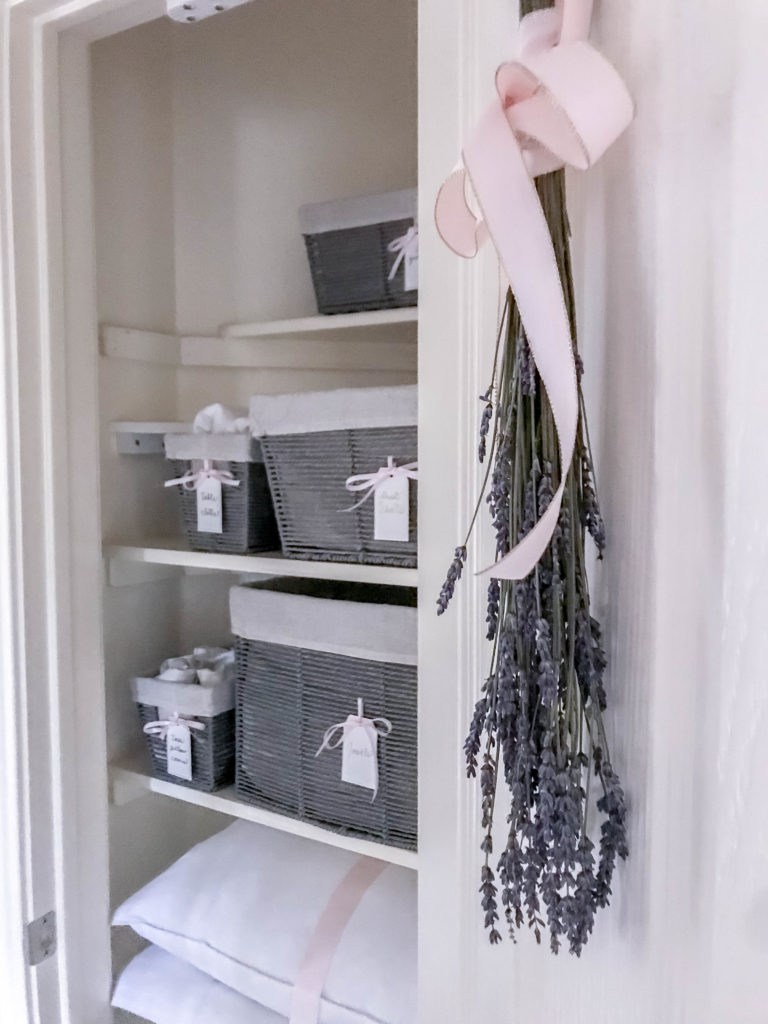 Now every time I go in here, I just adore the neat and tidy vibes it gives me! SO different than the chaos that used to be thrown around in here until I could get to it. Have you organized your linen closet? I promise it will make you feel SOO happy if you do it! 🙂
Shop this post with my affiliate links below: