Coffee bars have to be one of my favorite areas to style. Maybe it's the fact that I am very slightly obsessed with coffee (and have been since I was 17!) or maybe it's just because they always seem to look so darn cute! I am pretty passionate about creating moments in your day that are an experience. Small moments in the midst of the daily grind, where you stop for just an extra minute or two to really revel in it and soak it all in. Of course, one of those for me is my morning coffee. So I really loved setting up this whole experience to add just a touch of magic to the day!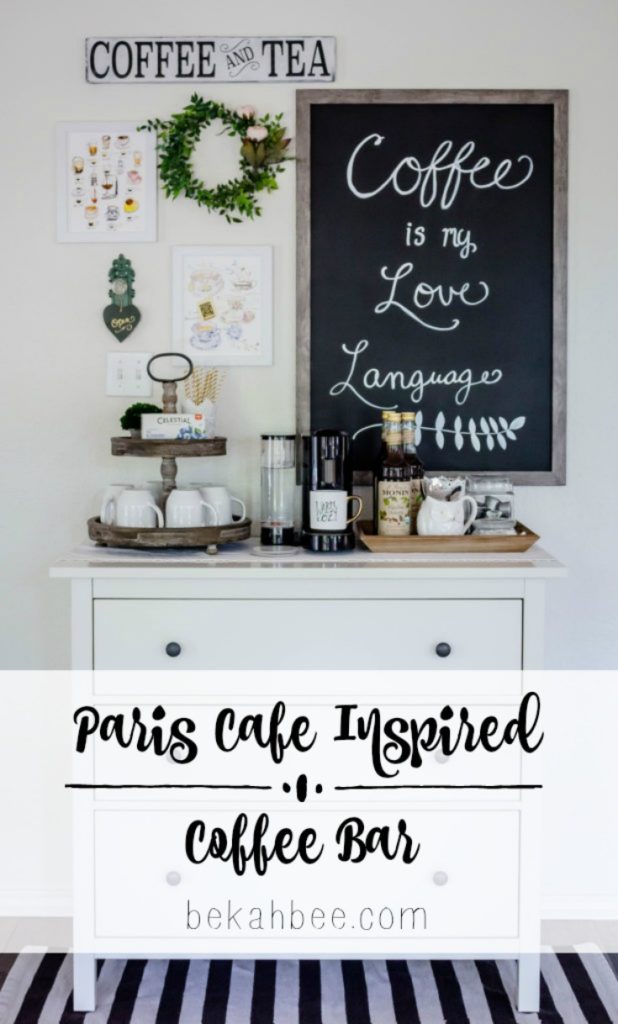 This post contains some affiliate links. For more information, see my full disclosures here.
Something that was also really special is that I put this together in our very own home. Finally getting our own place has been so completely grounding for me, and I love the feeling of rootedness it has created. I know that we aren't going to leave anytime soon so it makes me feel very content to finally settle down and nest. Does anyone else out there know the feeling? That's what over 10 years of renting will do to you! Especially those of us who are extra "nesty" and feel very overwhelmed by change in our routines. I feel that sense of finally "being home".
So, enough of all that jabbering-lets get on with my fun coffee bar reveal! Isn't she pretty?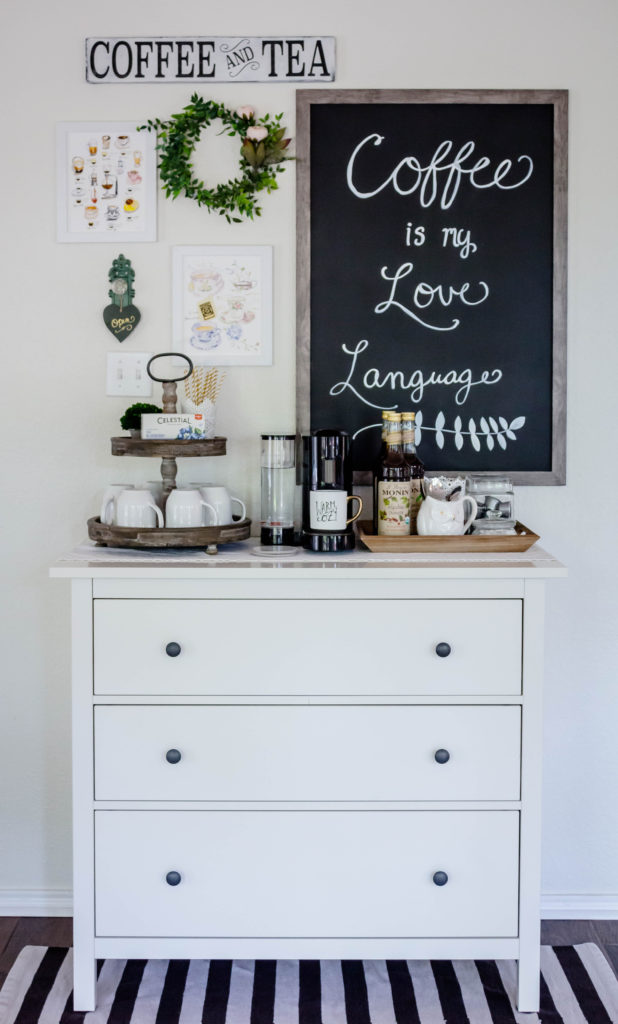 I had actually been collecting a lot of the items since before we moved, and never got the chance to set it all up at our last place since the craziness of buying our house and moving had begun. I wanted to go for a very French/Parisian cafe inspired feel using a black and white palette with pops of pastel. Really my entire house is like that, so I was just continuing the theme.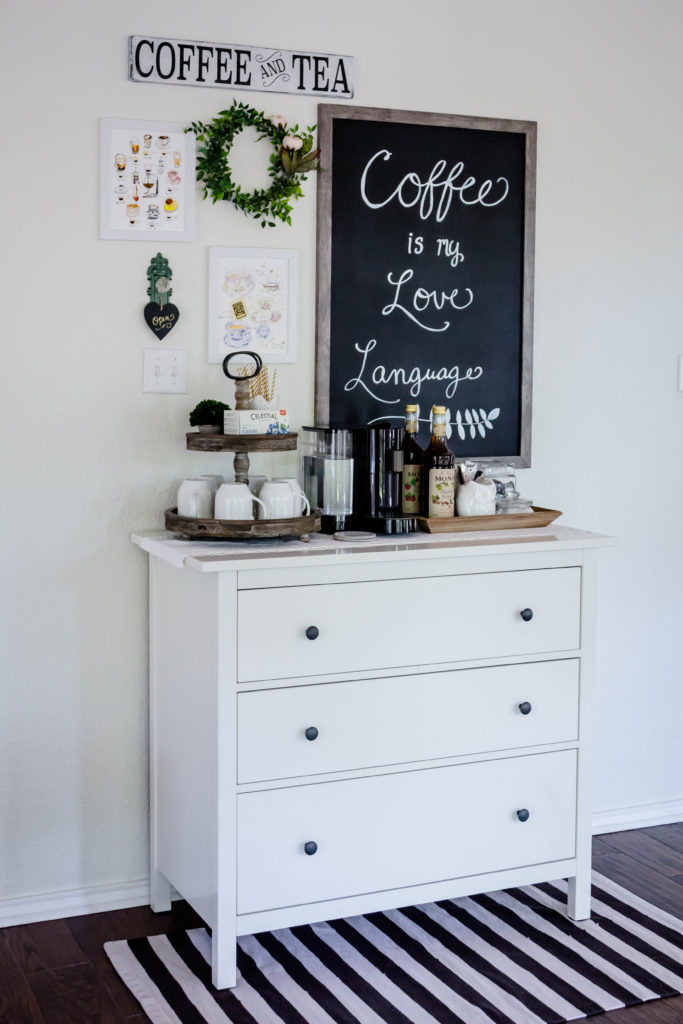 I absolutely love these super cute coffee and tea illustrated prints I got from Etsy, it was exactly the kind of charm I wanted to infuse into this space. It is kind of hard to see the details in these shots, so here are some close-ups: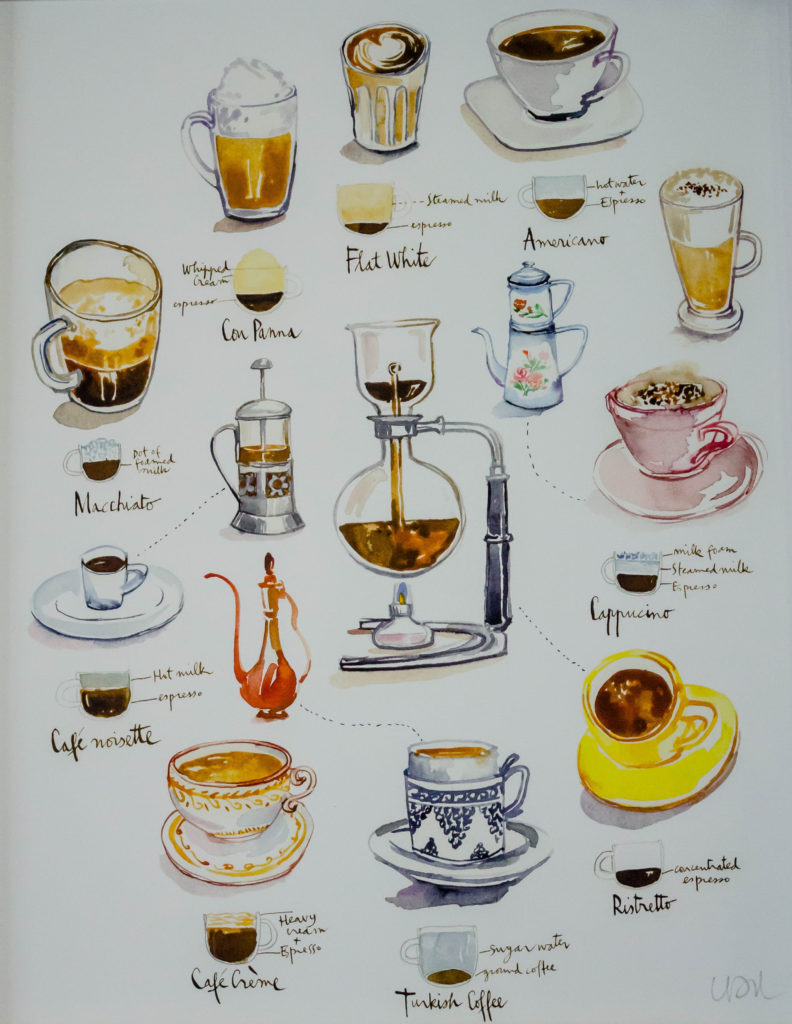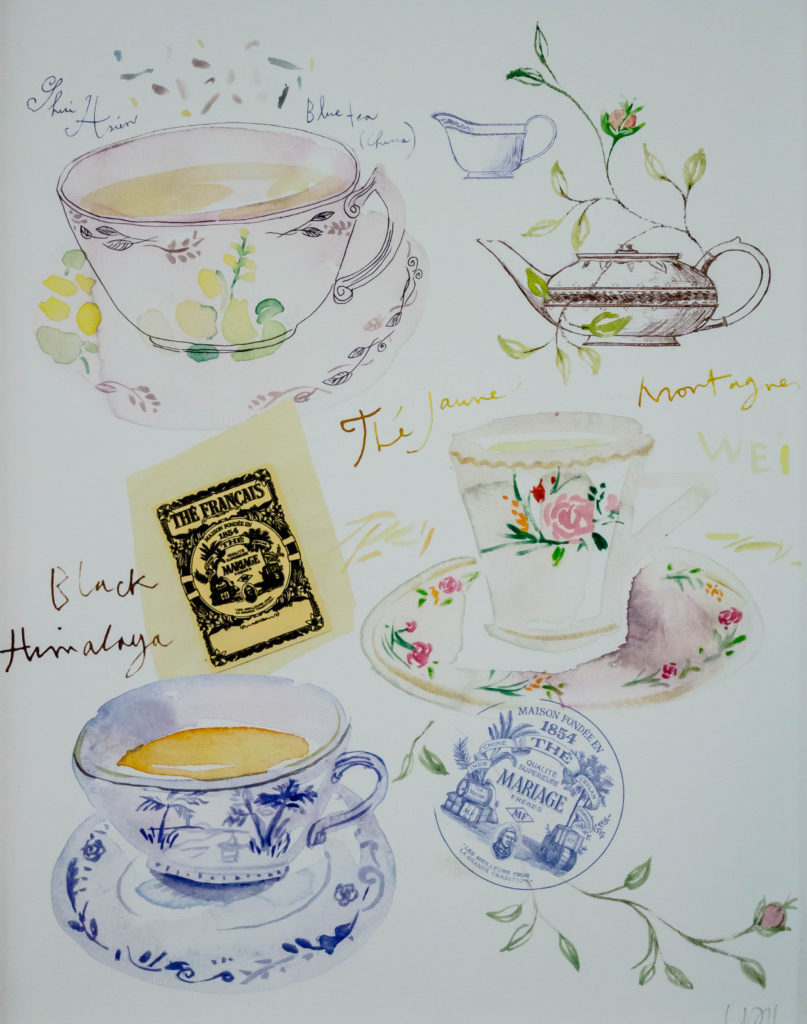 Aren't they adorable? I think the artist is so talented and might get a couple more of her prints in the future.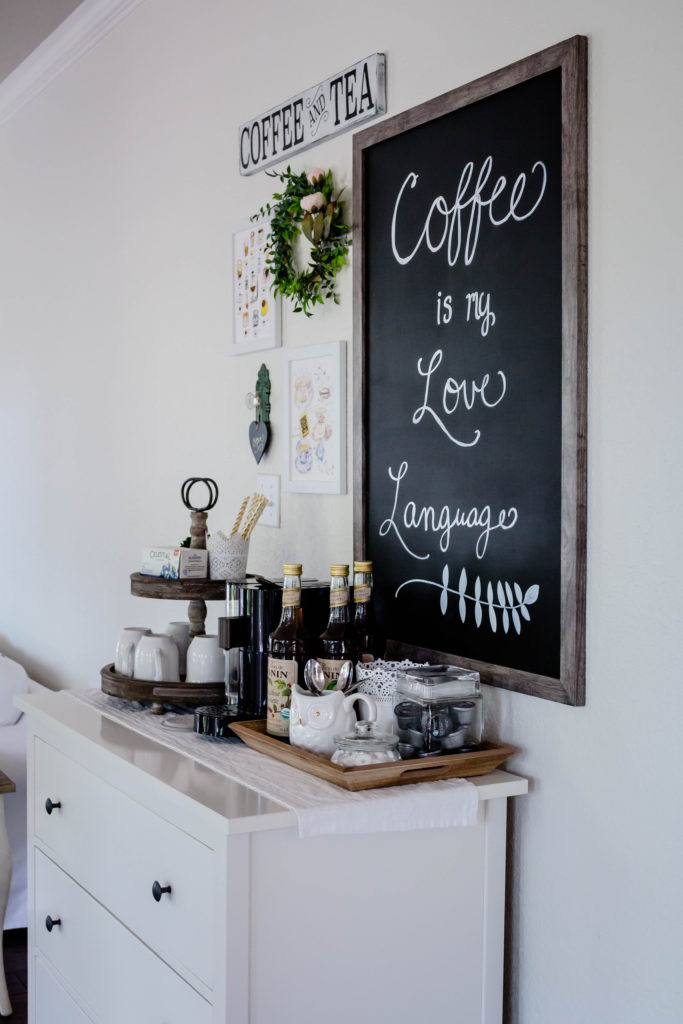 The chalkboard print I free-handed myself so I could get the look I wanted and save some money in the process. It is actually a faux chalkboard where I just took a huge frame from Michael's and painted the plastic cover with chalkboard paint. That's an easy trick if you want to save some money and create your own chalkboard, and it also is way, way lighter! I am usually pretty wary of hanging super heavy items since we have some crazy cats who mess with stuff and I don't want it to fall down on them. I have used this trick several times and love how easy it is to do.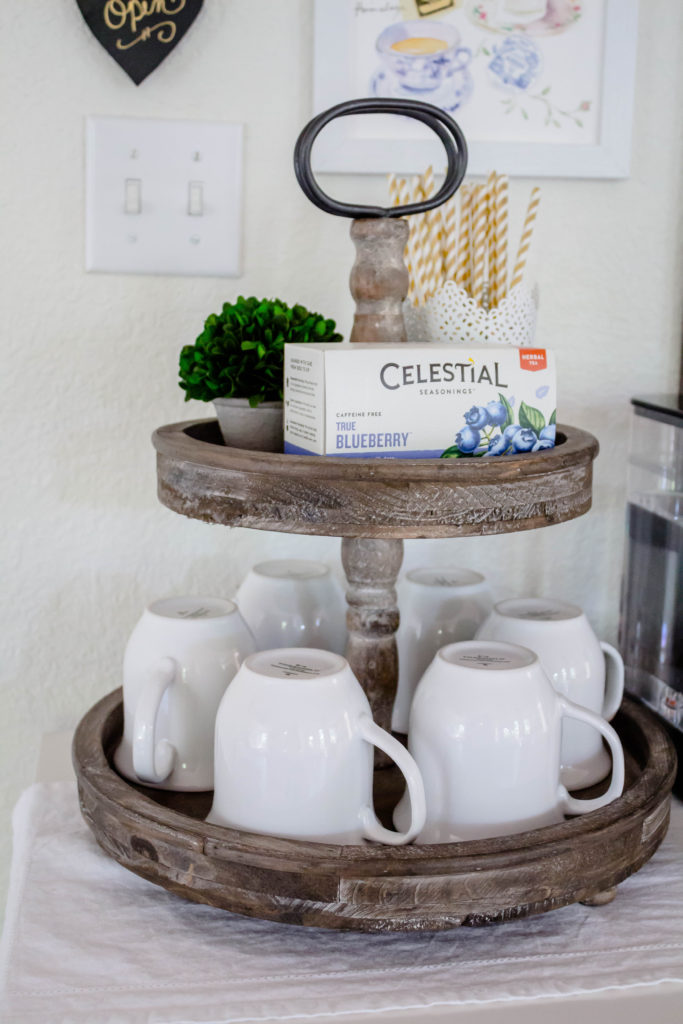 Ever since I saw this tiered tray all over Instagram and at some of my favorite online stores, I knew I had to have it. I love its rustic vibe. It turned out to be the perfect place to keep all my white coffee cups, some tea, and some straws for those who want to use them in an iced coffee.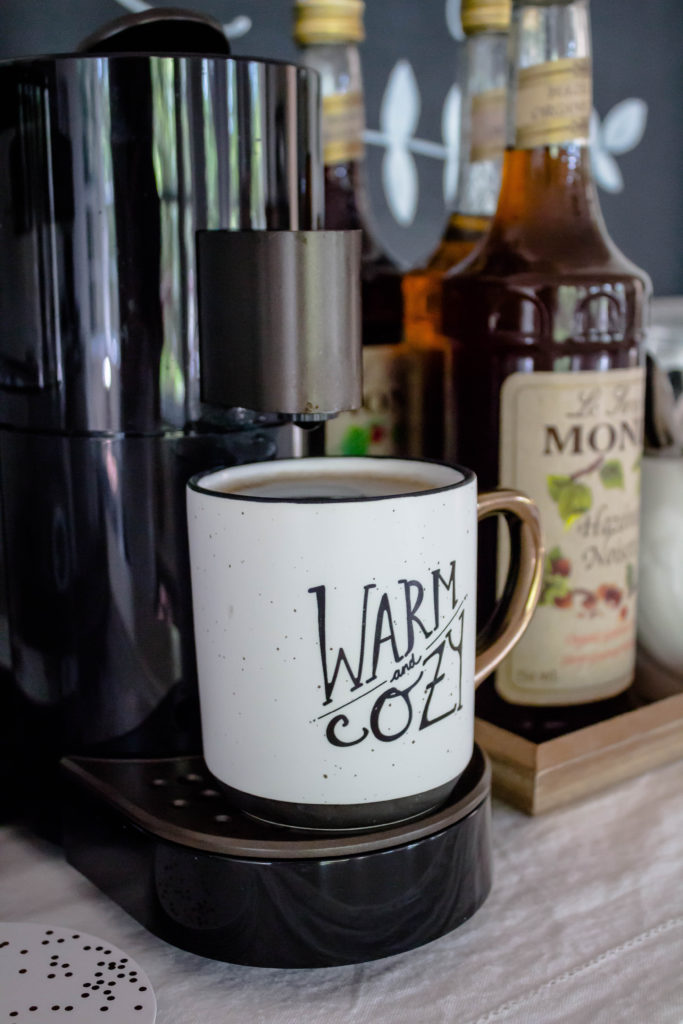 Mmmm…the best way to start the day, brewing some hot and tasty coffee. There's nothing else that beats that smell! My hubs got me this awesome Starbucks Verismo single cup coffee machine as a surprise last Christmas. It was so sweet! He knew I had been looking at single-cup brewers for quite a while, so it was very exciting to finally have one.
I will let you in on a secret…when it comes to making food for myself, drinks, etc-I am VERY lazy! I'm not a lazy person in general, but if anything takes too long to make for myself, I just won't do it. I always feel like I have more important things to do. So, the fact that I can just pop a pod into the machine, push a button, and voila: coffee? Magic I tell you. I'm in love.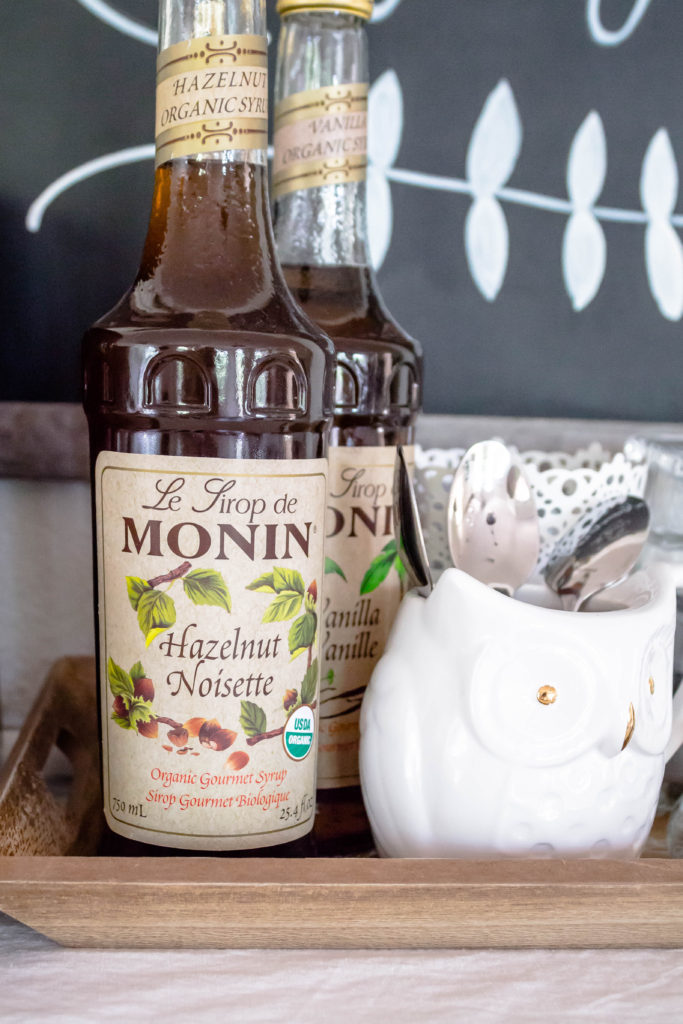 Some organic Raspberry, Vanilla, and Hazelnut syrups are ready for anyone who wants a little extra yum in their cup! And my trusty while owl mug holds spoons to mix it in.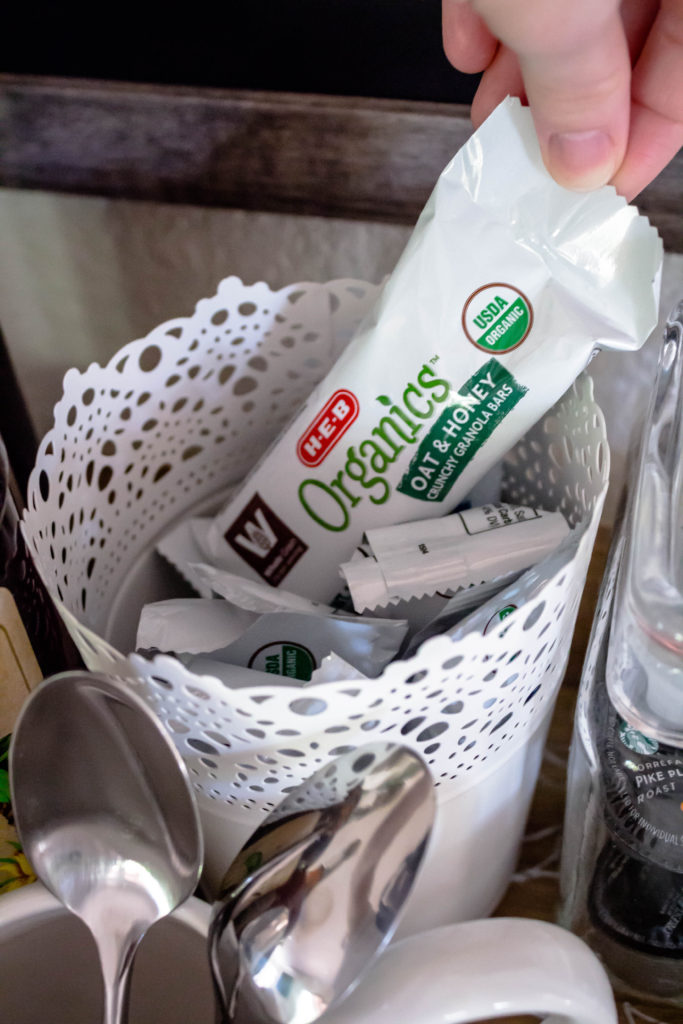 I keep some granola bars in this little Ikea container for a quick snack to go with the coffee. This lidded glass jar is home to all the coffee pods. Medium roasts from Starbucks are my fave, especially Pike Place.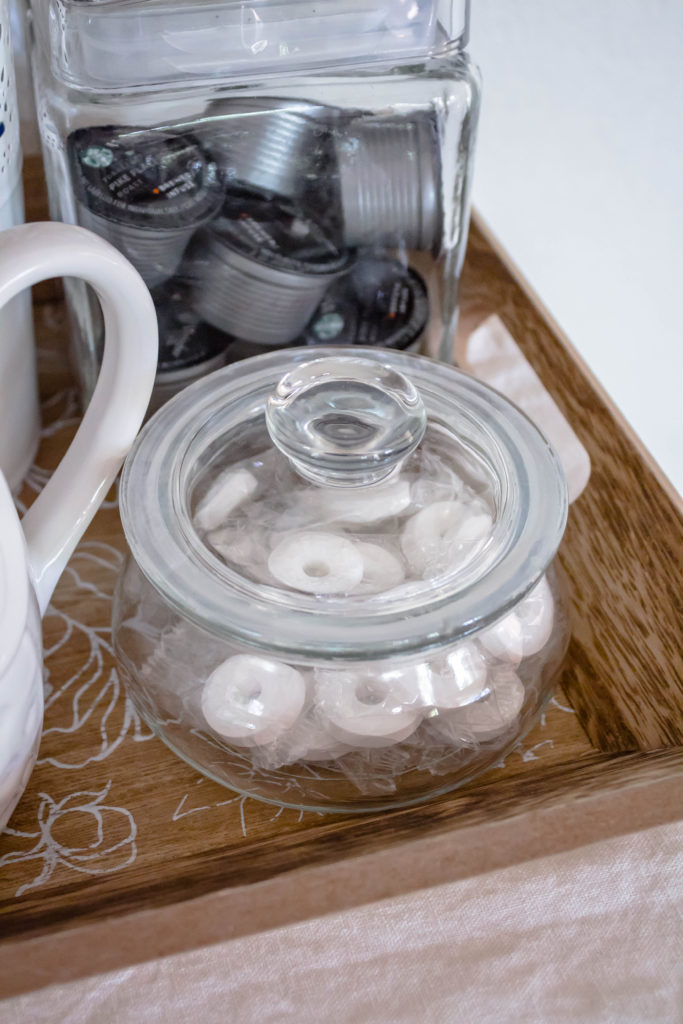 And one of my favorite details, some wintergreen mints if you want to freshen your breath afterward!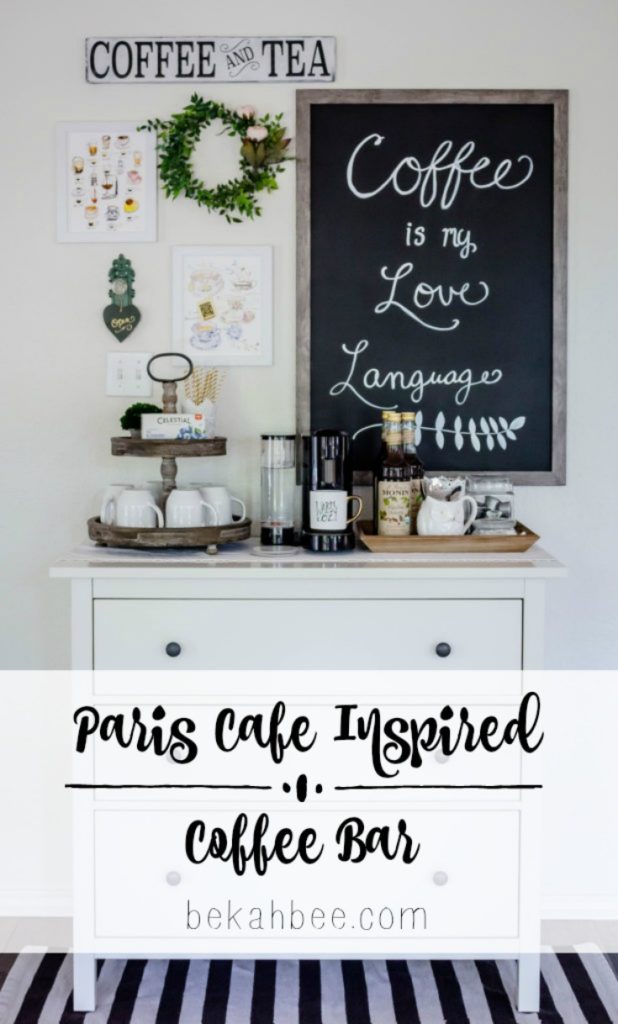 I'm loving how it all turned out and what a delight it will make my morning coffee tradition! I think it is such a fun place for guests to make their own coffee too. In fact, it has already gotten some use by some of our family that visited us the other week. So it really does function well!
Do you have a special morning drink ritual? Coffee, tea, lemon water? Let me know how you start your mornings!
Until next time my friends! 🙂