Last Christmas my sweet hubs got me the Tory Burch Robinson Zip Tote* (the smaller size) that I had been eyeing for a while. I love it so much, it is SO gorgeous!!! I have never received so many compliments on a handbag before, although the last Tory Burch bag (the York tote) I had got quite a few as well. It was in this light blush color as well, can you tell it's my fave color and I'm a tad bit obsessed?! Once I got it, I went to work making it super organized and functional. I've learned that one of the biggest things that keep my daily stress level down is not having to rummage through my bag for 5 minutes before I can find anything! It truly makes a big difference, especially when you are in a rush! And the key to keeping it organized is having separate and specific areas for different things so nothing is just floating around randomly.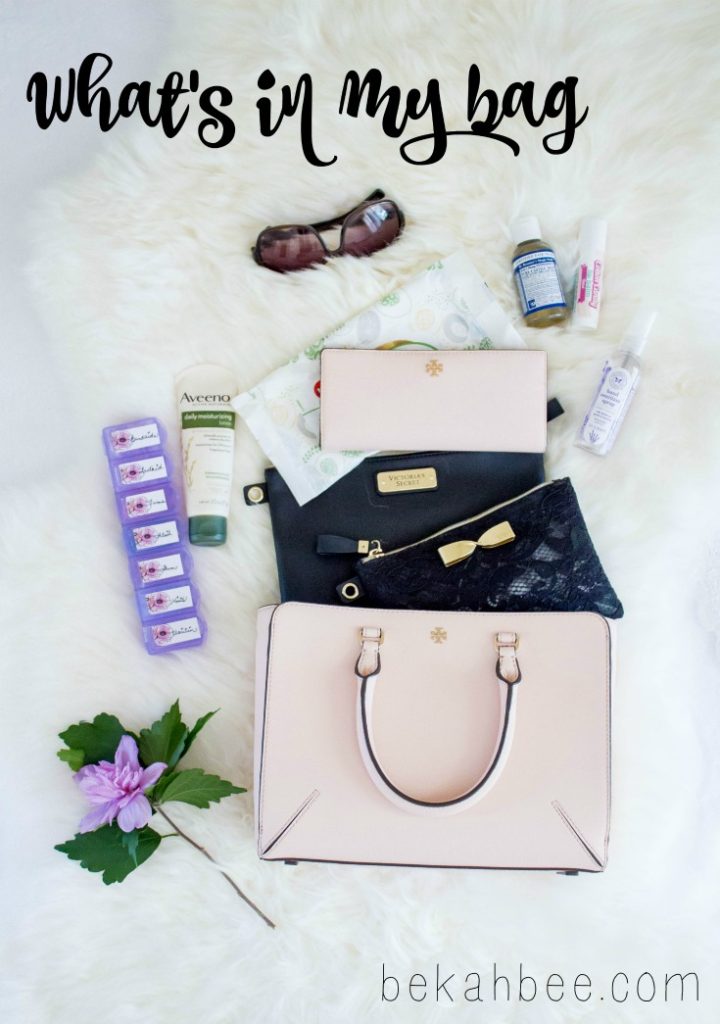 I usually love very big bags, since I like to keep a sort of "mom" purse where I am prepared with anything I (or anyone with me) could possibly need in any situation. In fact, my old college friends and roommates nicknamed me "Mom" because I am like that! Haha. I just like to be prepared! Need a tissue? Got one right here! Could have something to do with the fact that I am the oldest of 9 kids maybe…
However, since I fell in love with this particular size and style, I was somewhat excited by the concept of having to pare things down to the necessities. I'm not usually gone from the house for super long periods of time, so I decided to keep a more modest amount of things on hand. I realized that I didn't exactly have to be ready for the zombie apocalypse! I used to get a lot of shoulder pain too since my purse was SO heavy! Being a bit more minimal definitely helps with that now.
I am pretty pleased with how I was able to fit everything I need on a daily basis into the bag, in a very organized way! And the way I separated everything into different areas was with a couple flat makeup bags from Victoria's secret. They were exactly what I was looking for! I have used this set up for quite a long time now, and it is super functional!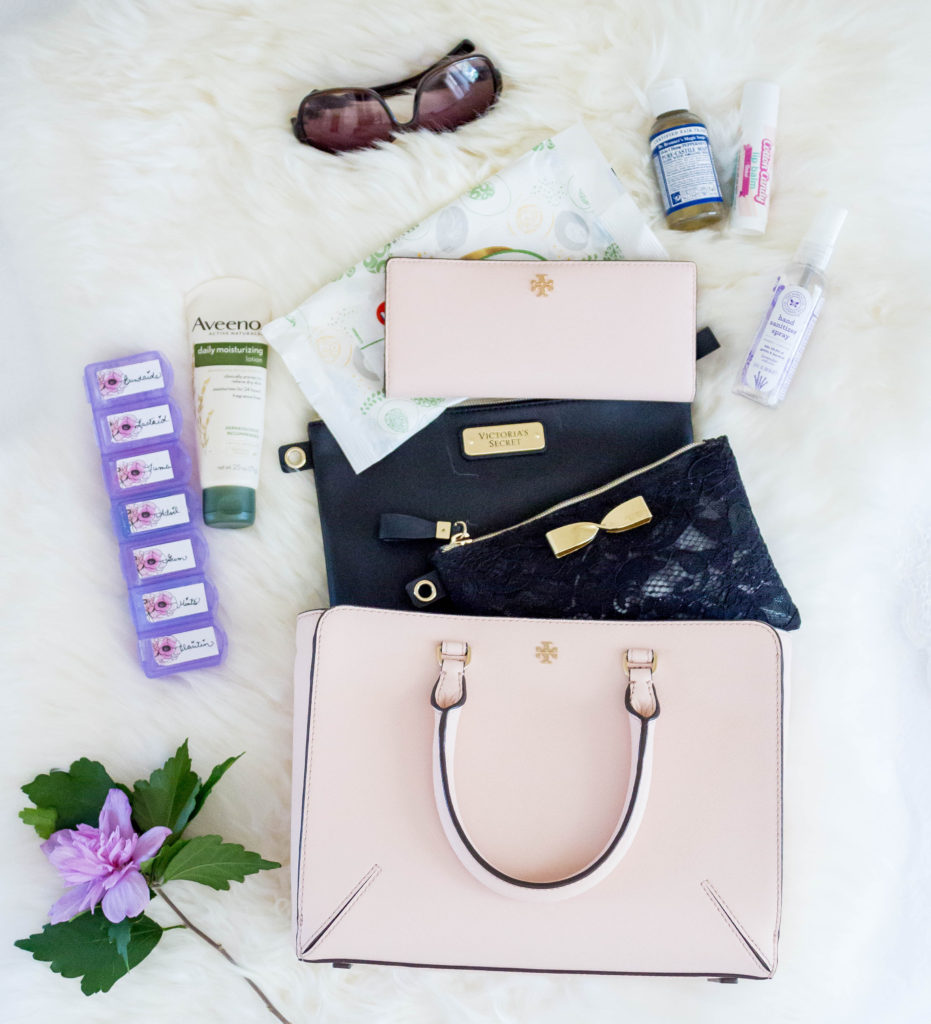 My handbag contains:
sunglasses
"emergency box" (I'll explain that below)
small Aveeno lotion
baby wipes
Tory  Burch wallet (also new and matching! I LOVE it)
mini hand soap (I HATE using public restrooms, especially when they are out of soap!)
chapstick
Honest hand sanitizer
coupon pouch
misc. necessities pouch
The only other things I have are some tissues in the back flap and my keys. I still need a good keychain so I am keeping my eye out for that. Oh, I also forgot to put my phone in the photo, I always have that on hand obviously!
The large black pouch is for any coupons or papers I need to have on hand. This is the thing that got messiest in my last bag. They always got crumpled up, gave me paper cuts when I reached in and would sometimes smear ink on other things. This is the PERFECT solution! It also cuts way down on visual clutter and I love that! All the coupon/paper stuff goes in there.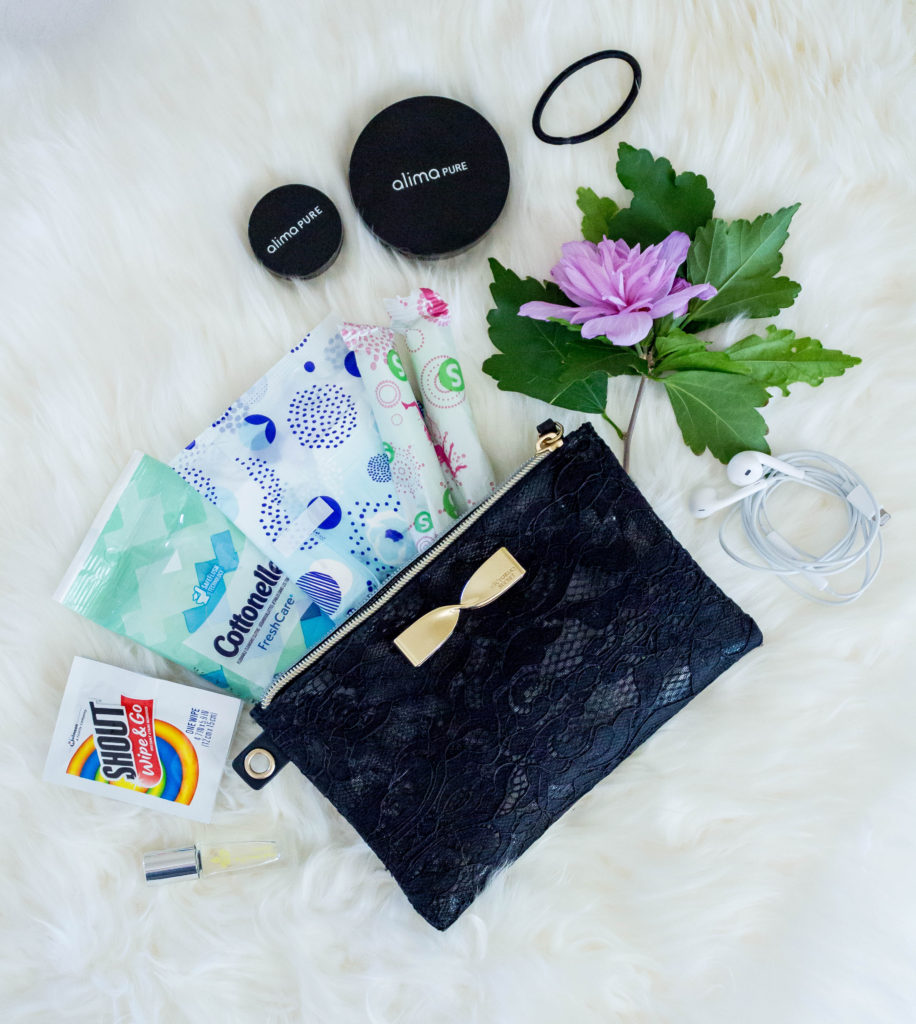 This smaller lace black pouch is for miscellaneous necessities, and it contains:
mini Lavanilla perfume roll-on in Vanilla Lemon (smells SO delicious! like sugar cookies)
shout stain wipe
Cottonelle wipes
2 tampons and a pad (I stash a few more during "that time", depending on how long I am out, but this is a good daily amount for "just in case")
Alima Pure concealer and pressed powder for quick touch ups
hair tie
my headphones
Also, I found the most INGENIOUS idea ever on Pinterest shortly before I situated this purse so the timing was perfect! It's called the Mom Emergency Box and I think it is one of the most clever ideas I've come across. Basically, you take a weekly pill box and turn each compartment into an area for each little item you might need, like pills, mints, etc. It was perfect for me since I like to be prepared with a bunch of those things (especially Advil!) on the go, but I didn't have much space for any individual bottles or containers. It turned out great! I just took some little paper tabs, stuck double sided tape on the back, put a label on each divider, and then taped the top with normal tape so they don't come off or smear. I seriously love it! My hubs and I both use the things in it all the time, so it is super helpful!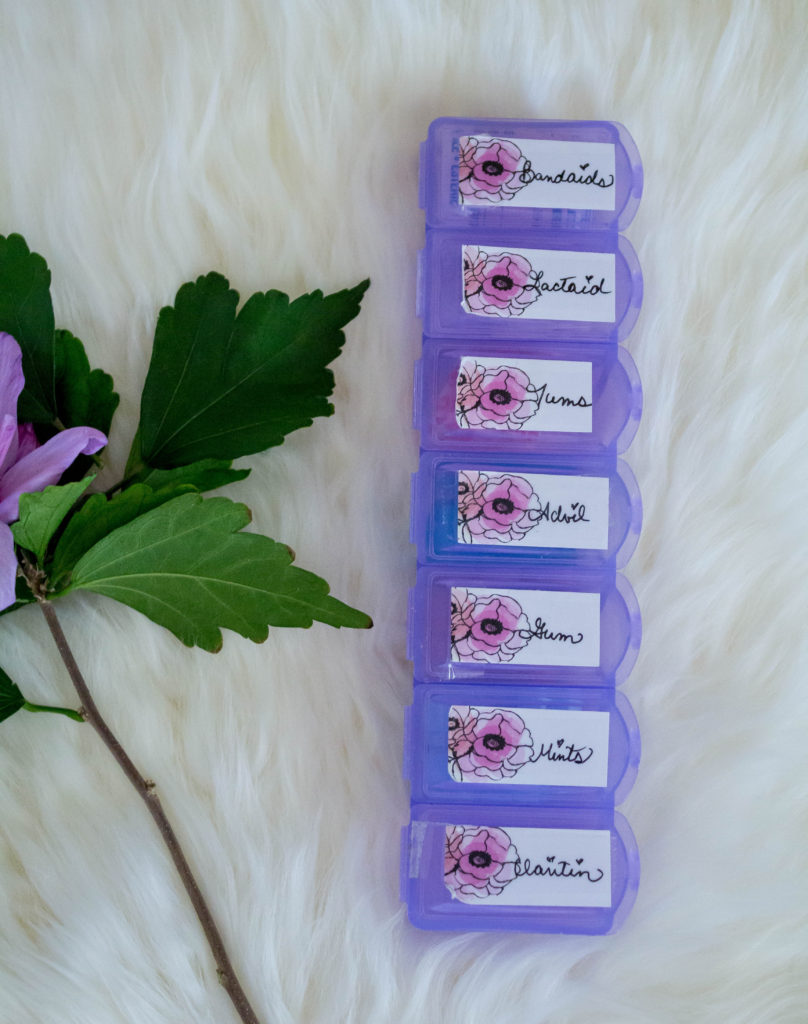 So…that is what's in my bag!! I love these kinds of posts and videos, so I was excited to do my own as well. I love how much organization helps a handbag be more functional, and decrease daily stress levels as well! Any thoughts or tips you use to be prepared and organized when on the go? Do tell! 🙂