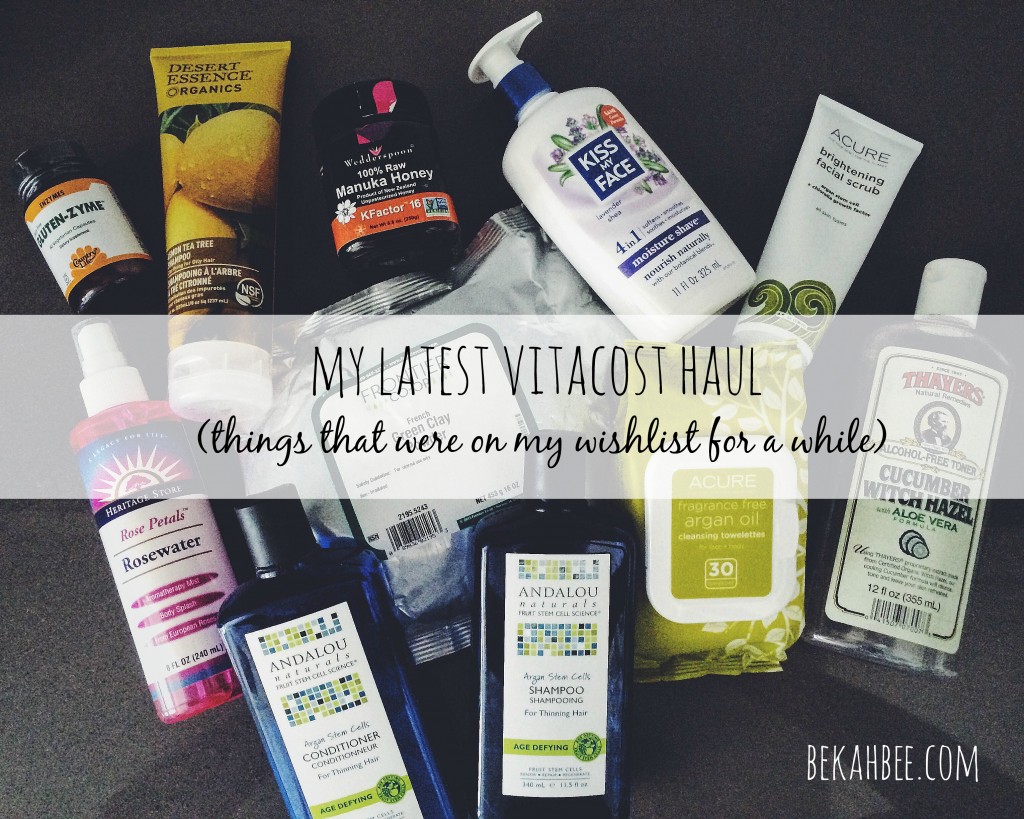 So if you have spent any length of time in the natural health and beauty world, you have probably heard of Vitacost. If not, let me introduce you because you are missing out! Vitacost.com is on online retailer that carries the same type of food, home and beauty products you might find at a health food store like Whole Foods, Sprouts, and now Target etc. Except the prices are SO much better on almost everything. To give an example, my favorite Acure Argan Oil Wipes are $6.99 at my local Target where I pick them up if I need them last minute. On Vitacost they are $5.89, and right now on sale for only $5.01. That extra buck or two on each product really starts to add up! Another staple I need at all times is the Acure Argan Oil which costs $12.99 at Target (and that's the price I have paid at Whole Foods too before) and only $10.19 on Vitacost, right now on sale for $8.19! See the kind of price difference I am talking about? To save even more money, I like to shop through Shopathome or Ebates links to get cash back, and usually try to only order when I need at least $50 worth of things so I get the free shipping. Which is fast, by the way! I am always impressed with how fast I get it. All the things I got this time were items I have been thinking of getting to try eventually, based on what I have heard about them and I finally took the plunge. I actually got it all a month or two ago, and am finally getting around to sharing about it. I have tried some things already, but not everything. Here is everything I got:
Wedderspoon 100% Raw Manuka Honey: I just spoke about needing to use this more frequently in my last post, and I was excited to get my new bottle! I think this is my 3rd or 4th one. I like to use it as a face wash/mask whenever I wash my hair, which is every 3 days. It helps ensure I wont have any shampoo residue on my face after I wash my hair, and is great for calming problematic skin and healing any breakouts I have.
Frontier Natural Products French Green Clay Powder: It took me forever (like a year or more) to finish the last bag I had of this stuff, which I like to use for green clay face masks once a week. I had been out for quite a while, so I am so excited to have some more on hand! I feel like this is going to be a staple I need to always have on hand, so I can whip up a face mask in a flash.
Country Life Gluten-Zyme: I had heard of pills that help you break down gluten if you have had accidental exposure if you are very sensitive to it, which I thought was cool. Although I don't have any official allergy to it that I know of, I try to avoid it almost all the time and do much better without it. I thought this would be a cool thing to keep in my purse for those times I choose to indulge or just have a lack of options on what to eat on the go!
Thayers Witch Hazel with Aloe Vera Cucumber: I've talked about how much I love Thayers Witch Hazel in several posts already, but I thought I would try a new scent this time. This was one thing I actually got out to use right away since I was totally out of mine for a while and I just finished this bottle the other day already. My takeaway? It's not that it was bad or anything, but I feel like it did less for my skin than the rose one, although I was expecting it to be ultra-calming and soothing because of the cucumber. I will definitely be going back to the rose, although it was worth a try!
Andalou Naturals Age Defying Conditioner & Conditioner with Argan Stem Cells: This shampoo & conditioner comes highly recommended from quite a few people I follow on YouTube. I have been using them both for probably over a month now. So far I agree with people that they seem to work in reducing hair loss, which I was having a lot of. Now the hair I lose in the shower has been cut in about half probably, which is awesome. There are some cons though. I don't love the smell (most people agree on this aspect) the best way to describe it is maybe very strongly herbal. Which I don't hate always, but it's not the best herbal smell. I was walking to the car with my husband once and he said the way I smelled reminded me of his Grandpa's dental office growing up. He said it wasn't a BAD smell, just like that. And well… I'm not sure I want to smell like an elderly dentist's office, haha! I knew it was my hair he was smelling since I had started using it recently. It's pretty important to me that washing my hair be a nice experience and that my hair smell pleasant, but I may re-purchase this line after I run out to alternate between another one that smells better. Because it is effective, and I really like losing less hair, so we will see.
Heritage Products Rose Petals Rosewater Body Splash: Got more of my favorite rosewater which I had run out of and was missing immensely!
Acure Organics Brightening Facial Scrub Sea Kelp plus Chlorella Growth Factor: This year I had the goal to try and transition the remaining "dirty" products my husband uses to natural ones. He has used Neutrogena face scrubs forever. This one was the second natural one he tried, the first one was Shea Moisture's Facial Wash & Scrub which I thought might be good since we like the rest of that line. There just wasn't enough grit for him though and he tried this one next. He likes it so far, so yay! It has a good amount of exfoliation, although the deep green color can take some getting used to. I have always heard rave reviews of this one, but haven't used it myself since my skin is so sensitive. I will still keep my eye out for any other face scrubs that I think he may like more, if you know of any great "scrubby" ones, please share!
Acure Organics Argan Oil Cleansing Towelettes Unscented: One of my top fave things ever, I got more of these of course!
Desert Essence Organics Shampoo Lemon Tea Tree: I have heard great things about this Lemon shampoo from Desert Essence, which I have used in other scents before. It is supposed to be really good at clarifying and also brightening for blondes. I haven't got to try it yet, and I am debating whether I want to or not now since I have been trying to steer clear of  anything with coconut oil in it, and I forgot that this line does contain it. I'll see if I still want to try it out to see if it lives up to they hype.
Kiss My Face Moisture Shave Lavender Shea: I think my new favorite Vitacost hauls to watch on YouTube, have to be from Summer Saldana. She is so adorable, always has the best hauls and I get great ideas from her. This is a shaving cream that she raves about, and I am excited to try it! Although I do have super sensitive legs, I took a risk and got the Lavender scent to see if I can handle it without sensitivity. If that is too much for me, I will probably try it in the unscented next.
Pacific Natural Foods Organic Bone Broth Turkey with Rosemary Sage & Thyme: I happened to come across this while I was just browsing food on Vitacost, and was intrigued to try it since it was a small size and pretty cheap. Everyone talks about how awesome bone broth is for you, and I have wanted to try making some forever but never got around to it. I had literally never tried any before so I was curious if it tastes as good as normal broth. It was delicious! This flavor was really good. I was making mashed potatoes one day and decided to use it for the liquid since I try not to use milk, and it gave it that extra oomph more than water would have. I will probably get this again in a bigger size! I think it would also be great to have on hand for if we ever get sick, to make an extra nutritional soup with.
So that was all I got in this haul, there will definitely be more in the future since I am just a tad bit obsessed with shopping at Vitacost! Are any of these anyone's favorites? Any other awesome Vitacost recommendations I should try? I would LOVE to hear any suggestions in the comments below! 🙂