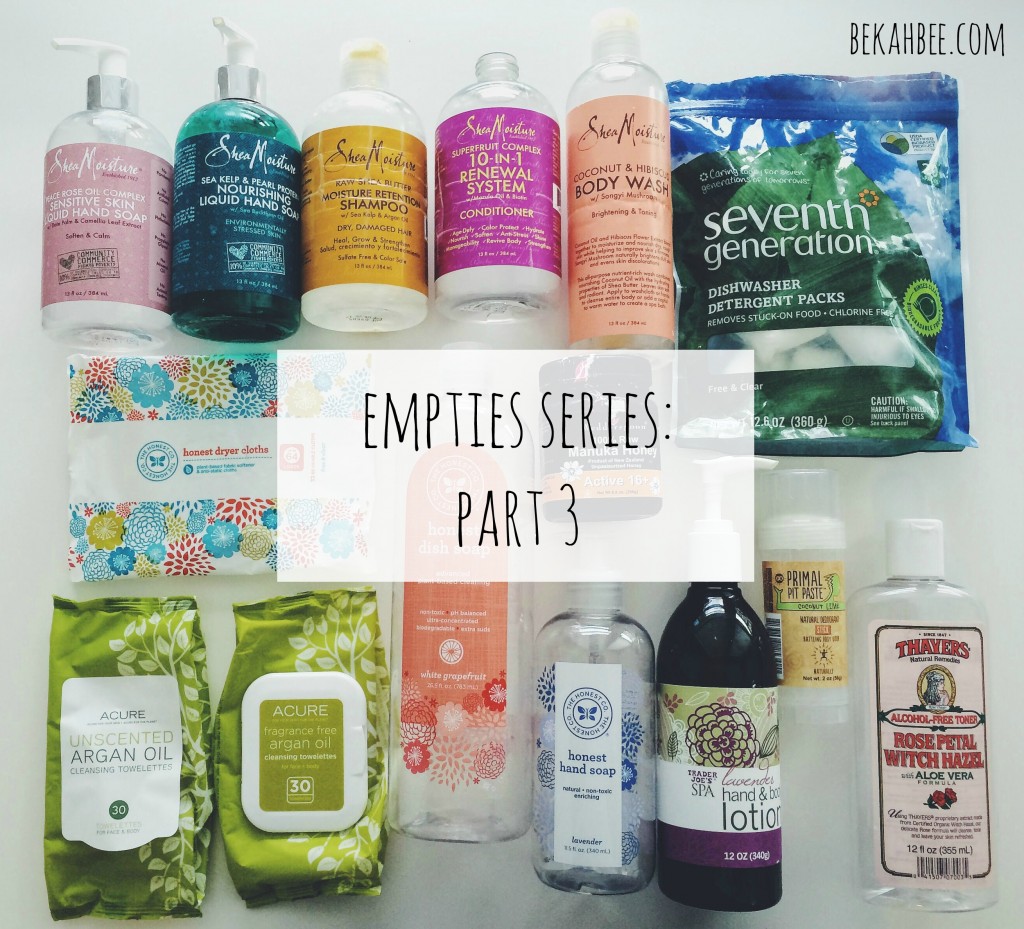 So lets dive right into the last of my huge collection of empties! I feel like all the things I tried gave me a pretty good idea of brands I tend to like a lot, and will probably explore more of in the future.
Shea Moisture Peace Rose Oil Complex Sensitive Skin Hand Soap: I never knew Shea Moisture (a constant favorite brand of mine) made hands soaps till I stumbled across them and I was so excited! It was actually in the hand soap isle of Target, instead of the natural section of the makeup part, where I usually find this brand. These were a delightful find and I loved both scents. This peace rose scent was very light rose, very pleasant with a little bit of a powdery finish. I loved it since I tend to like those scents the best. Very feminine. 
Shea Moisture Sea Kelp & Pearl Protein Nourishing Hand Soap: This smell was sooo amazing, that I checked the label like 3 times because I couldn't believe that there was no synthetic fragrance! It says it is an essential oil blend though, so I don't think there is anything un-natural about that. It smells so so good! Very fresh and like the ocean! I am thinking of trying more Shea products in this scent because it is so amazing. The only con for these hand soaps is that they seemed to dry out my hands a bit, but I have that problem with all liquid hand soaps so I always have to follow up with lotion since I wash my hands so frequently. 
Shea Moisture Raw Shea Butter Moisture Retention Shampoo: This shampoo was one of my first successful natural product finds and made my favorites post, it is just that good! It cleanses wonderfully and smells divine. Unfortunately, in the most heart-breaking news of all time, I have decided I can't use this anymore since I suspect I am very sensitive to anything with coconut oil in it, and have been switching all my body products over to ones without it to see if clears up my back break-outs. And let me tell you, finding natural products without coconut oil is VERY hard to do, it is in everything! The good thing is I still get to smell it since my husband uses it! 🙂
Shea Moisture Superfruit Complex 10 in 1 Renewal System Conditioner: As much as I loved the other shampoo, I do not love the Superfruit Complex line because the smell is just not really my thing. It smells very fruity, maybe a little bit like raspberry? Not bad at all, just wasn't my top fave and I would prefer other scents by Shea Moisture. Also, their conditioners just aren't moisturizing enough for my hair, so even though I used it up, I am still looking for one that does more for my hair. 
Shea Moisture Coconut & Hibiscus Body Wash: Are you noticing a trend here?? 😉 This body wash made my favorites list as well! It smells Uh-MAZE-ing! Like a tropical vacation. I would keep using this over and over, but like I mentioned above I am currently avoiding anything with coconut oil and sadly, there is some in this. 🙁 If you are not sensitive to it though, you will probably love this body wash! Very creamy with a great lather. 
Seventh Generation Dishwasher Detergent Packs: This is a "non-empty empty" since I really dis-liked these and only used 1! Finding natural dishwashing tabs that actually leave my glasses clean without spots and streaks has been the very hardest part of transitioning over. I keep giving up and going back to Cascade. If you have any recommendations that you love and actually work, please let me know in the comments! I will be VERY excited the day that I find one that works well. 
Thayers Rose Petal Witch Hazel: A top favorite, I love this as a toner and will keep repurchasing it!
Primal Pit Paste in Coconut Lime: If you read this post, you already know I love my Primal Pit Paste! I tried this scent and loved it, but still like the lavender one better so I have switched back to that one. 
Trader Joes Spa Lavender Hand & Body Lotion: This is a really nice hand lotion that one of my besties had in her guest room while I was visiting her. I loved it so much that I grabbed my own when I got back. I have repurchased this several times. It does have Phenoxyethanol Citral listed as an ingredient though, if that is something that you avoid. 
Wedderspoon 100% Raw Manuka Honey Active 16+: This is my 2nd or 3rd jar of Manuka honey from Wedderspoon. I wash my face with it sometimes and it helps to clear up breakouts since it is soothing and naturally anti-bacterial. I have been slacking on using it recently, so I really need to get more of this back in my life! 
Honest Lavender Hand Soap: Another thing that my besty had at her house while I was visiting, I really enjoyed using it. It does dry out my hands a little bit like I mentioned before, so I still need to use lotion afterwards. 
Honest Dish Soap in White Grapefruit: I LOVE this dish soap from The Honest Company! It works so well, leaves no spots on my hand washed glasses and smells exactly like a fresh grapefruit! Very impressed with this product and have repurchased many times since. 
Honest Dryer Cloths: I recently tried these and liked them although they take some getting used to. They are damp already, and you are supposed to be able to re-use them so each one gets 2 uses. Sometimes it is hard to remember to keep them in the dryer instead of throwing them away so I think I got less uses than the package said. But they seemed to work well and are unscented. 
Acure Unscented Argan Oil Cleansing Towelettes (2 different package versions): These are a new top fave that didn't make my favorites post since I discovered them more recently. I LOVE these makeup wipes. I got them for those lazy nights that I feel too tired to fully wash my face, but I try to never skip a day of taking off my makeup or my face freaks out by the next morning. But they also work so well on taking off eye makeup that I usually use one every night for that and then wash the rest of my face with my cleanser. They have that distinct Argan oil smell, which doesn't bother me at all since the results for my skin are well worth it! They are also so great for traveling. Usually I find them in the packaging on the far left which can tend to be hard to close well enough to keep them nice and moist, but I found them recently in the one with a cool plastic lid which I loved and hope they are switching over to. SO much easier to keep them moist longer. 
Well there you have it, all my empties I had accumulated over a year or so! Now I can start fresh and save things for more frequent empties posts, but I had so many things I tried that I definitely wanted to share what I thought about them! If you have any thoughts on these products, or suggestions of new things to try, I would love to hear about them below. 🙂