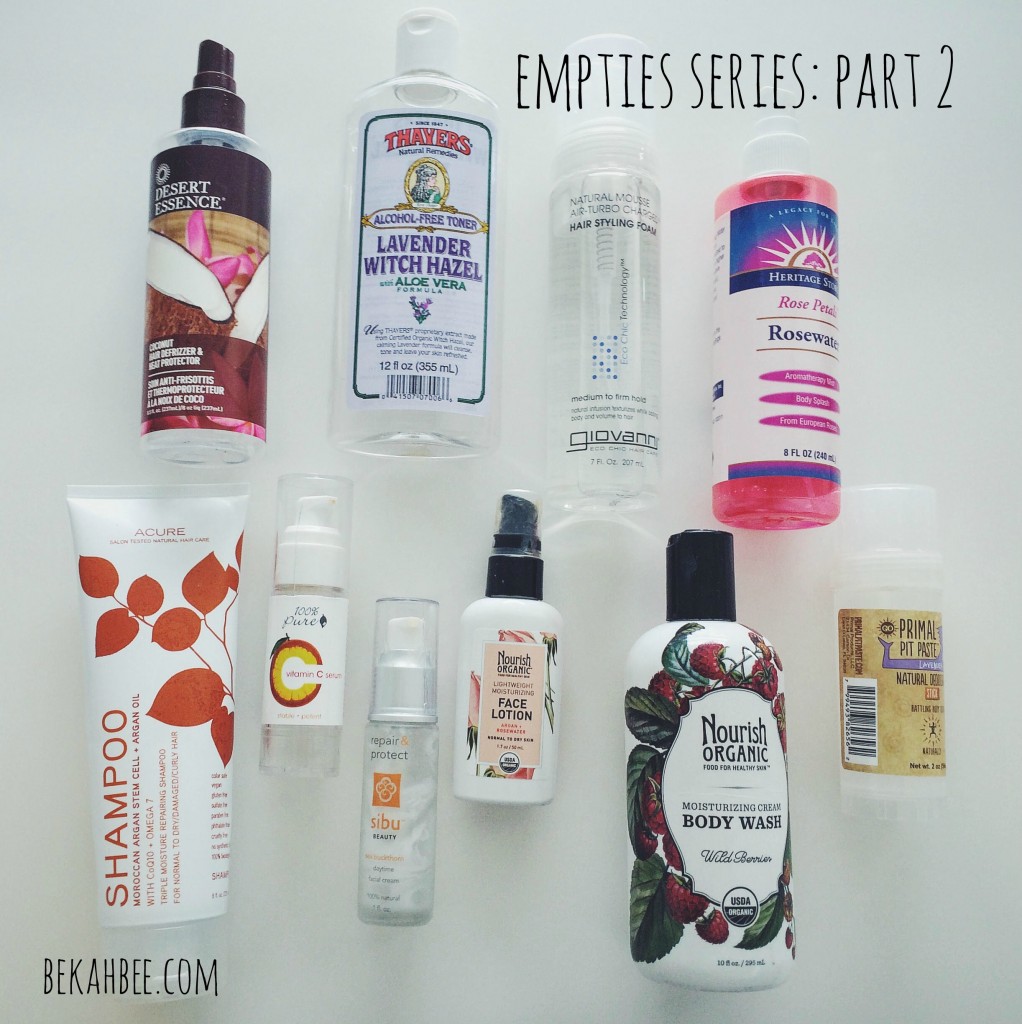 Welcome to my 2nd Empties Post/Review! Here are some more things I tried a year or so ago that I am finally getting to talk about! As always, let me know what you think or your opinion of any of these things in the comments below, I would love to hear from you! 🙂
(Listed clockwise from top left)
Desert Essence Coconut Spray Conditioner: This leave in conditioner spray was pretty good and smelled nice. I feel like I am looking for a show-stopper product and none of them are quite living up to my expectation. But this was pretty good. I would spray it on after I washed my hair and before I styled it.
Thayers Lavender Witch Hazel: I always get the Thayers Witch Hazel in Rose, and this time I decided to try the Lavender one to see what I thought of it. I normally LOVE lavender so I thought I would love it too, but to me it had a distinctly "baby wipe-ish" scent which I didn't love. Not that its a bad smell, just not as nice as rose. So Rose is still my favorite and the one I would re-purchase. 
Giovanni Natural Mousse: This one isn't really an "empty" at all, because I just didn't care for it from the first time I tried it. I felt like it did not act like a mouse which is supposed to provide lift at the roots and bounce, and instead it weighed down my hair, made it kind of sticky and just didn't really do anything I could notice. So I didn't even try it more than about 2-3 times. I was pretty disappointed!
Heritage Store Rose Petal Rosewater: This rosewater made my top favorite products list already, so you know that I love it! The packaging leaves a lot to be desired since I am a pretty big packaging fanatic, but the product itself it awesome. 
Primal Pit Paste Lavender: Another product that made my top favorite product post, and I reviewed in full in this post! I have been trying a new deodorant right now that I like pretty well, but it's almost done and I think I may go back to this stand-by! The odor protection is amazing and the Lavender is my favorite scent they offer.
Nourish Organic Wild Raspberry Body Wash: This was the first natural body wash I tried, and it was pretty nice. The smell is extremely subtle. I would have preferred a slightly stronger smell (while still being natural) so I don't think I would repurchase it, although it was nice. I just think I might find ones out there that I enjoy more. 
Nourish Organic Argan & Rosewater Face Lotion: I think this was the first natural facial moisturizer I ever tried, and I just chose it because it sounded nice. I didn't really have many reviews or anything to go off of. I ended up really liking it a lot, so I am super bummed that when I went back to re-purchase it, the packaging looked different and the reviews say they changed the formula! Boo! Don't you hate it when that happens?? It was just very light and non-greasy and absorbed very well. I really liked the scent too. 
Sibu Seabuckthorn Facial Moisturizer: After I was out of the Nourish moisturizer, I decided to try this one out because it gets great reviews from a lot of bloggers and YouTubers I follow. For me, it didn't really live up to the hype. Thats just personal preference and probably due to my skin type too. There was nothing wrong with it, it was totally fine, just not my fave. The texture was nice and light but I didn't love the smell and it didn't seem to do much for my skin. 
100 Percent Pure Vitamin C Serum: This was a nice freebie I got with a 100 Percent Pure order and I was excited to try it. It was nice and light to apply, absorbed well and I think I noticed a slight difference in my dark spots. It may take a few bottles to really see a difference, not sure. But I think I will keep trying other serums to see if I absolutely adore one. 
Acure Moroccan Argan Stem Cell & Argan Oil Shampoo: Also a product on my favorites post, this shampoo I tried and then my husband tried it as well. I liked it well enough, and it seemed to work quite nicely. It was one of the first natural shampoos I ever tried. I just didn't love the scent personally, although my husband really did. I think its just a somewhat nutty Argan smell, but it reminded me of a permanent marker for some reason! Super random I know. I always love Argan oil things, but this was just not my fave. Try it out for yourself to see what you think though! I tried the mint shampoo after this and liked it a lot better, although my husband still preferred this one. 
Thanks for stopping by, and I will finish up my last post soon with all the rest of my empties! Until then.. 🙂