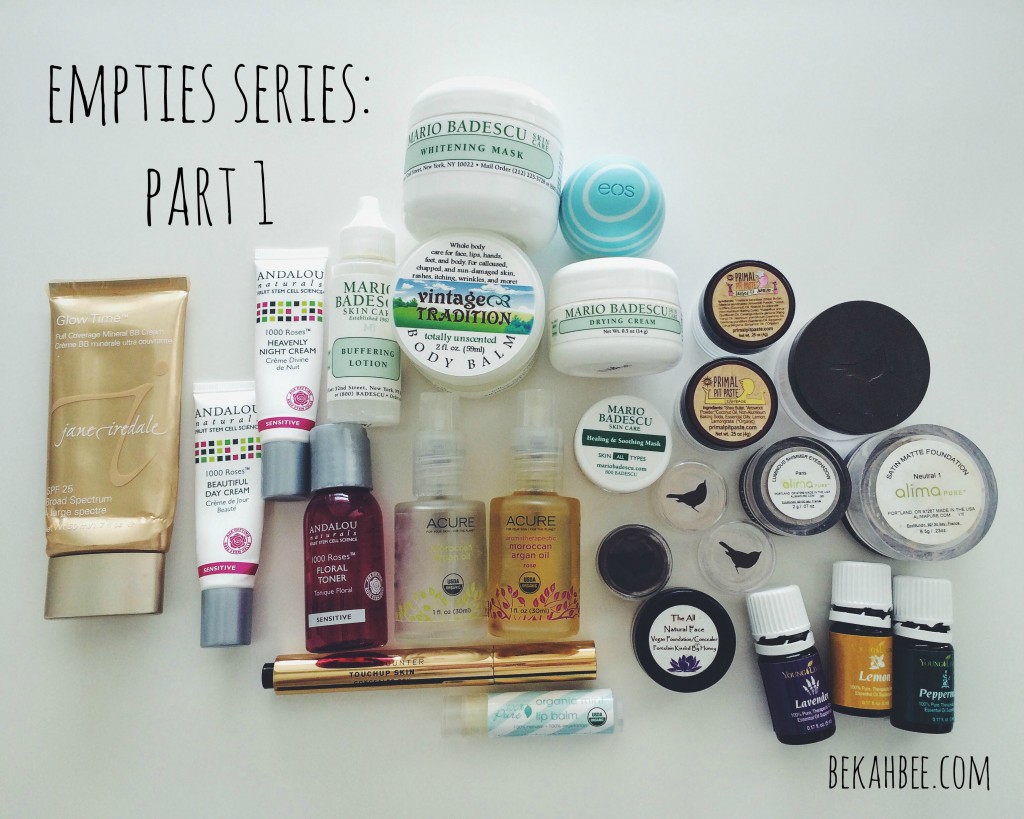 I have been gradually switching over all my products in life to more natural and non-toxic options for probably about 3 years now. For the last half of that time I started collecting all my empties so I that I could review them for anyone who is interested! In that time I have tried many different things, some successful, some not so much. I have been meaning to do this blog post for so long, but now that I had a huge bag full of stuff I thought I'd better get to it! Since there were so many things, I decided to break it down into 3 posts. Without further ado, here is part 1!
Jane Iredale Glow Time Mineral BB Cream in shade BB3: This was a pretty early find, and I was really impressed with this product from the first time I tried it! This is one of the most full coverage BB Creams around, and I was pleasantly surprised by how much it actually covered. The first tube I got lasted me FOREVER, since I didn't usually use it on my full face, just my cheeks, chin and neck where I need the most coverage for my acne scars and hyperpigmentation. I do wish they made a shade right in between BB1 & BB3, since I feel like that would be perfect, but right now I am using BB3 and it is almost perfect. I seem to keep going back to this as a tried and true foundation, but I try others too. There are a few cons: it has SPF, and because of that, there is a slightly ghostly cast to it sometimes which I think is the white showing through. And since I like a matte finish, I do have to powder over it since it can be quite shiny without that step.
Andalou Naturals 1000 Roses Get Started Kit: I got this trial kit to see if I liked this line before I purchased anything full size. I have heard great things from people about it. However, for me I don't think it did anything worth writing home about. There was nothing bad about it, just nothing amazing for my skin. (not pictured is the Rosewater Mask & Pearl Exfoliator since I am still waiting to use those up)
Mario Badescu Buffering Lotion, Whitening Mask, Drying Cream & Soothing & Healing Mask: This entire line has been a God-send for my skin, but unfortunately is not a clean line. I feel like it falls somewhere in the in-between, not the most toxic, but not the most clean. The buffering lotion is for those cystic, under-the-skin breakouts. The whitening mask is amazing for lightening hyperpigmentation I get from breakouts. The drying cream is definitely the star of the show, since that is what my husband and I both cant live without. It is a acne spot treatment and it works incredibly well, like nothing else we have ever tried! We can not ever be without it. I have been so impressed with so many things in this line that I desperately wish they would try to clean it up a bit more. I am currently on the hunt for a natural spot treatment that works as well as this so I can stop using it, if anyone has any recommendations I would love to hear them! I also got this sample of the Soothing & Healing mask with my order, and I really like it and it worked well for times I was irritated. I liked it so much that I went into the store to purchase the full size, but after reading the ingredient list I just couldn't bring myself to and I put it back! So again, love the products, but wish they were cleaner.
Vintage Tradition Body Balm: I heard of this product through the Mommypotamus blog (which I love and is so informative on natural remedies and health info) because she was saying it did amazing things for her face when she used it as a moisturizer. It is actually beef tallow. I also read that it really helped eczema, and I struggled with that on and off at the time. Honestly, I don't know if it would have done awesome things for my face or eczema because I could not bring myself to use it more than once or twice, it just smells so strong! I got the unscented one, so I am not sure if the scented ones are easier to use, but I just couldn't stomach it.
Eos Lip Balm in Vanilla Mint: I always thought these lip balms were funny and a very odd shape to carry around. But I am kind of obsessed with them after actually trying them! Even though the round shape wont fit in a jeans pocket, it is strangely addictive to kind of squeeze them in my hand sometimes, like a sort of stress reliever. Am I the only one who does that? Not sure! This line says it is 99% natural, and I wouldn't consider it the most pure out there, but I am ok with using certain flavors which rate pretty low on EWG.org. This is the flavor I love the most!
Acure Argan Oil & Acure Rose Argan Oil: The standard Argan oil is my absolute holy grail product that I can not live without, see more in this post here! Even though I will keep trying new face oils to see if they do more significant things for my face, I will always keep this on hand, and probably always keep it in my my rotation. It calms my face down beautifully, and everything always looks better when I wake up the next morning. However, as much as I love the plain one, the Rose one had the complete opposite effect. It broke me out horribly, so I will never try it again. It freaked me out so much, that I was even a little bit scared to use it as a frizz tamer on my hair, simply because then it would get on my pillow and then on my face. So that is why it is still full, it just didn't work for me.
Beautycounter Touch-up Concealer Pen in Fair: I absolutely LOVED this concealer. Concealers are the bane of my existence since they never seem to actually conceal anything on me. This one worked great, but there were some pretty big cons that kept me from purchasing more after I got 2. The first thing is the hefty price tag of $35 with tax & shipping. I would still almost think it was worth it, except that with how much I used it, it only lasted me 1 month! It is really hard for me to justify because of that. The other thing is that the click pen design makes it impossible to tell how much you have left. You just try to click more out one day to find out it is gone! Overall an amazing product, just a few things that keep it from being perfect.
100 Percent Pure Lip Balm in Vanilla Mint: This was a freebie I got in a 100 Percent Pure order. I loved it and it worked great. I am not sure I would pay the $8 it costs though, since I go through lip balm like crazy.
The All Natural Face Vegan Foundation & Concealer in the shade Porcelain Kissed by Honey: I got this so long ago that it is hard for me to remember that many of the details, but my overall impression is that it might work pretty well for those who need less than full coverage. The price point was great, and the shade was a good match though.
Alima Pure Eyeshadows in Carnivale & Paris: Although I thought I would love all their eyeshadows from the website back when I got these, I ended up hating that they were loose powder and just didn't seem to stick very well to my eyelids. But I noticed just the other day that Alima Pure just launched new pressed eyeshadows! Yay! I may have to try some new ones now that they have those.
Alima Pure Concealer Samples: I liked this concealer pretty well, it seemed to do a decent job of covering everything.
Alima Pure Satin Matte Foundation in Neutral 1: I tried this line in the first place from the recommendation of the lovely Sarah of Holistic Habits and a video she posted about her favorite natural makeup. The most amazing thing about the line is the fantastic shade selection, I don't think anyone else comes close to comparing! It is often very difficult for me to find the right shade, being very fair, with neutral undertones, but honestly almost all of the recommended samples I got to find my perfect shade were all ones I could probably wear without any issue. The perfect shade for me was Neutral 1. I think this is an amazing powder foundation, but it does take quite a bit for me to get the coverage I need. I go back and forth between wanting to use powder and cream or liquid foundations, so I have used this one off and on.
Primal Pit Paste Samples in Lemonade & Jacked up Jasmine: I was already hooked on Primal Pit Paste before I got these, but decided to get the sampler pack to see if I loved any other scent more than lavender. It turns out I still like lavender the best, but honestly all the scents I tried were great! The jasmine was very nice, and the lemonade one smelled really refreshing and light.
Young Living Essential Oils in Lavender, Lemon & Peppermint: Obviously I have been hearing a million things about Young Living over the past couple years, but I had never made the plunge to buy any yet. Lucky for me, I won a starter kit from a blog contest I entered! I was so excited, haha! My husband is one of the most allergic people I have ever known, and he suffers a lot during certain seasons and has to live on Claritin D pretty much 24/7. Even on that though, he was still having a hard time getting to sleep at night so I started diffusing these 3 three oils together and it helped so much! He has been a somewhat slow convert to convince about all these "weird natural" things, but even he had to admit how much it helped and even asked me to put the diffuser on a few times! That was a gleeful moment for me 😉 These are admittedly very expensive, so it is pretty hard to swallow the cost, but I did try diffusing some cheaper ones after they were gone and we could totally tell the difference in how well it worked. So next time allergies come around, I will definitely be purchasing these!