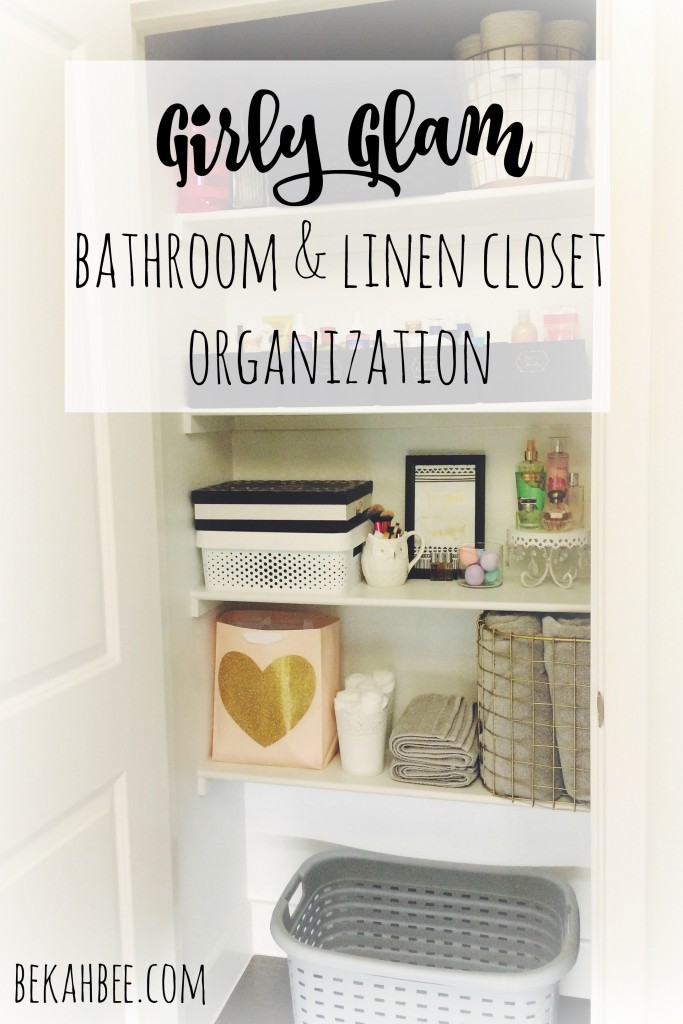 So I am totally an organization freak. I have that personality that is borderline OCD, neat freak, germaphobe and irrationally excited to see things in perfect order. Like when things are neatly lined up on shelves, side by side I get a legit sense of euphoria. Oh and labels! I love labels too. Excessive weirdo? That may be! But either way, it is extremely important for me to be surrounded by a sense of order to be sane. Otherwise I just can not think!
Recently though, life got in the way of my desire to be perfectly organized and it got put on the back burner. You can imagine my excitement though when I finally felt like it was time to tame some chaotic spaces in our place that were just driving me crazy! Yay!
Unfortunately, my enthusiasm for finally whipping my bathroom/linen closet into shape means that I totally forgot to take a before picture, which is always the best part of an organization reveal! Lame. Oh well!
I like the finished product a lot though and feel so much peace of mind when I open it now to find a neatly organized space for all of my beauty items, our personal products, extra toilet paper and towels. Come on in for a closer look around!
So this is what you see when you open the closet: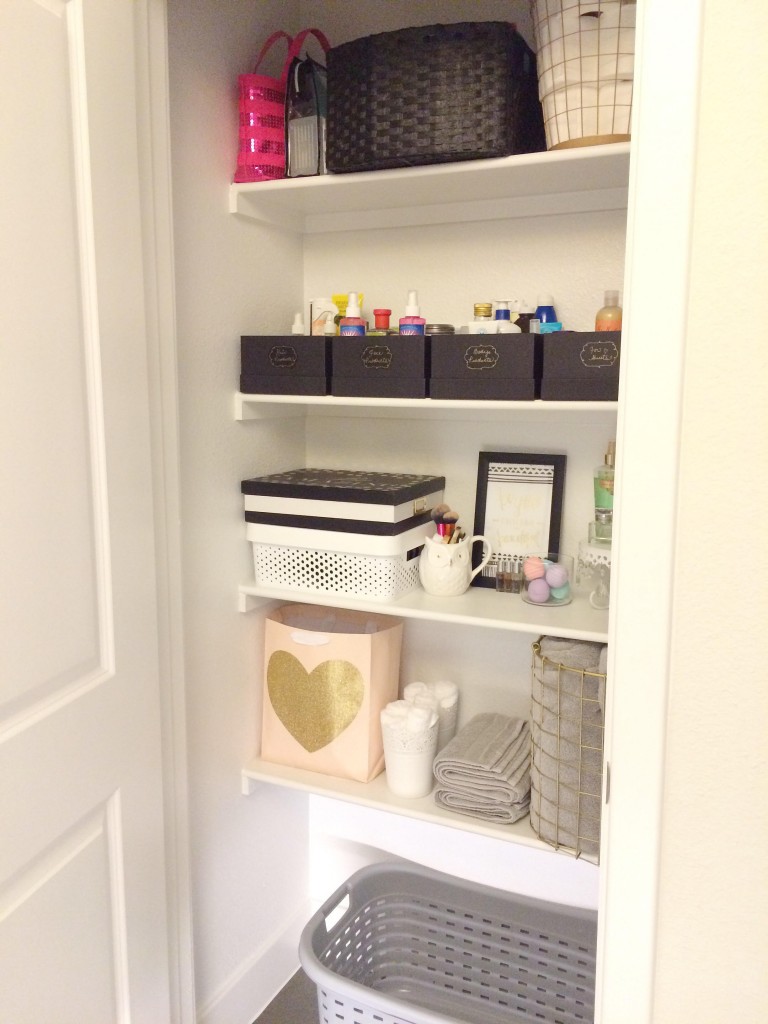 It was surprisingly difficult to try and fit the whole closet into my camera on my phone. I got this shot by leaning as far back on my bathroom counter that I could. 🙂
This shelf holds all my makeup brushes in the little owl mug, my perfume collection (and yes, I totally still have a few "dirty" and not natural perfumes in my possession! I love how all the perfume bottles look and I don't feel too bad using them on occasion but probably won't repurchase any more when I run out.) My EOS lip balm collection, which I have a little obsession with for sure, my trial size Lavanilla perfume roll-ons (which I have a whole post about here) and this cute sign I got at Hobby Lobby while shopping for my closet project! It was totally perfect and is a good reminder to not strive to be anyone's idea of beauty, just to be the best version of myself!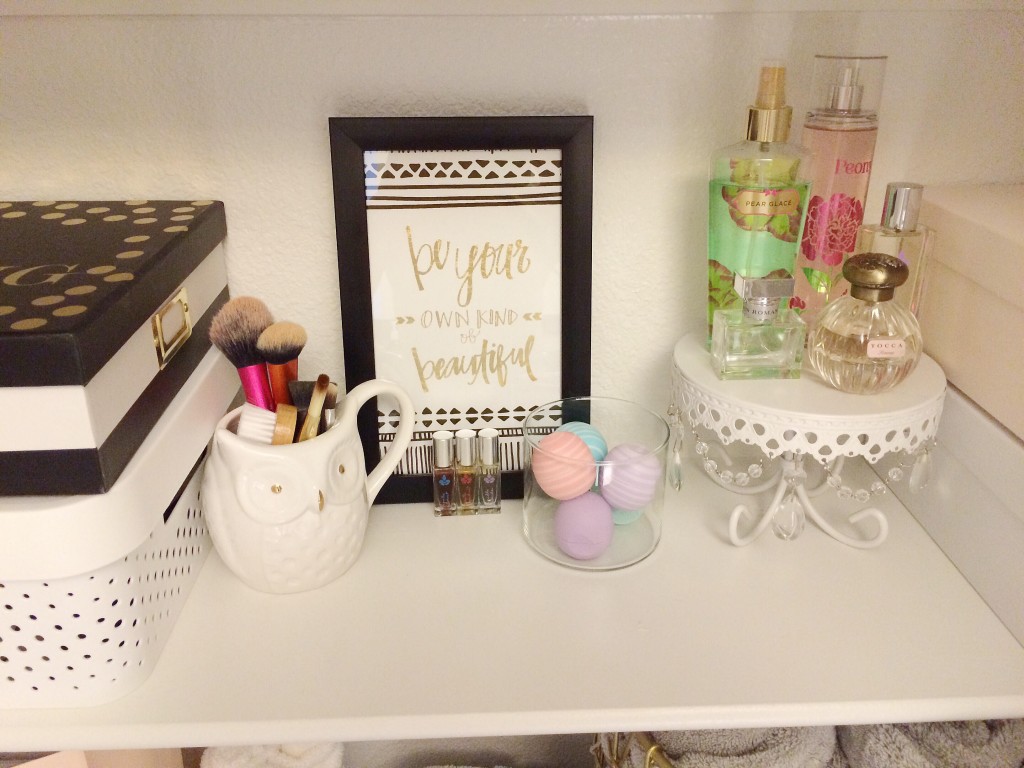 One of my favorite cheap ways to organize almost any room in the house is by using these little photo storage boxes from Michaels. They look way cuter and more chic than plastic bins, come in tons of different colors and I can always find them on sale for like $2 each! Love em. I also got some chalkboard stick-on labels to show what was in each box.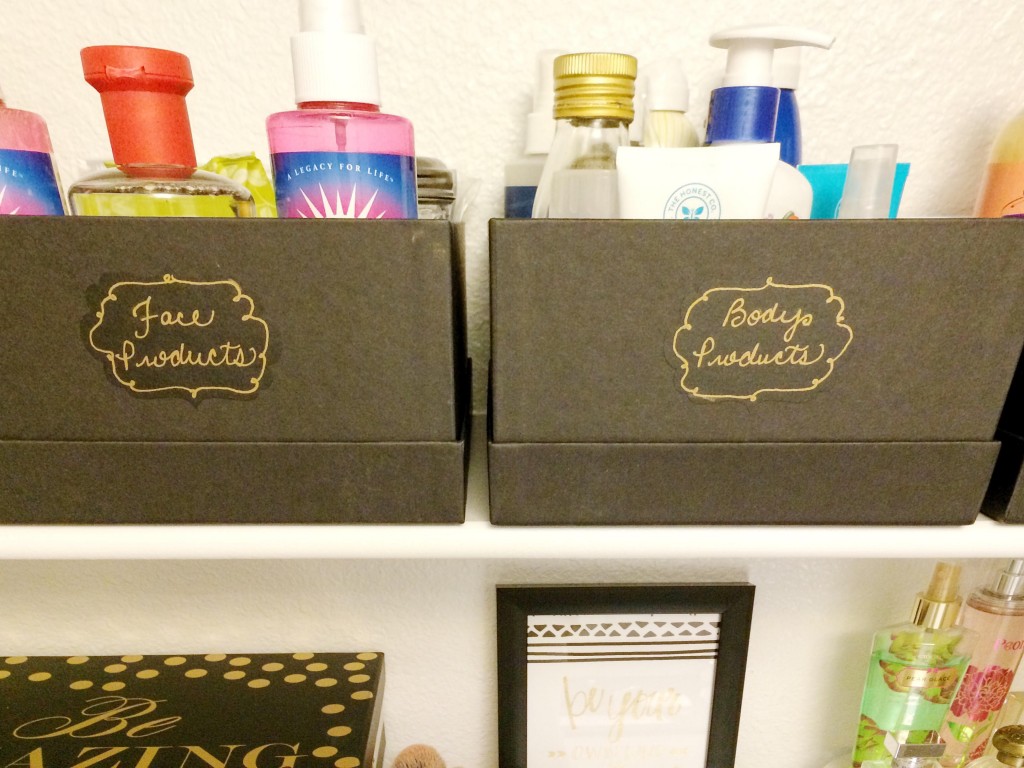 Underneath that shelf we have an adorable gift bag I found that was perfect for giving a great pop of blush and gold, which were the accent colors I had in my mind. It was perfect! I am using it as an empties bag where I toss all my empty product bottles. I plan to do an empties post every time it is full so you can see what I have been loving and what is and isn't worth trying out! (If you haven't checked out the Empties Posts I have done already, you can check them out Here Part 1, Here Part 2 and Here Part 3!)
Then we have some washcloths, hand towels and bath towels. I found this gold basket at Target, which was just perfect and fits right in between the shelves. By the way, I am soooo impressed with these bath and hand towels which I got for SUCH a good price at target! You see, we have been wanting to replace our shabby towels we have used for years and years and I had my heart set on some beautiful light grey towels from Pottery Barn. They were so pretty and SO SOFT. But I honestly could not pull the trigger on those because the bath towels were $29 each! The hand towels were $19. And although I almost wanted to make that a splurge item, I just couldn't stomach it in the end. So…I was SO thrilled when I found these awesome, very similar towels at Target for a much better price. They are the Threshold Organics Bath & Hand Towels in the color Seagull and they are soo soft and fluffy! The towels were only $10 each and I got them on sale for $8, the hand towels were $8 and I think I got them for like $6 on sale. Very good quality for the price! I like to roll my towels and washcloths, I think they look so much neater that way.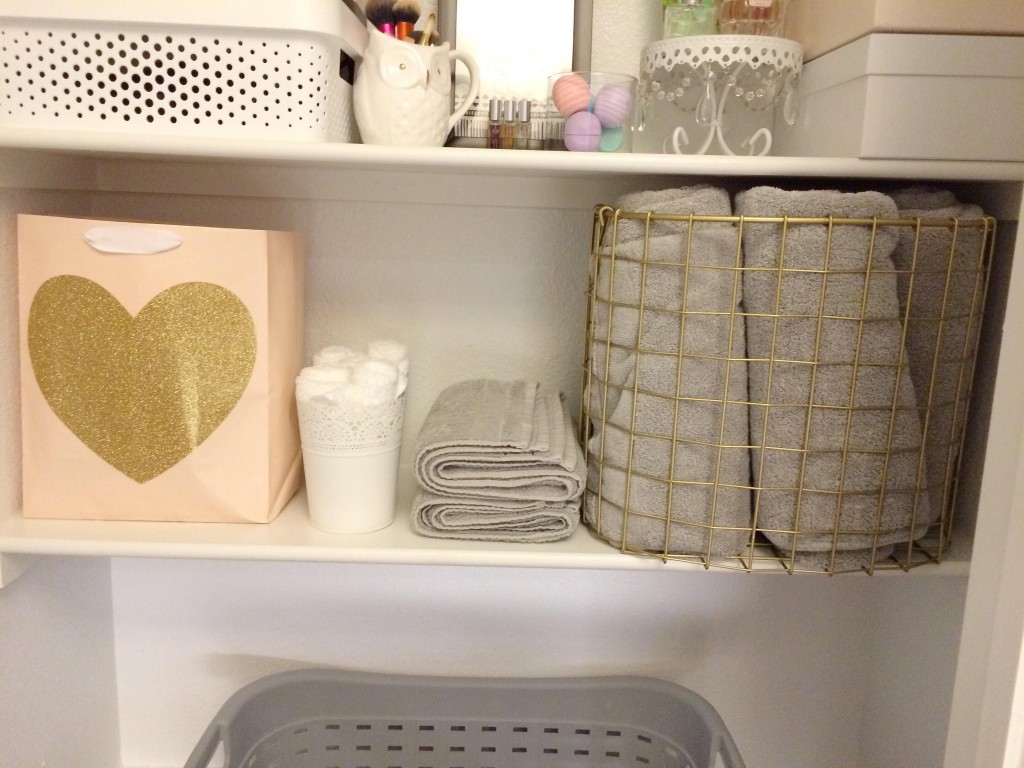 Some detail shots: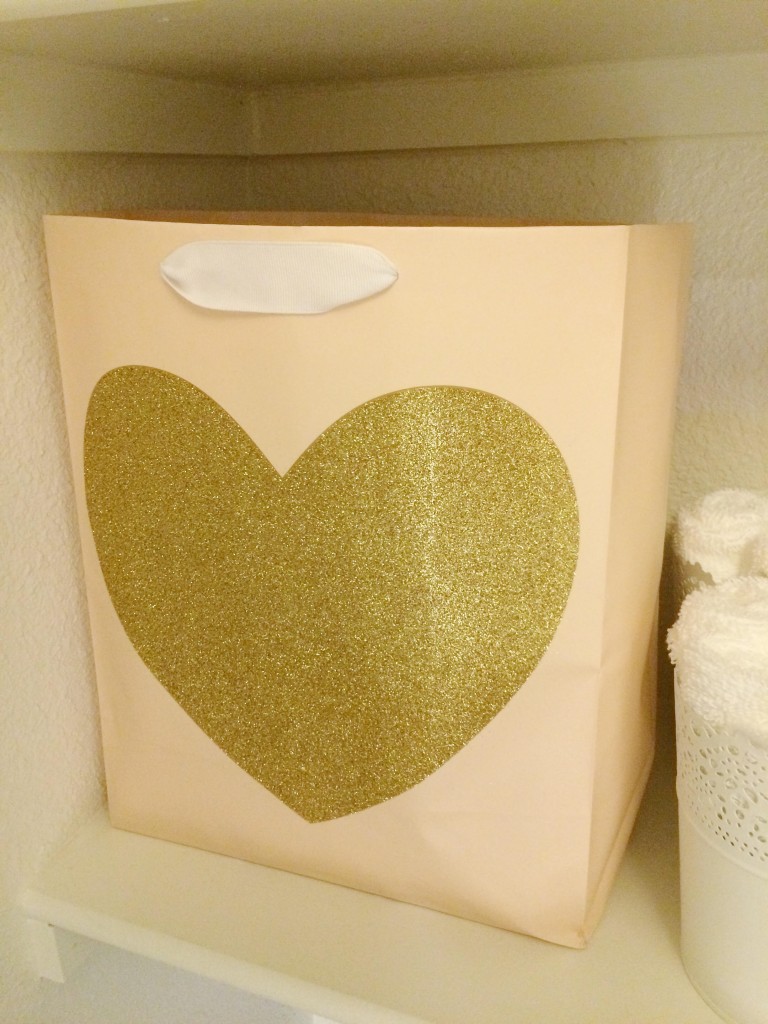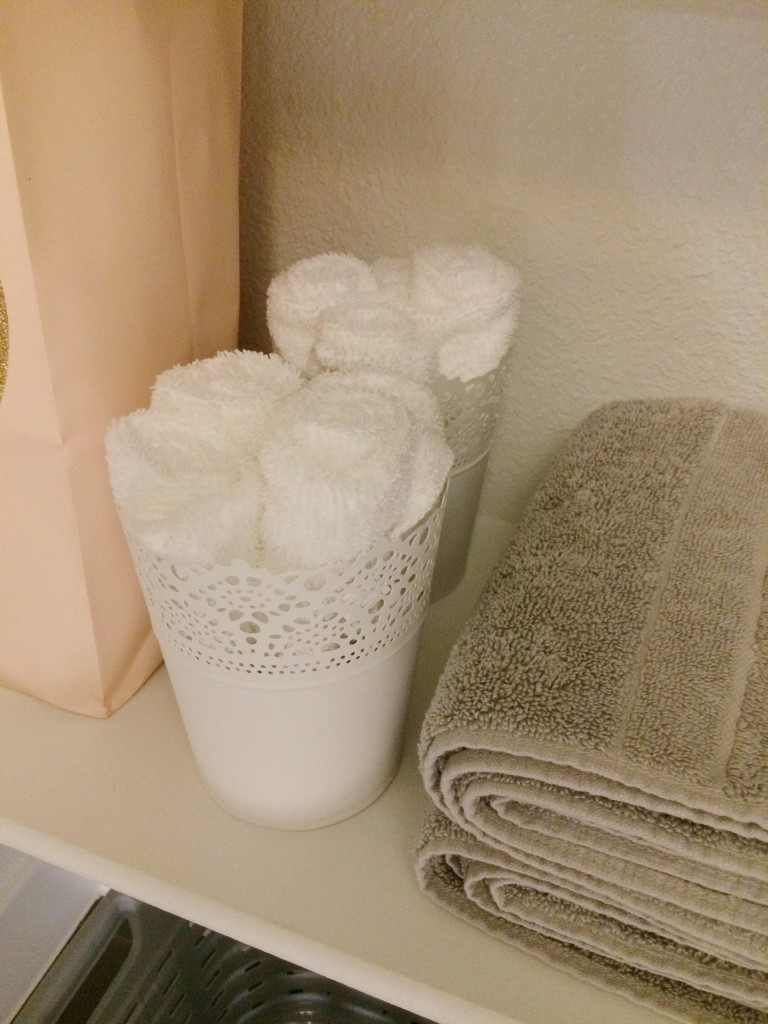 And this is definitely the cutest accessory in this closet, my sweet Milo boy! 😉 He is soo curious and loves exploring new spaces. 🙂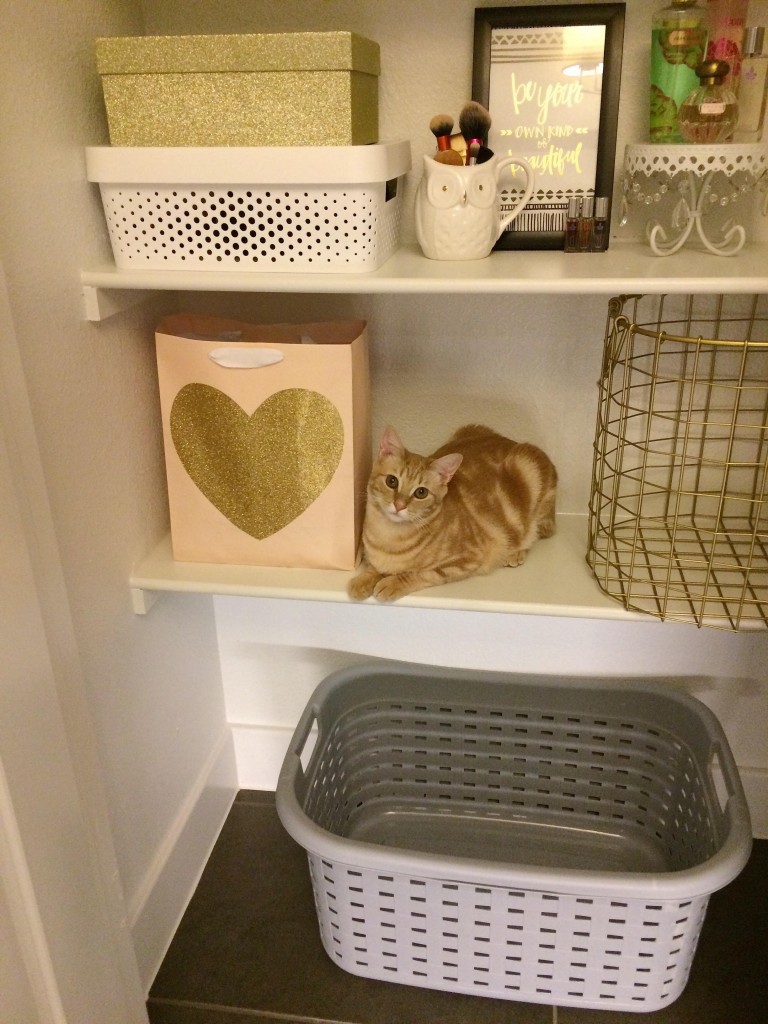 The top shelf has some things that I don't use as often like certain hair tools, my travel toiletries case and also a lot of extra toilet paper. I thought this small gold basket from the Target dollar spot ($3) was a perfect space to store them in style!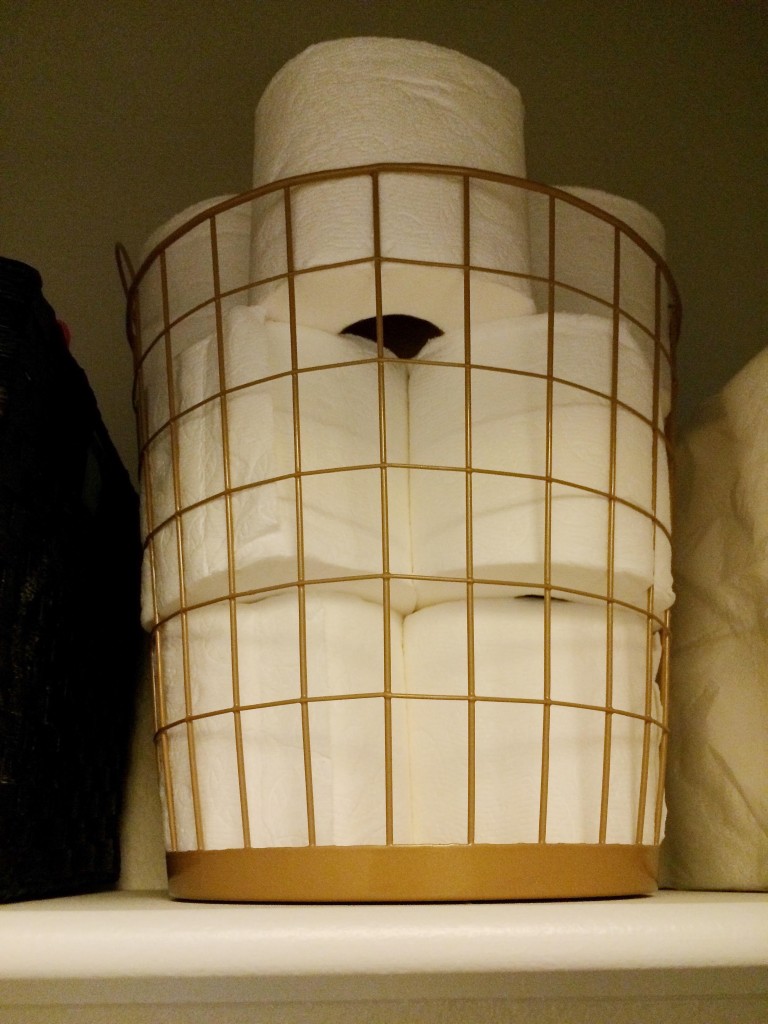 This project honestly took like several weeks to go through and purge all the stuff I had in there, find the right storage solutions for the space and to get everything to my liking. It seemed to drag on FOREVER! But, I am so happy it's finally all done and I love my new space. *Happy Dance!*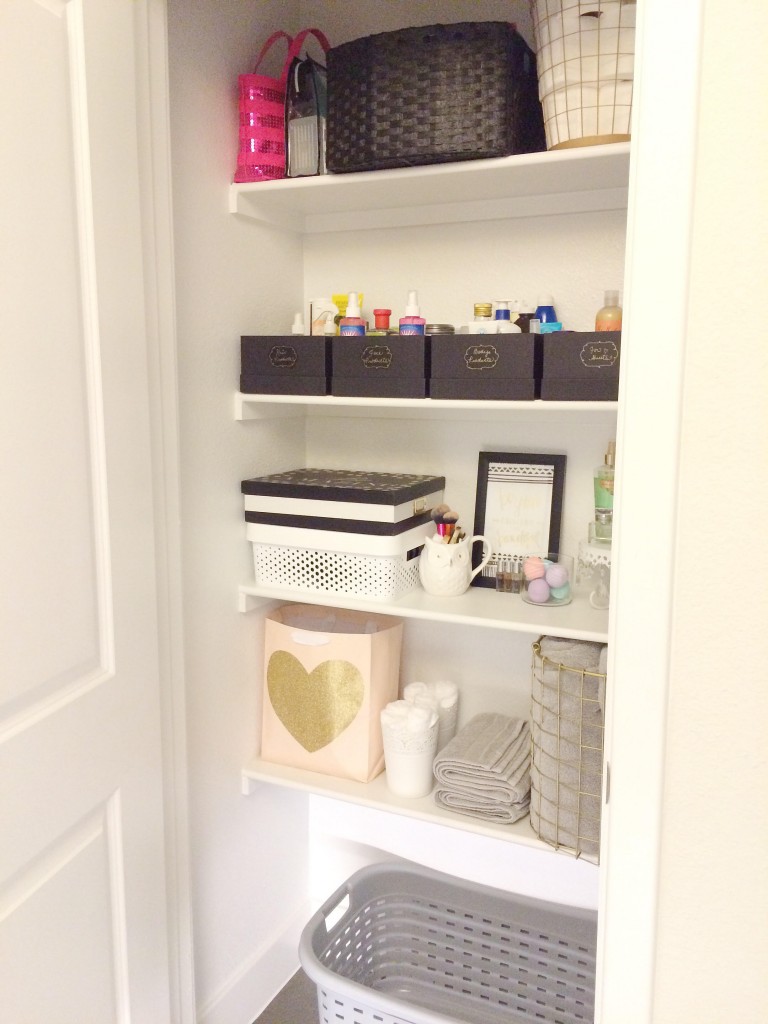 Because it was so rewarding, organizing this closet motivated me to go through a bunch of other neglected spaces in our house and do the same thing to them. So..hopefully more organization posts will be coming in the near future, and maybe I can actually remember to take the before shots next time! 😉