So, I am totally a product junkie. Or used to be, before I decided to start going more natural and organic in my whole lifestyle, especially skincare. Anyways, that means that I usually keep up to date on all the current new products which are supposedly the greatest thing since sliced bread. And I have tried tons and tons of things over the years which usually turned out pretty "meh" and never really lived up to the hype. And all the money I spent on those "meh" things? Yeah…not cool, not cool at all!
As a long time sufferer of adult acne (and acne in general, ever since I turned 14!) I sought skincare advice from many sources. An awesome blog I came across a year or two called The Love Vitamin helped me in so many ways! The magic mitt is one product Tracy recommends on her blog. I had never heard of anything like this in my entire life! Basically, its a washcloth that you place over your hand. You wash your face with only it, and warm water and it takes off all your makeup! As in NO FACE WASH, only WATER. Crazy right?!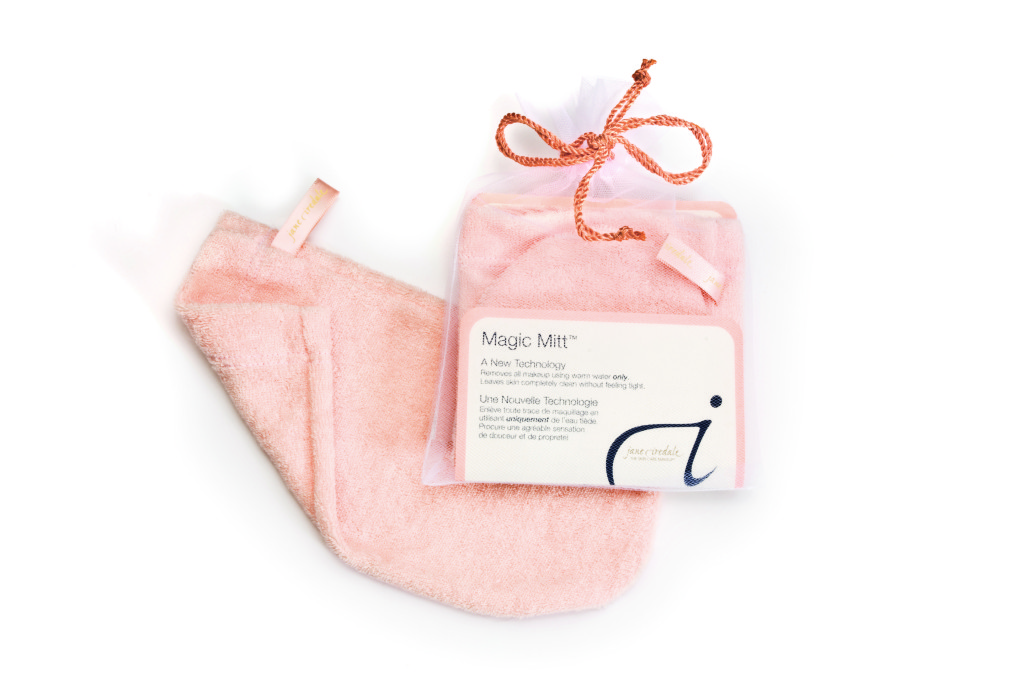 According to the little instruction booklet enclosed, this is how it works: "Magic Mitt is made from a new generation of specially knitted micro-fibers many times thinner than a human hair. When wet, they create a hydro-mechanical process that breaks the surface tension of the oils that bond makeup to the skin. This emulsion is then easily swept away by the MITT. Gently exfoliates while it works."
The awesome thing about washing your makeup off without using a face wash is that it protects what is called the skin's "natural acid mantle". When you do not disrupt this mantle, your skin is then able to better protect itself from bacteria. I had heard a bit about this in the natural skincare world before.
This discovery of the magic mitt excited me greatly, because the people I know with the best skin are the ones who tell me they only use water to wash their face. I always thought that the results from only washing with water are obviously amazing, but it was something I could never do because I NEED to wear makeup daily to cover up any current breakouts, and my older acne scars. So I never thought I could reproduce the great results, since I had to use something to wash my face. It was all such a vicious cycle that I hadn't found a way out from yet. Well no more! Hurray! This is definitely the most exciting thing I have come across so far in my quest for natural skincare.
So far, my natural skincare regimen looks like this:
Wash my makeup off at night with the Magic Mitt
Then I apply one or two pumps of Argan Oil over my whole face
Later, after the oil has had time to soak in, just before I go to bed, I spot treat any breakouts with Mario Badescu's Drying Cream (this product is not totally clean, I have yet to find a completely natural product to replace it with)
When I shower in the morning, I actually don't usually wash my face at all, not even with water. This is because I have found the most success with my face when I do as little to it as possible. If I am washing my hair that day, I do usually rinse my face off with first warm, then cool water to close the pores. I do this after I wash my hair to make sure no shampoo residue is left on my face.
If I ever feel like I do need an extra cleansing on my face, I will wash it with Manuka Honey. It is awesome because honey (and especially Manuka Honey) has antibacterial properties which helps to calm and prevent breakouts. Also, it's not as sticky to wash with honey as it sounds. 🙂 Just apply to wet skin, and don't get it in your hair!
After that, I apply witch hazel to a cotton round and thoroughly wipe my face with it. That is really all I need to get rid of any extra oiliness before doing my makeup. It also removes any traces of the drying cream from the night before. I also dab witch hazel all over my chest and shoulders to tone down any redness and it helps prevent any breakouts there.
I do a full face Green Clay Mask weekly, and moisturize with Argan Oil after. My skin feels so clean and clear after the mask. If possible, I try to do this on a day where I'm not going out and can just have bare skin for the day. I think it is so helpful to have one day a week without makeup so your skin can have a break to breathe! I actually like to use my magic mitt to remove my green clay masks too because it makes it easier.
It's super easy to take care of the mitt. Every night after I wash my face with it, I just take my sensitive skin Dove bar and lather it up and then rinse it off. I hang to dry on my bathtub faucet. Whenever I actually think about it, I just throw it in a load of towels too.
The mitt is something I can seriously not be without or it makes me so sad! I always tend to forget to take it on overnight trips because it is always hanging up to dry and I forget to pack it, but I never resort to washing my face with soap again because my skin freaks out if I do! I usually end up having to do the oil cleansing method with a washcloth instead. Maybe someday I will actually get a second mitt, just to keep in my travel bag so I am never without it! 🙂
I totally made my friend Rachel a believer in this mitt, and she bought it and loves it too!
I bought mine from Amazon, and it looks like they have it currently for $15 available for Amazon Prime shipping. It is also carried on Dermstore.com for $15 with free 1-3 day shipping. (I am a HUGE fan of Dermstore.com since they often have special deals and always have fast free shipping) And, of course, from the Jane Iredale website, also $15 and free 1-3 day shipping to the contiguous US. (I don't think they had free shipping back when I bought this, so that is very cool!)
Have you ever used the magic mitt? Are you intrigued by it? Grossed out by the thought of giving up washing your face with face wash? Leave a comment and let me know below! I'd be happy to answer any questions for people who are curious!