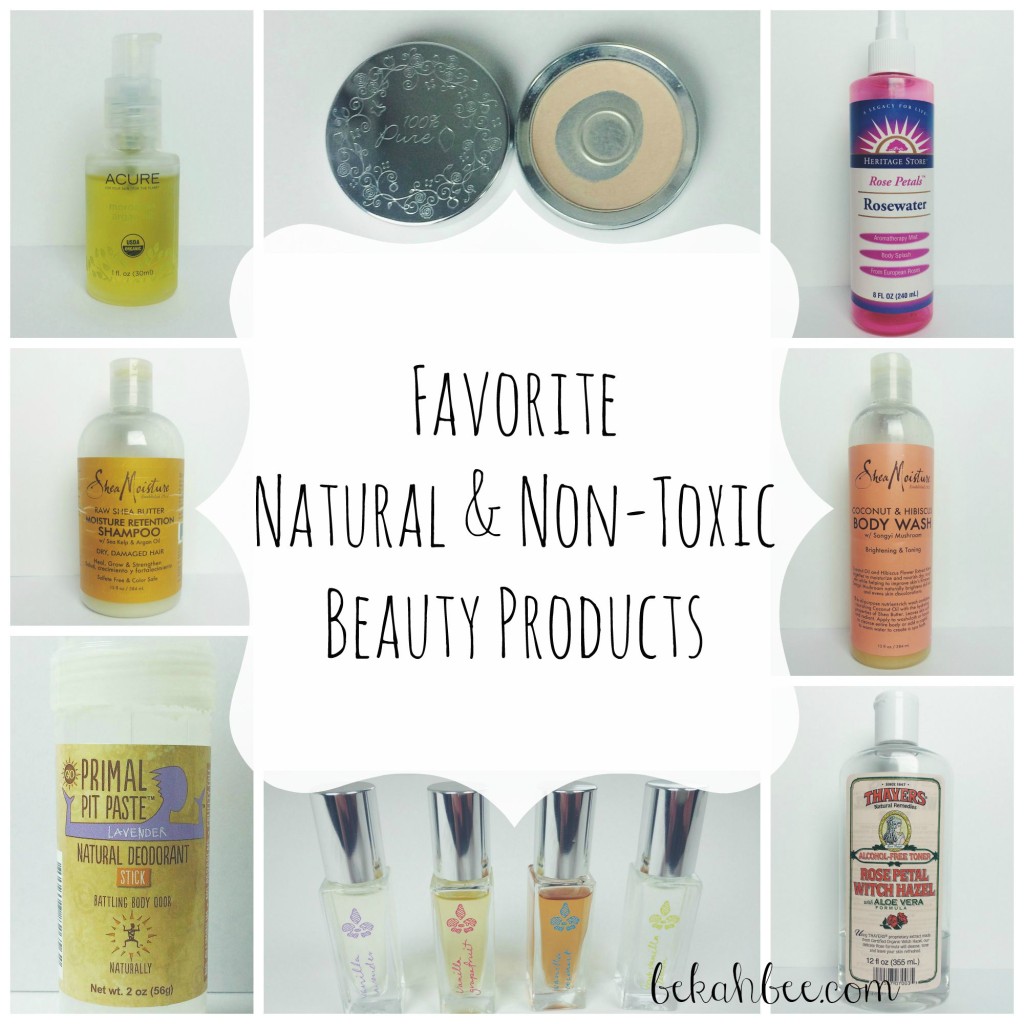 About 2 years ago I started making the switch over to a more natural and non-toxic lifestyle. It's funny because I can't exactly pinpoint any certain moment where I made the decision, it was more of just gradually learning about all the harmful chemicals present in most conventional products. I believed it progressed kind of naturally when I started learning more about healthy eating, and also trying to find effective natural remedies for my severe adult acne I was battling with.
It has been quite the journey, I must say! It is definitely not easy to kind of have your whole world turned upside down finding out about how not great most beauty and makeup products are for you, and all of a sudden you feel like you need to go out and replace all your trusty favorites! (which were hard enough to find in the first place, btw)
It has been very gradual, and I am still on the hunt for a lot of items that I truly love without feeling like I am compromising on my new standards, but really deliver on the results I want! I have been able to try a good amount of new products over the last year especially, so I am excited by some of the new discoveries I have found and love! I still have a long way to go, but these items have definitely made my "love" list.
1.) Acure Argan Oil
This stuff is called "liquid gold" for a reason! I am a total argan oil convert and evangelist. This was one of the first face oils that my face was actually happy with. It doesn't like coconut oil or jojoba oil, but it drinks this stuff up and I love it. It took me a while to get used to putting oil all over my face as a moisturizer, but now I love it. I truly look forward to my night time routine. I put this on after washing my face and I love how it feels. My skin always seems happier and calmer in the morning when I wake up! I also use it very lightly as a hair finishing serum to tame frizz after styling and for added shine. It's an actual crisis if I ever run out of this stuff, so I try to have back ups on hand when I am starting to run out!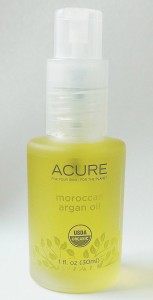 2.) Rosewater
I am obsessed with this rosewater. It is so lovely and refreshing to spray on as a face refresher, makeup setting spritz, in my hair before styling, really any way you want to use it. I tried the 100 Percent Pure rose hydrosol spray, but I like this one much better. The fragrance is the best. A very true but not over-powering rose scent. I am obsessed with anything rose, but I like it to be more on the light and fresh side, not spicy.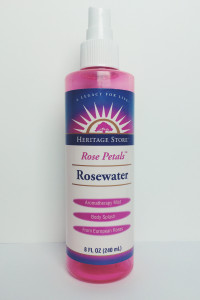 3.) Rose Petal Witch Hazel
While we are on the subject of roses, I love this rose petal witch hazel. I use it as a toner. I was already a fan of using witch hazel as a toner, just the regular cheap kind I found at the drug stores. But I heard so many amazing reviews on this stuff that I just had to try it! It didn't disappoint! It is sort of a luxury item though, because I think it's kind of pricey at $7-10, depending on if you get it online or at a whole foods. I just go through a lot of it, and can go through a bottle in a month or two. I put it on a cotton round and wipe my face with it in the mornings instead of washing it, and then all over my chest and shoulders to tone down any redness and calm my skin. So far I decided it is worth the price, since I really love this part of my ritual because the scent is awesome! (Update: I just heard recently that this might be synthetically fragranced, which bums me out because I try to avoid that. The ingredient list calls it "fragrance (natural rose)" so I will need to look into this more. I hope I can continue to use it though, because I love it!)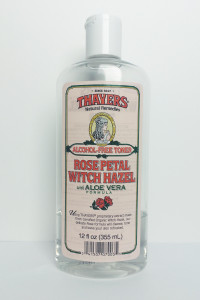 4.) Shea Moisture Shampoo
This is pretty much a holy grail product for me at this point! I LOVE it.  This shampoo truly cleanses my hair, and offers a pretty great lather for a natural product. I was able to really reduce how often I wash my hair as well since it really extends the time before my hair gets oily. I definitely noticed a difference. My hubby loves it too! We are both obsessed with the smell. It is really hard to define though, I have thought about it for a while and just can't seem to pinpoint it! It smells warm and yummy. I have also tried the conditioner of this line, and while it was ok, the shampoo is much better in my opinion.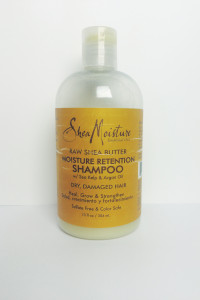 5.) Primal Pit Paste
I absolutely love this deodorant! There was a process for me to grow to accept it though, because I had to go through a week transition when I tried it, even though I had already used a natural homemade deodorant for about a year and a half. I don't know if everyone goes through that or not, but my body goes through at least a week adjustment when trying new natural deodorants. Different people's bodies may have a different chemistry though. Because of the transition time, I hated it at first and couldn't understand all the fuss about this product! But after a week of faithfully trying it, it started being effective for me and now it is a total holy grail deodorant! Even though my homemade formula was working pretty awesomely and was quite effective, I had to admit that this was still superior. The odor control is amazing and it keeps me quite dry. The only con is the price for me, since it is about $11 and I go through it in a month or two. The jar paste is a few dollars cheaper, but I am really enjoying the stick form for a change. So much less mess, so convenient! I really like the lavender scent, although they also have a new Coconut Lime scent that I am dying to try!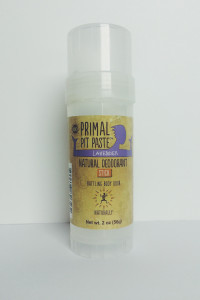 I have a whole review of this rollerball set here. I am really obsessed with the Lavanilla line! The perfume is very impressive in both scent choices and how long it lasts. Pretty great for a natural product. The roller ball sampler set is the perfect way to get started trying the line since you can decide which scent is your fave before springing for the full size!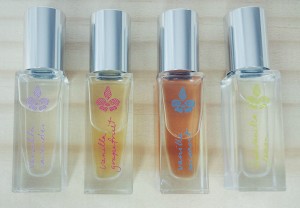 I also have a full review for the magic mitt here! Basically, it is a washcloth that fits over your hand and can remove full makeup with water alone. One of my favorite makeup gadget finds ever, I think!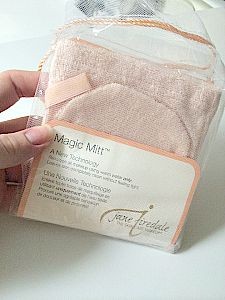 8.) 100% Pure Coffee Bean Caffeine Eye Cream
This eye cream is a favorite and I am on my second bottle. It is rich and creamy, but not greasy at all. I use it for daytime. It smells like cookies or doughnuts, which I love! A little bit goes a long way, and the little tube lasts for about 6 months for me with daily use.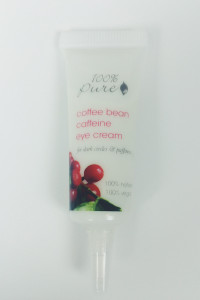 9.) 100% Pure Fruit Pigmented Healthy Skin Foundation Powder (I use the shade Creme)
This powder foundation is my favorite clean beauty powder so far. It is one of the only ones I have found that actually controls my shine! For some reason, many mineral powders just don't do that, I always found myself shiny just a few hours later.
10.) Acure Organics Moroccan Argan Shampoo
This shampoo deserves an honorable mention, as it was a favorite of my hubs! It smells kind of nutty, and while I wasn't sure I loved the smell, he really did. He used and was totally happy with this until he ran out and happened to try my Shea Moisture shampoo, and decided he liked it better! Still a great product though.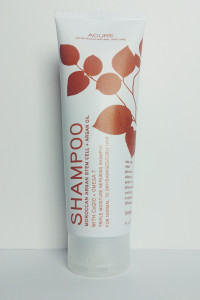 11.) Shea Moisture Coconut & Hibiscus Body Wash
The Shea Moisture line has been an absolute favorite of mine, and I love almost everything I have tried of theirs. They have several different scents which are targeted towards different issues. I am totally obsessed with the Coconut & Hibiscus one. It smells like a tropical fruity drink, very coconut-y and slightly citrusy which was perfect for summer. Absolutely love!!!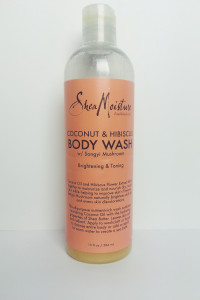 So that is my list of natural beauty and body products I have found so far that I really love! It has shown me that there is lots to look forward to, and discover in the natural beauty world and it is worth trying new things to discover the ones that really work well. I am really looking forward to trying even more new things soon, and I will definitely share new products I love when I find them! 🙂