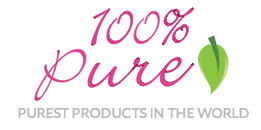 This post contains affiliate links. For more information, see my full disclosures here.
I first heard about this cool new company called 100% Pure probably a year or two ago but I took my time jumping on the bandwagon. As their name suggests, they are a completely natural and pure makeup company. All their colors are created using fruit pigments, which is super cool and they are also cruelty-free!
I love everything they stand for and the all natural ingredients got me really excited but…I don't know, I think I wanted to see more people review it before I knew if they would actually work you know? My BFF Rachel had tried a few of their products and totally loved them so I think that is what finally convinced me to dive in! I have ordered from them about 2 or 3 times now, so this is a compilation of all the products I have tried so far.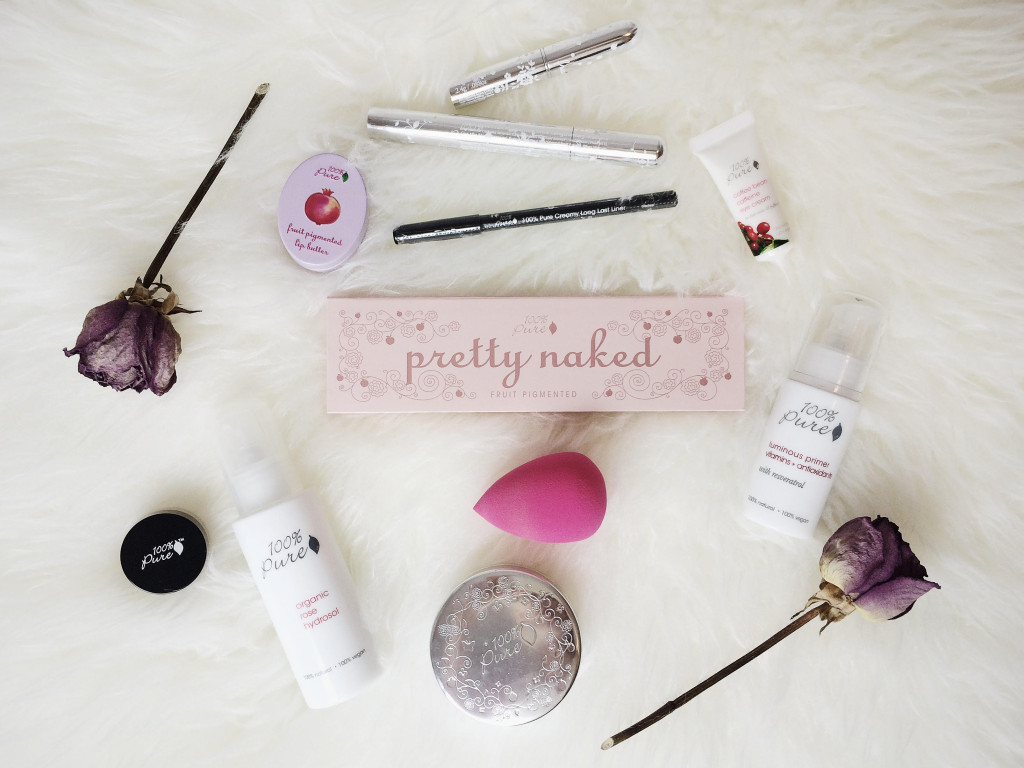 My opinion of all these products is varied. I liked some of them a lot, and some I didn't hate but I wouldn't repurchase. I did order the Healthy Skin Foundation in Creme at first as well, but that was the one thing I did return. I had really high hopes for it as it got rave reviews and everyone said the coverage was really great but..it just didn't work for me! I did keep it for a while to see if I could play with it and like it more, but I just didn't like the coverage. It seemed quite thick, but more in a tacky way instead of being very smooth and pliant. And I could still see my scars through it even though I felt like I was wearing a pretty thick layer. It seems to work great for some people, but unfortunately, I just wasn't one of them! (It is not pictured because I already returned it! I bought the powder and rose spray with the refund) Customer service was absolutely delightful, and the refund was simple. The girl I emailed was actually very helpful when I told her why I was returning it. She said she had acne scars as well and suggesting using the foundation first, and layering the cream foundation in spots that needed extra coverage as that is what she does. I ended up not wanting to spend money on both products just for decent coverage though. But maybe this can help someone who decides to try it!
Lip Glaze in Vixen: This lip glaze was one of my least favorite items. I am notoriously picky about lip products, and usually hate the way that lipsticks or anything like that look on me, and how sticky they feel. This one looked so pretty though that I thought I would try it. Unfortunately, it was pretty sticky and it just looked funny on me. Next time, I will probably stick with a lip gloss or chapstick.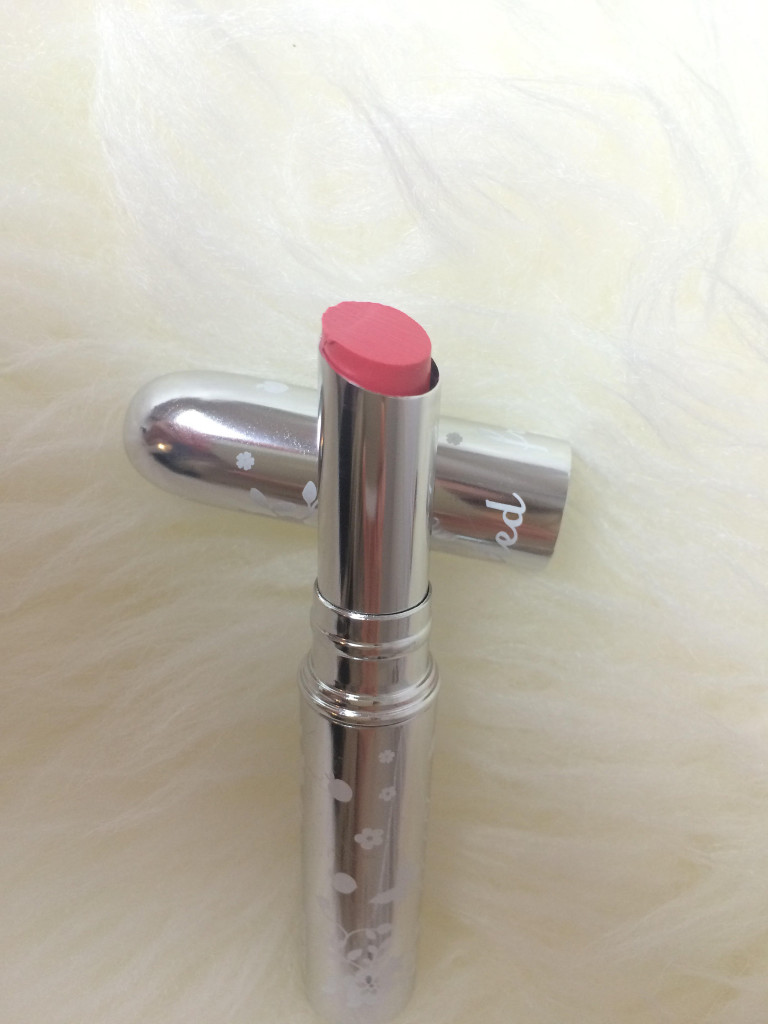 Creamy Long Last Liner in Blackest & Mascara in Black Tea: These two were freebies which I am excited to try, but haven't yet. This will be my first experience actually trying natural eyeliner and mascara, so I am eager to see how they work! I have heard that natural mascara is really hard to get comparable performance to conventional, but I have heard pretty good things about this mascara so fingers crossed.
Pretty Naked Palette: This was another freebie which was the best value ever! It is normally $48, so it blew me away that I got it for free with my order. If you have good timing and wait for good deals they add free gifts a couple times a year I think, with a certain minimum purchase amount. This is an item I still need to play around more with. So far I have tried the blush and highlighter and they seem pretty nice. I have also tried the eyeshadow in the middle, it was just very faint and not super obvious. I would love to see them come out with more palettes in the future, with some more fun colors!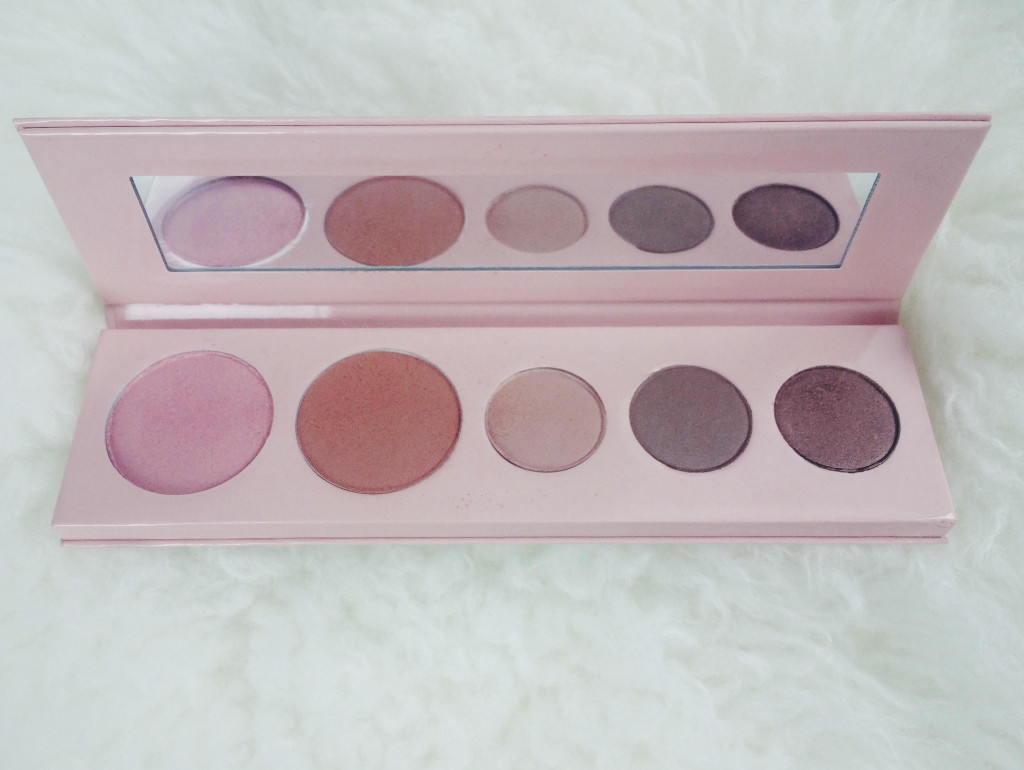 Makeup Blender: YOU GUYS. I went 31 years of my life being highly skeptical about investing in good makeup brushes and a beauty blender. I just never wanted to fuss around much with them or spend the money. Recently I started thinking maybe I was missing out on something. So I ordered this little bad boy, and wow, it totally makes a difference in how my concealer and makeup applies! It just adds such a more airbrushed look than applying it with my fingers. I love that 100% Pure makes a latex-free version and I am so pleased with this purchase! It was $13 well spent in my opinion.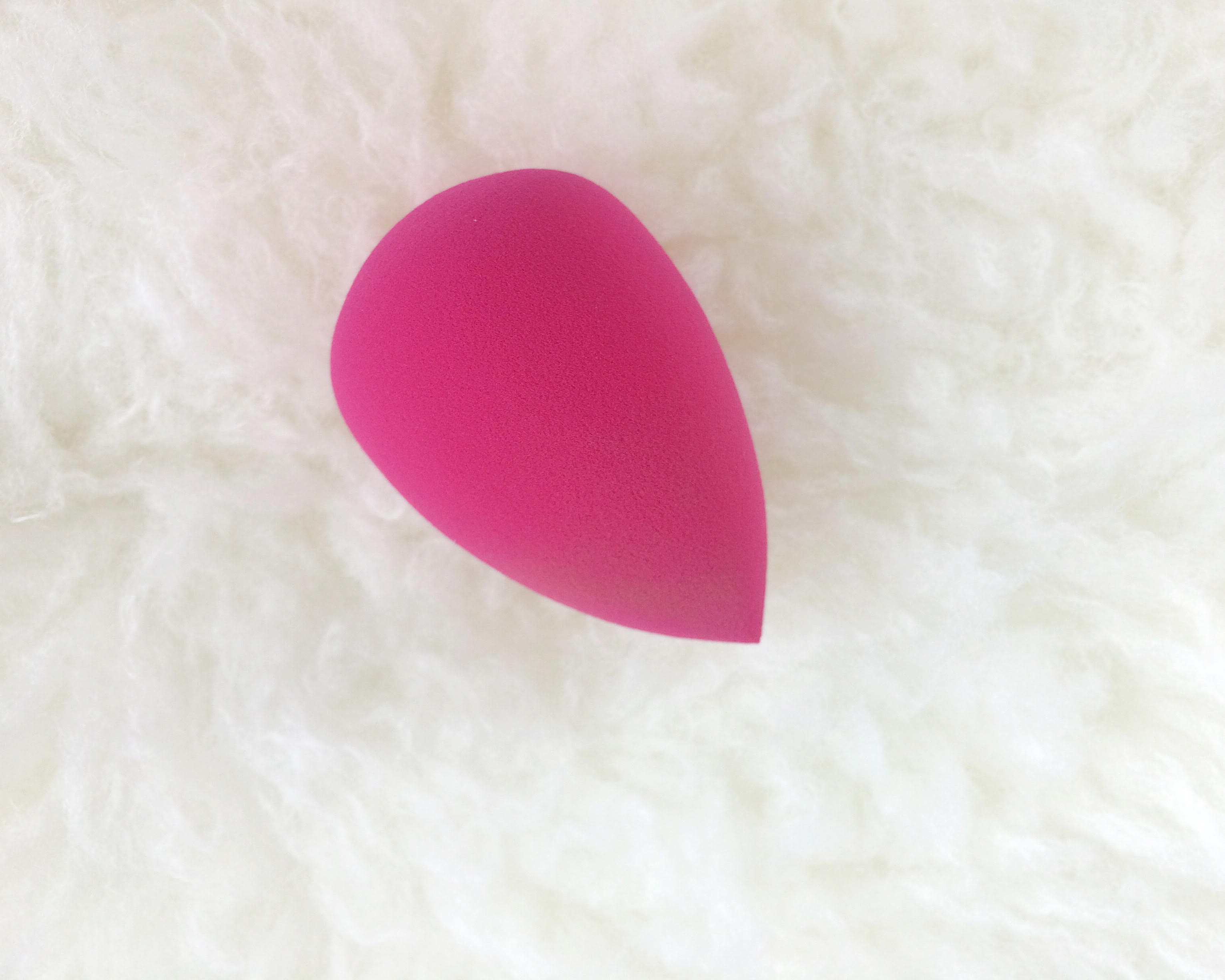 Healthy Skin Foundation Powder in Creme: Okay, so this product was one I totally had to live with and play around with for a while before I was sure, but now I LOVE IT! I was actually about to give up on it until I discovered that it's all about how you apply it for best results. At first, I was applying this as a finishing powder over my concealer, with a flat top kabuki brush. The problem I was having, is that it looked very blotchy on top of everything. For me, the key was switching to patting it on with a powder puff. I can't apply it in sweeping motions with that either or it still looks blotchy. But since I started just patting and pressing it in overall my makeup, the finish is perfect. It adds that extra layer of coverage which I love, and helps blur the look of my scars and imperfections. So glad that I discovered that trick! I think using a very dense powder brush may work too. The color Creme matches me quite well, it is ever so slightly darker but I make that work. My skin tone is fair, with neutral undertones. At the moment, this is the lightest powder they make.
There is one con to this powder though, it is such a tiny amount of product for the price! In fact, when you pick it up and open it, you would swear it's empty because it is so light. At $38, you would hope that it would last quite a while but alas, it seems to run out much sooner than I would like. I think I may have gotten 4 months out of mine? For now, I have decided that it's totally worth it since it is the only natural setting powder I have tried that actually performs well. But if I find another product that is comparable and cheaper or a better amount I will reconsider.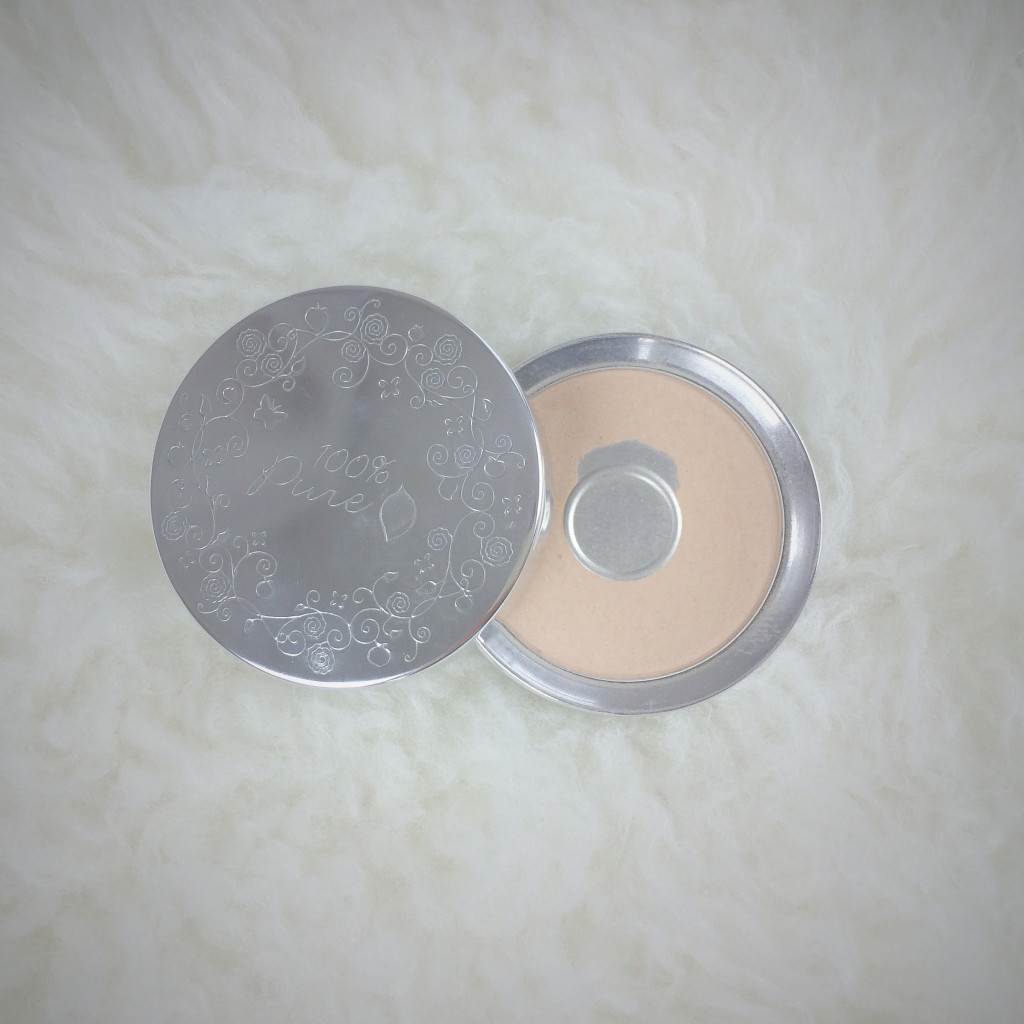 Coffee Bean Caffeine Eye Cream: I first got this eye cream as a freebie with my first order since they were having a special deal. Funny enough, it ended up being one of my faves! it's just a nice rich eye cream and is perfect for daytime since it isn't greasy at all. It smells slightly like doughnuts, which is a delicious pro if you ask me! 🙂 My eyes get really dry after I take off my eye makeup so I love the relief that this provides before I put on my eyeshadow. I recently re-purchased it because I loved it that much. this little tube actually lasts a really long time, I think mine lasted for about 6 months at least.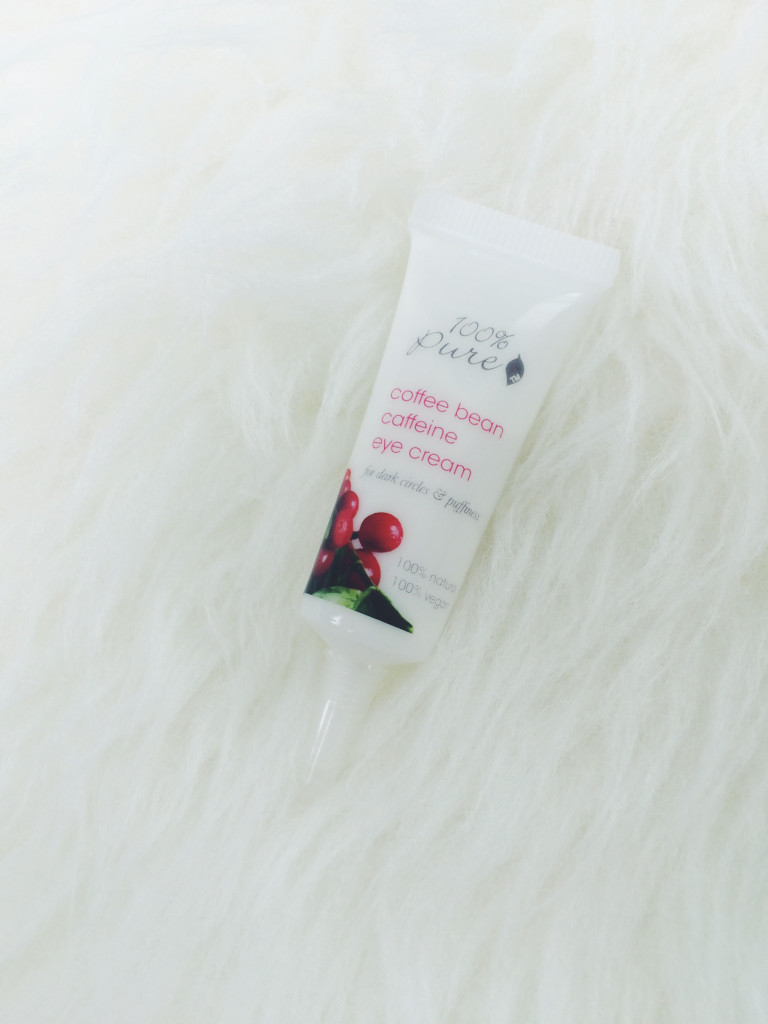 Luminous Primer: This is an interesting one. As a primer, I think it works okay. It helps keep my oiliness to a minimum and my makeup last. Sometimes I wonder if I like that though? I go back and forth between wanting my skin to be matte, but not TOO matte since that can make my scars look more pronounced. I never actually purchased and used a conventional primer before as just the samples I tried would either not work or break me out so I gave up on them! This one has not made me break out, so that is great. I have been playing around with it, to see how it works best for me. For whatever reason, my pores on my upper cheeks are still very visible even using this, so I don't know if I am doing something wrong or maybe this just isn't my thing. I saw recently that 100% Pure just came out with a mattifying primer, which I might try sometime. I would rather go for matte, than luminous personally.
Organic Rose Hydrosol: I have been hearing amazing things about rose hydrosols all over the natural beauty blogosphere so I was dying to try one! I was also really excited since I LOVE all things Rose scented but I have to say this is not the smell I expected. It's not like it's bad, just different…than I thought. It smells quite spicy and strong but dissipates quickly so it's not a deal-breaker for me. "Peppery" would actually be a good way to explain it. I used up this whole bottle as a facial spritzer, and to set my makeup. It was good, but I do have another brand that I decided I like better.
Pot Rouge in Ballerina: This one was a little disappointing to me since I thought the color was not quite as pretty in person as it was online. Application wise, it just didn't work that great for me on top of foundation. I never have great luck with cream blushes since they tend to wipe off the foundation coverage on my cheeks quite a bit when I put them on and I can't lose any coverage. That may not be an issue for someone else though. I think these blushes would be ideal for those who apply it onto bare skin since that would probably be nicer.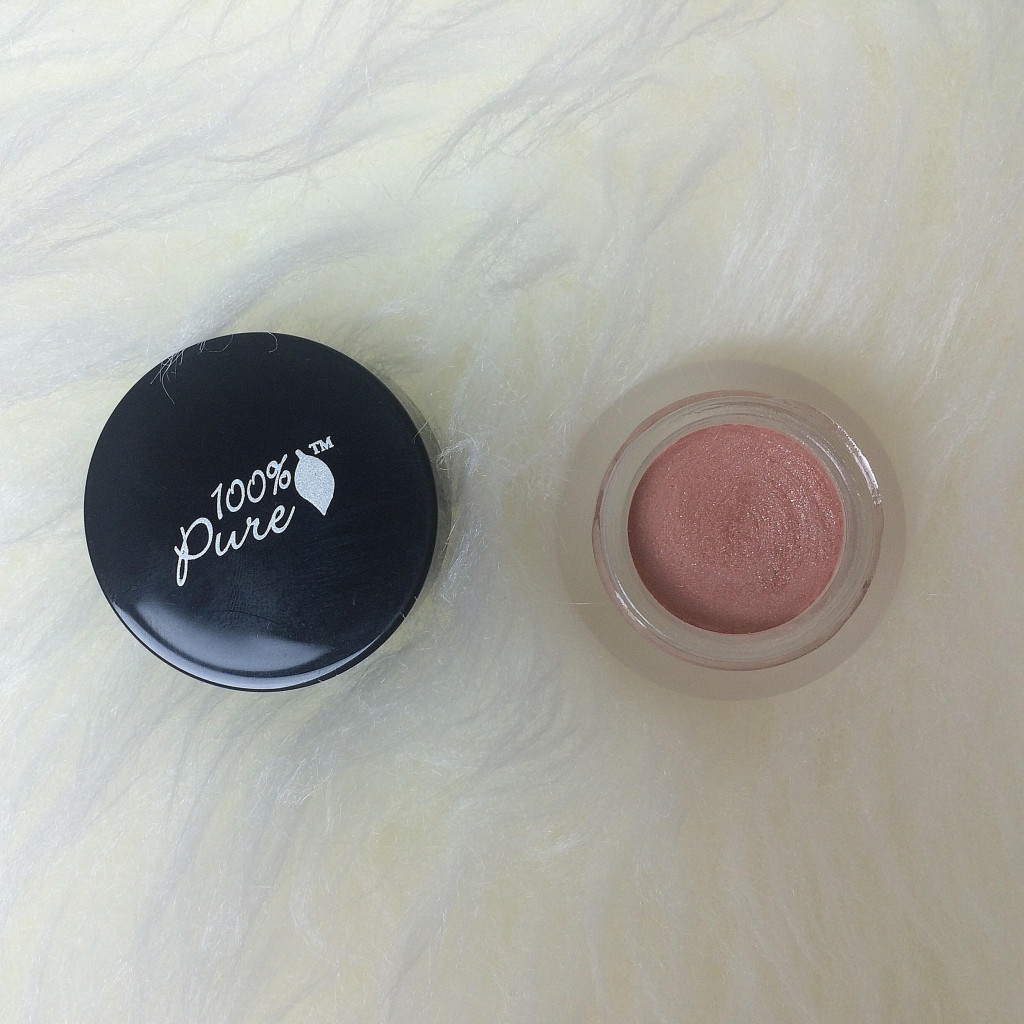 Lip Butter in Pomegranate: This was one of my least faves as well. It was a freebie. Now, I think it looks totally cute in the packaging, but performance just wasn't there for me. First off, it was RIDICULOUSLY hard to open, like pry it open every time and almost break my fingernails hard. So that was not cool. I tried using it when I ran out of chapstick one night (which btw, is an actual crisis in my world. Two things I HATE being without are chapstick and lotion. At ALL times.) It doesn't really replace a chapstick though since it is less moisturizing and more tacky. Being called a butter, I thought it would be more "buttery". Also, be aware that it gives quite a bit of color. So I went to bed with bright red lips, haha. Anyways, just not my fave, that's all.
Vitamin C Serum: (Oops, I forgot to put this one in the picture. I must have thrown it away already. ) This was another cool freebie! I used up the whole bottle and I did like it. I just have not repurchased it, since I am experimenting with serums and want to see if I can find one that is life-changing. I think I saw an improvement in my skin and lightness of my hyper-pigmentation from my acne scars, but it wasn't very drastic or anything.
Overall, after a few orders and trying quite a few of their products, my opinion of 100% Pure is pretty great! I am finding that it is just a matter of finding the ones that work best for me. I am definitely excited to try some new things in the future! For next time, I have my eye on the powder blush in either Chiffon or Mimosa, a couple of their pretty lip glosses and maybe some of their body products as well! I would love to know your opinion of the brand, and any favorite products of theirs you would suggest. 🙂