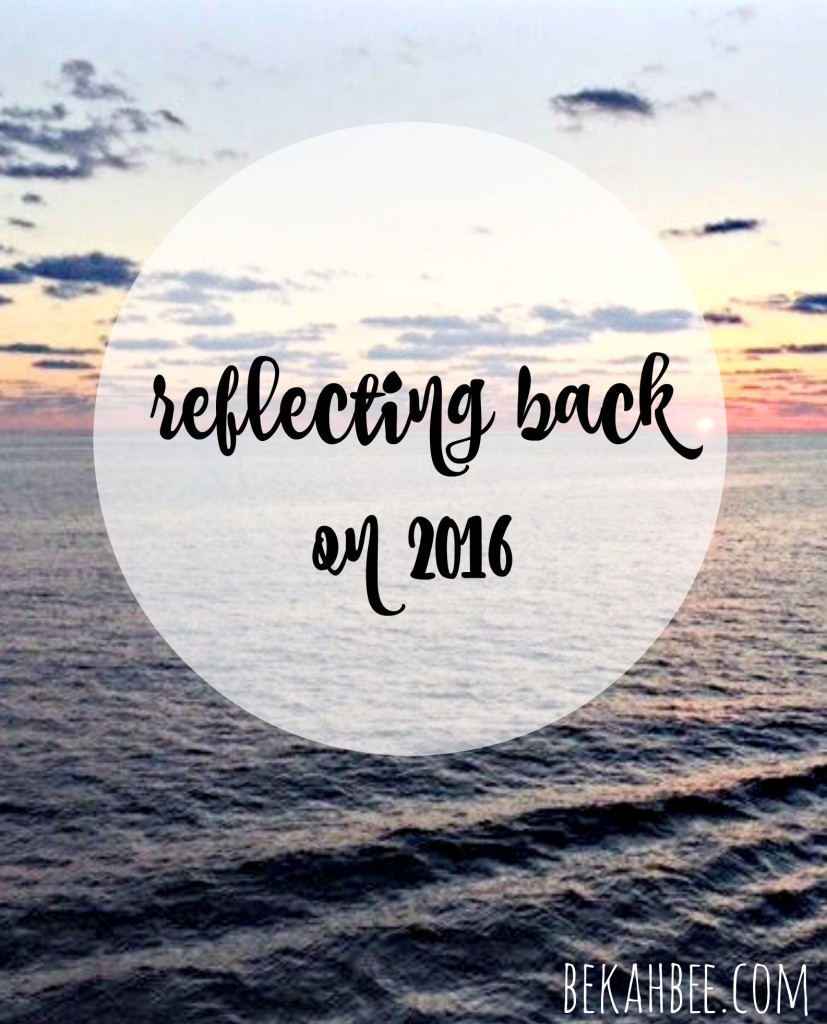 It is officially 2017! Wow, I don't know how it crept up so fast, but here it is just the same! The fresh beginning of a new year brings so much excitement of endless possibilities and a renewed energy to pursue new goals. And hope..always hope. Somehow even though there are so many ups and downs, there is always the hope and promise of beautiful new things.
I try to look at all things recently as a chance for growth and lessons learned. I have ALL sorts of awesome and lofty goals I am aspiring to this new year, and will be sharing those very soon! However, before I just go on with my new goals and dreams for 2017, I wanted to stop and take a look back at all the things that have happened in the last year. Both the joys and the sorrows. I have spent a lot of time reflecting recently on how short life is, what I want to accomplish and just trying to soak up every good and beautiful moment so those can carry me through the inevitable bumps along the way.
Honestly, I didn't accomplish all the the goals I posted about here for 2016. But I did make great progress on some of them, and some I just changed my mind on. And you know what? That's ok with me! Life is about constantly evolving and tweaking things. I am really happy with a lot of things that I have implemented in the last year though, here are some of the highlights:
Constantly getting rid of clutter and organizing our place. Yes, I am not completely done yet, but lots of purging and organizing happened and that makes me proud. I did a realistic re-haul of my closet and wardrobe and donated 2 huge bags of things that I knew I would never wear and it made me feel so much lighter and more streamlined. Another huge purging project was my bathroom/linen closet where I went through several years of beauty and personal products that had been accumulating and got rid of all the things I would never realistically use. Some of that was tossing toxic products that I didn't want to use anymore, and some of it was giving away natural products that just didn't work well for me, and keeping it more minimal with ones I truly use and like. Thankfully my sisters took most of those things to see if it works for them, and that made me so happy since I HATE wasting things.
We did try doing a month stock-up shopping trip at Costco once, which was a very interesting experience. There were definitely pros and cons and I have been thinking through how best to do it in the future to suit our needs after that experiment. I made a huge month menu plan, trying to share ingredients among them to best use everything and make it cost effective. That part was very time consuming for me, and I may use a paid plan in the future to save time on that. A funny thing happened though when we actually had tons of food in the house for each planned dinner: we started feeling forced to eat certain things even though we weren't feeling it, because we wanted to use it all. So that's something that wasn't great. And I didn't love feeling like we were less free to go out if we wanted because we felt obligated to eat what we already had. I also hated cooking that much to be honest! I had a major epiphany during this time that I don't actually enjoy cooking (which had never even occurred to me as a possibility before, since my mom LOVES cooking and it was always a major passion of hers) and that was a crazy realization. Obviously I want to cook still to be cost effective and to control what we eat so we can have real and healthful meals, but I need to tweak it enough that I don't have to constantly be in the kitchen prepping and cooking. Easy and minimal prep are gonna be huge priorities for me as I figure out a new way to meal plan and cook at home. One thing we LOVED about stocking up for the whole month was having tons of drinks, household items and snacks on hand. No more last minute trips to the store every couple of nights, which I HATE. So I think stocking up on those things is going to be perfect for us, but as far as meals go, maybe 1 or 2 weeks at a time only.
I was able to meet and even exceed my goal to listen to podcasts and sermons while getting ready for the day and cleaning. That has been huge for me, and I feel like I was able to grow so much and think through important things while doing those mindless tasks we have to do every day. It also makes cleaning go by so much faster, which is awesome! I loved this habit and plan to continue it this year too. So far the bulk of what I've been listening to has been sermons and it has been so good for me to reflect on as I go about the rest of my day. It truly focuses me on the important things and that has been huge. I completely failed at reading books this year though, and I think I may have read maybe one all the way through. I decided the issue with this is that it's hard for me to prioritize actually sitting down and reading a physical book when I feel like I have so many more pressing things to do, including growing my blog. I think the perfect answer to this is maybe trying a audible subscription, or something similar so I can listen to books while doing my cleaning and getting ready for the day. I'll let you know how that ends up working out!
I was able to transition my husband's face wash, deodorant and our dish tabs over to natural ones that we like, so that was a major win!
I did make huge strides in gradually organizing and decorating certain rooms in our house! It is still a work in progress, but I am pleased with all we were able to accomplish last year in that regard. The biggest one was our master bedroom which is pretty much all brand new. We finally got the black iron canopy bed frame I have wanted forever, a new (non-toxic!) mattress and bed frame, dresser, bedside tables and table lamps. I am really excited about the progress and am hoping that I can do a big master bedroom reveal sometime this year! My other favorite area is our patio where we finally got a little patio bistro set! I always dreamed of having one since I was a little girl, so that is fun! 🙂 There are still things to do out there, but hopefully a Patio reveal will be coming soon too.
I made some good progress on my blog last year, but much less than I hoped to. I am going to keep working hard on it this year and I believe that it will be the biggest year yet for my blog!
The biggest life-changing event of 2016 was getting our 2 sweet boy cats Milo & Chester! For various reasons we never got cats during our entire marriage, even though we had dreamed about it since before we were even married. So it was really a dream come true! They are the best thing in our life and we are extremely thankful for them. They have made a huge difference in the overall quality of our lives, and we are so very in love with them!!!
It was not without its challenges though, and the transition to going from just the 2 of us to having pets was a bigger change than we expected! So it has definitely been a challenging, yet rewarding experience! I have a blog post coming soon with all the things I wish I knew before getting cats, so expect to see that soon. I think I would just have been better prepared mentally, if I had known what to expect!
It was a hard year for me emotionally, lots of highs and lows. I struggle with anxiety and sometimes depression, so I am still working through a lot of that and always learning new healthy habits and coping mechanisms. I also have some physical struggles, and we are still in the process of healing my body. It's a journey but I'm getting there gradually! We took the entire year off of trying to get pregnant after 3 years of infertility and that was hard in ways, but honestly really good for me too! It was SO nice to stop over-thinking every food decision I made, and I was able to drink a glass of wine or have a margarita whenever I wanted, without worrying if I may be pregnant or not. No charting or worrying about my cycle. It was a very welcome mental and physical break!
I also worked a lot last year on being an open communicator with my husband. That is a surprisingly hard thing to do! You see, I am a "stuffer" and I tend to just be quiet about what I think until one day it all comes gushing out and I have a breakdown. That is super unhealthy, and it's something Chris and I have talked through a lot and have made huge strides to being better communicators with each other. It's a really hard, yet rewarding new habit to make.
Chris and I also celebrated ten years of marriage in 2016, and that seemed like such a crazy milestone! We have been through so much together, so many different stages of life, lived in so many different places, and had so many adventures together. I can't believe how fast it's all gone by. We also did a lot of dreaming of what we want for our future too!
Overall, 2016 was a year that had lots of ups and downs, and I am thankful for God's grace that always carries me through it all, no matter what. Cuddling my sweet kitty babies has brought so much healing and joy to my heart and having my best friend in the world at my side is something I have tried to never take for granted since not everyone is that lucky and blessed. Life is short and our time is precious so I am trying to always make the most of it! I am so thankful for my beautiful life, my loves, all the triumphs that happened during the year and am so looking forward to the adventures that await in 2017! 🙂