Today I want to share a great tip for how I keep my life more organized and efficient when it comes to buying a lot of the things we need around the house every month: Amazon Subscribe and Save!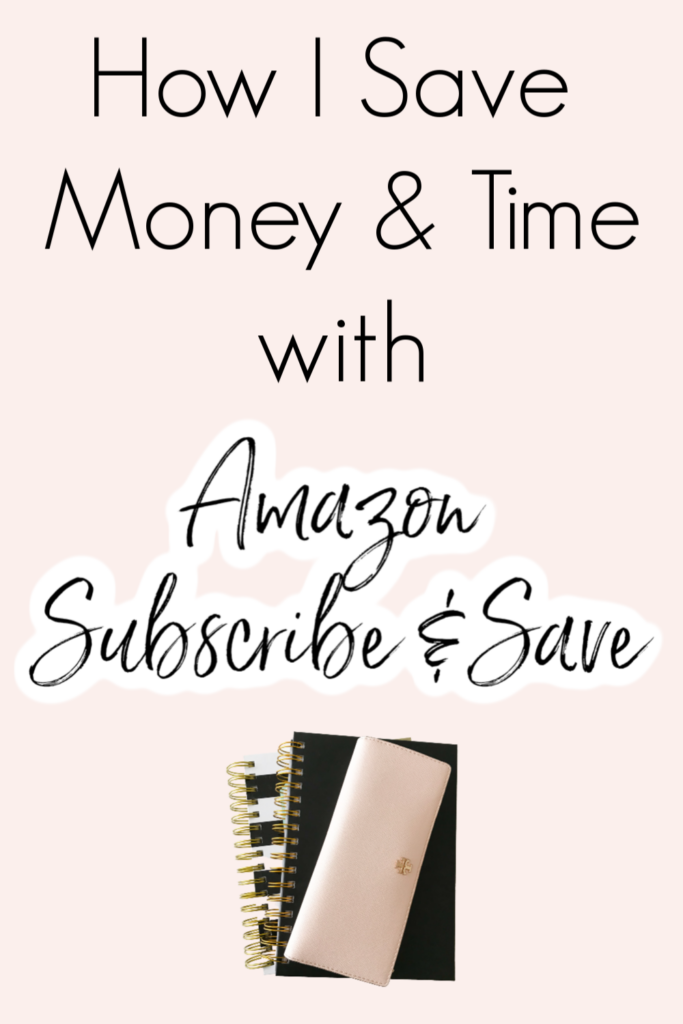 This post contains affiliate links, including Amazon. As am Amazon Associate, I earn from qualifying purchases. For more information, see my full disclosures here. This post is not sponsored. As always, I only share my honest opinion and have used and loved Amazon long before becoming an Amazon affiliate! 🙂
Amazon has been an obsession of ours for a while now, especially the super quick Prime shipping. Getting things delivered straight to your door in just a few days is completely life-changing! I love it.
For the last year, I have switched over to doing all my grocery and household good shopping just once a month. I used to go once a week. My entire Monday was always eaten up by running to a bunch of stores and sitting in traffic. I hated it!
Amazon subscribe and save is one of the helpful tools I have used to reclaim a lot of my time which had previously been taken up grocery shopping! A huge win in my book! Since I already shop on Amazon all the time, I was interested in trying out this service too.
The subscribe and save option is basically Amazon's version of auto-ship. You can choose any frequency between every 1-6 months, and when you get 5 or more qualifying items in a shipment, you will get savings of up to 15%. There's a brief video explaining how it works here!
Amazon actually has tons of snacks and household supplies which I already get every month, and when you choose the subscribe and save option, you end up saving quite a bit of money on top of their already pretty great prices! Here is what my next monthly delivery looks like: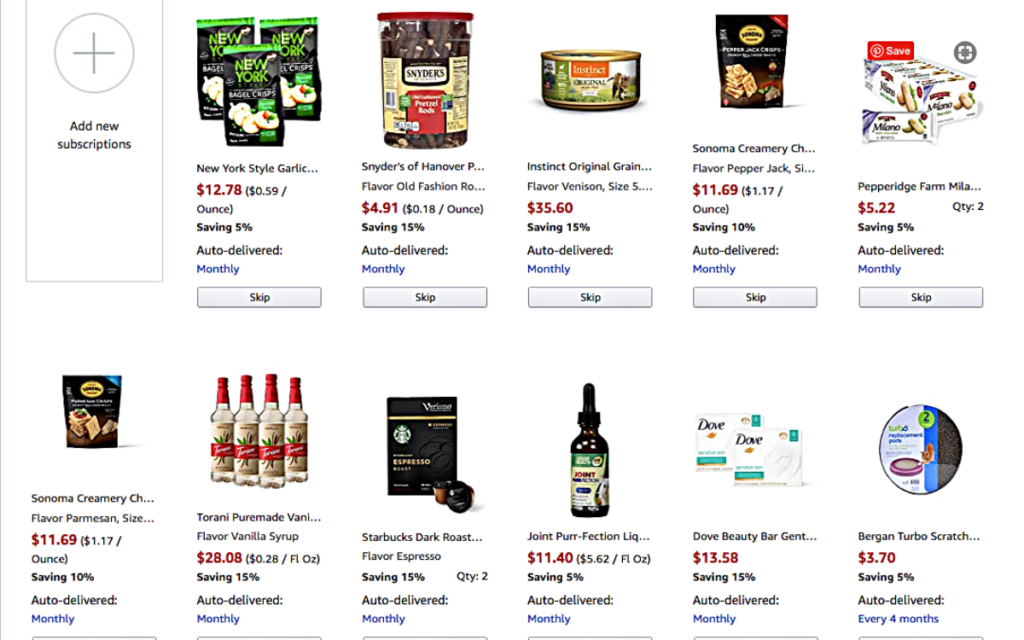 As you can see, each item in my next shipment has a range of savings from 5-15%. I'm not exactly sure why some are less or more than others. But the ones that are 15% off really add up to some great savings! For example, the wet cat food I get has a savings of at least $50/month and that really helps! I have since found it at a comparable price at a local pet store here, but I need to get such bulk amounts and it is hard to find that much on the shelf. Getting it delivered reliably to my door every month without hassle has been such a lifesaver! Especially since one of my cats is the pickiest EVER and running out of an item for him is literally a crisis in our house! That little stinker!
Getting a lot of the household products I need every month on Amazon has been super helpful too. Everything I get is already listed at my local grocery store prices, or lower. And then with the additional subscribe and save option, I save up to 15% more! I would advise being a savvy shopper though, as not every product is cheaper on Amazon, but many are. Paper products are one thing that is still cheaper at my local stores.
Every month I get a reminder email to review my upcoming delivery and make any necessary changes. It tells me when the last day to change things is. And what day my card will be charged. Super helpful! Then I will go in and decide if we need all the things that month. If we don't need something, I skip that item. You get to decide the frequency of how often things ship too, like every month or every two months, etc.
The short story is: I am a fan! If you also tend to get a lot of the same staples every month, you might like it too. Hooray for anything that makes life easier and more stress-free! So tell me, have you tried Amazon Subscribe & Save yet? I'd love to hear what you think if you have! 🙂
You can shop some of my fave finds below via my affiliate links: