More empties, this time all my face & body products!
Acure Argan Oil Cleansing Towelettes (x4!): So I am sure some people would be horrified to hear this, but these have been my main face washing product for a while now. On the nights I take my makeup off with only these, I use 2 of them. That's why I have gone through so many packets! It's not perfect, but right now it does a pretty good job while I wait for the new cleanser I bought to get here. These are GREAT for those nights where you are trying to be good and wash your makeup off, but are way too tired to do a whole skin regimen. My skin honestly looks better the morning after I use these than it tends to when I use facewash, which is very interesting to me. I have been wondering if it is the lack of water, because maybe my water isn't that great? Anyways, I plan to get a shower filter very soon which will hopefully help with skin issues too. I do alternate between using these and washing my face with the One Love Organics Vitamin B Cleansing Oil since that is what really helps my pore congestion. I will say more about that cleanser when it is empty! 🙂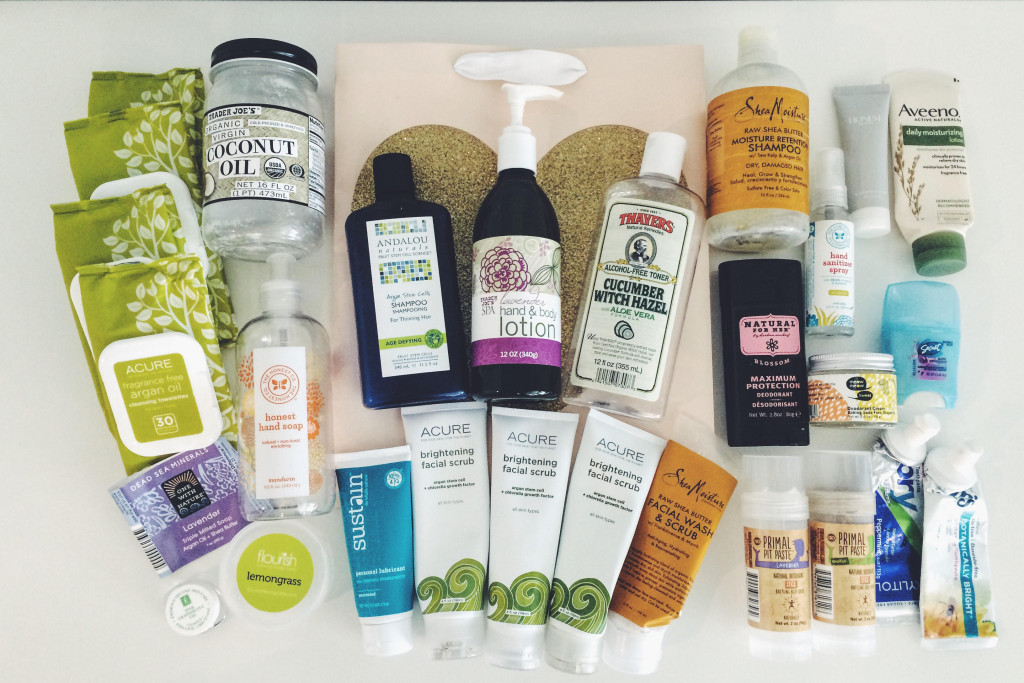 Trader Joes Organic Virgin Coconut Oil: For a good year or so I used coconut oil on my legs after I shaved to soothe and moisturize them and it works amazingly! I have since moved on to body butter, but I still highly recommend coconut oil for that purpose. This one did have the coconut scent which was nice, and it was only $6 at Trader Joes and lasted me forever!
The Honest Company Hand Soap in Mandarin: This hand soap smells so nice and I really liked it! However, it did dry out my hands quite a lot, which is what always seems to happen for me when I use liquid soaps. I usually like bar soap instead since I am washing my hands all the time, but it is nice to get pumps sometimes to have on hand for guests.
Flourish Lemongrass Body Scrub Sample: This sample was sent to me as a kind gesture since I let Flourish know that the pump on the spray conditioner I got from them wasn't working properly. (they also sent me a better pump) I thoroughly enjoyed using this! In fact, I think it spoiled me for life because it made me remember how amazing body scrubs are. My secret for the softest, smoothest legs ever is to use a body scrub on them first to exfoliate, shave and follow up with body butter. So silky! The lemongrass scent is the only thing I would change since I much prefer other scents, but I'm sure many people would enjoy it.
Eminence Organics Pink Grapefruit C-Gel Sample: Holy effective sample! This stuff knocked my socks off. I honestly can't remember which company added this sample to my order. You know a product is super promising when you are hooked after just a few uses from a sample. This is actually a moisturizer, but feels more like a gel/serum. I used it for several nights after washing my face and I loved how it felt. I also feel like it made a huge improvement in a breakout I was having in a very short time. It smells so refreshing, like grapefruit and mint, with a minty-fresh cool feeling. The combo of mint and grapefruit was very unexpected and unusual, but it totally works together actually. I just placed an order for the full size of this, and man was it pricy ($58)! But I have high expectations, so hopefully it delivers!
One With Nature Dead Sea Minerals Lavender Soap: I grabbed this soap at a Sprouts when I was out of town visiting family, since I forgot to bring a soap. It smells SO good and feels very moisturizing when you use it and doesn't dry out my hands like liquid soap.
Andalou Naturals Argan Stem Cells Age Defying Shampoo: I posted a little more about this shampoo (and conditioner) in my vitacost haul post here, and I finally finished the bottle. I would say it definitely does what it says it does, which is to help with hair loss, since I did see an improvement. But it is not my fave smell, and I am not sure yet if I will repurchase it in the future because of that. We'll see!
Trader Joes Lavender Hand & Body Lotion: I went through another bottle of this lotion, and I really like it a lot. It does have Phenoxyethanol in it, but it is pretty clean other than that!
Thayers Alcohol-free Cucumber Witch Hazel Toner: I tried another scent of Thayers Witch Hazel and it was nice, nothing bad to say about it except I still like the Rose one better and will stick to that one in the future! I feel like the Rose one is the most effective for my skin as well.
Shea Moisture Raw Shea Butter Moisture Retention Shampoo: Always a tried and true favorite! My hubby still uses this and we love it. I have talked about this shampoo like a million times already, so I will spare you, but check out my other beauty posts if you want to see more!
The Honest Company Hand Sanitizer Spray: Loved having this hand sanitizing spray in my purse for those germy moments being in public! (and I am totally a germaphobe, so it's a life-saver!) I don't think this one had any other scent than just the standard sanitizer smell. I have repurchased another since.
Honest Beauty Gel Cleanser Trial Size: I got the trial package from Honest Beauty when it launched, which came with several trial size skin care items. I tried to give this at least a week or two before I judged it, but I just didn't see much of a result in my skin and I really didn't care for the scent. It was very strong and somewhat..piney? Not sure, I think it may have been Vetiver or something like that. I would definitely tolerate certain smells if they did amazing things for my skin, but I just think other things will do more for me!
Aveeno Active Naturals Daily Moisturizing Lotion, Fragrance-Free: This lotion gets a rating of a 2 on EWG.org, which is a good score. It has some things in it that aren't the cleanest but I am ok with using it until I find a good natural hand lotion to replace it! I can never be without either lotion or chapstick, so I always have to have one in my purse!
Secret Deodorant in Lavender: So this one is my dirty little confession, but I wanted to include it here to be real and to show that it's ok if everything isn't perfect all the time! When we moved out here to Texas, it was really stressful as all moves are, and I ran out of my natural deodorant right in the middle of it, of course. Since it is so hard to find clean ones in stores, and I usually always buy mine online, I had to just grab a trial size of the conventional kind. And it made me happy to be sweat and stink free. It was honestly kind of a blow to my pride to do that though, since I haven't used conventional deodorants in like 2-3 years but I was proud of myself for getting over it! It wasn't the end of the world, and now I am back to natural. 🙂
Meow-Meow Tweet Baking-Soda Free Deodorant Cream in Grapefruit: Everyone has such great things to say about this deodorant, and this was my first time trying it. I REALLY wanted to like it, since I would love to find a deodorant without baking soda that actually works for me, but so far I have not had much luck. Boo. I am glad I gave it a while before deciding what I thought, because for the first week or two, I actually loved it and I thought it was super effective! But after those first weeks, it did not work anymore and just could not hold up to the super HOT, humid Texas summer days. I could definitely smell myself, and that is a deal-breaker to me! But, I am someone who does need a lot of odor and sweat protection, I know some people don't have as big of a problem.
Herban Cowboy Maximum Protection Deodorant in Blossom: Another deodorant that didn't work for me. To be fair, I did not fully understand the detox period back when I tried this, so I only gave it a few days and then couldn't handle that it didn't work. I did really like the Blossom scent. Because I found my fave Primal Pit Paste finally and I knew it WORKED, I didn't feel like giving this more of a try and going through the detox period.
Tom's of Maine Botanically Bright Peppermint Toothpaste: This is my go-to toothpaste. I was super proud when I found it, because it was really hard to find one that was both SLS and flouride-free, so I was so excited when Tom's launched this one! I like the Spearmint flavor the best. I have been able to find this in a few local stores, so that is exciting.
Spry Xylitol Peppermint Toothpaste: I got this toothpaste when I couldn't find my Tom's anywhere, and it's pretty good as well. Spry is a brand my mom buys, so I knew it was a pretty good one. One thing I was disappointed about though? I accidentally grabbed one with flouride first and had to go back and return it! I honestly didn't think Spry would make one with it in it, so I was kind of shocked. Shows you need to pay attention to your labels though!
Primal Pit Paste in Lavender & Primal Pit Paste Sensitive Pits in Coriander Sage (baking soda free): By now, everyone probably knows I LOVE my Lavender Primal Pit Paste, so that should come as no surprise! If you want to read more info, check out any of these posts here, here, and here! I also got the Sensitive Pits one this last time with the intention of using it on the days that I shave my underarms since I do struggle with irritation if I apply the regular one after shaving. I did not end up caring for the Sensitive one though. It was not as effective on me, tended to stain clothing a bit because of the color and I did not care for the smell. I finally found a good routine to help avoid irritation though, and so far that is doing the trick! On the days I shave, I apply a layer of The Honest Co Healing Balm first and then apply the Pit Paste. Yay for not being irritated and also getting the full protection of baking soda, win-win! 🙂
Shea Moisture Raw Shea Butter Facial Wash & Scrub: This is the first natural face scrub I bought for my hubs when he agreed to transition to natural ones. I thought it would be an easy win since we love the Shea Moisture Raw Shea Butter Shampoo, but the face wash just wasn't "scrubby" enough.
Acure Argan Stem Cell & Chlorella Growth Factor Brightening Facial Scrub: This was the next one we tried for him, and he ended up really liking it! I think it grew on him even more as time has gone by and he doesn't see the need to try any others. I also started trying this just this last month and LOVED it too! I saw such a difference in my skin with the exfoliation. I had been slacking on that recently since I thought my skin was too sensitive, but it shows that I really do better with it.
Sustain Personal Lubricant in Unscented: I debated whether or not to add this empty to my post, but then I thought: "what the heck?" Lots of people need to use lube, why not?! Until recently, I had never thought to question what ingredients are in the standard options and I found out there are parabens and other yucky things. I was excited to find the Sustain brand! Great alternative with totally clean ingredients, yay!
Have you tried any of these products? Love them, hate them, any suggestions of things I should try? I would love to hear you weigh in below! 🙂