The last of the empties huh? How's that for being mysterious?! Why is this my last empties post you ask? Well, honestly I have decided that they aren't my favorite way to highlight the products I have been loving recently. While waiting till a product is empty to give a review is a pretty good gauge of if it works for you or not, I would say I am disappointed more frequently than I am thrilled with the products I try. I don't think I am super picky or anything, but it is just kind of difficult to find new favorites in the world of mostly natural products. Not that any of them are bad per se, they just don't always work for me.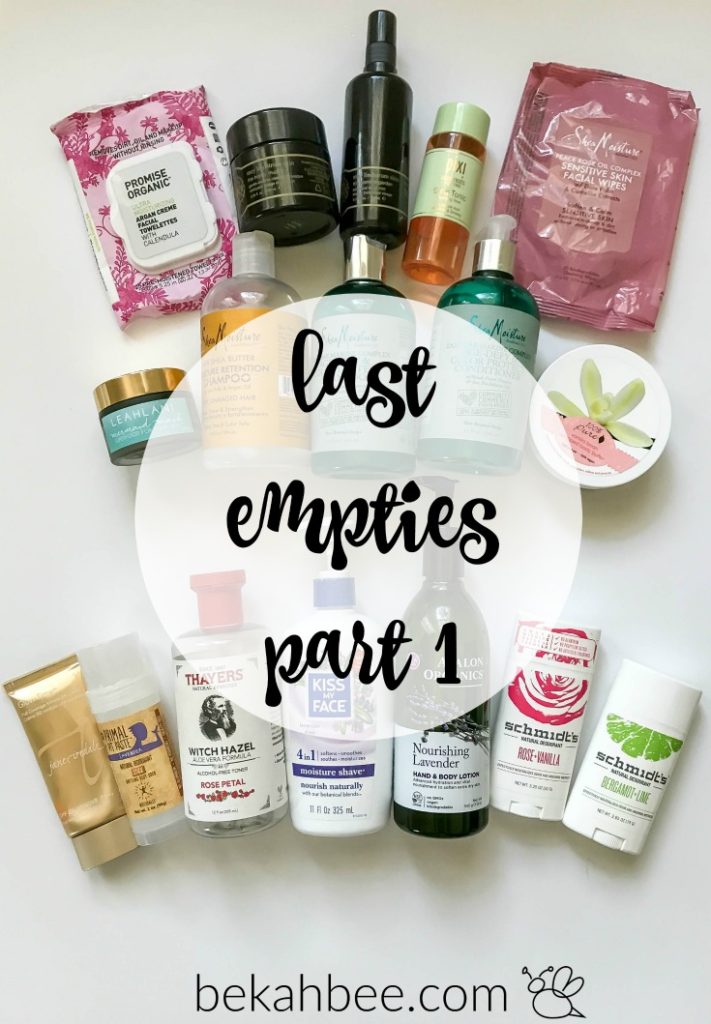 I like to focus more on the positives and wins than I do the fails. So…I am excited to start bringing Monthly Favorites to the blog instead! I love watching/reading monthly fave round-ups so I think they will be super fun to do. And then I will be sharing all the things I actually love! I think that will be a way more effective way to share the things I truly recommend. I am thinking of doing more than just beauty and skincare, but also lifestyle faves, books, shows, anything I am into at the moment each month. We will see!
Since I already had 2 bags full of empties over the last few months though, I felt like it would be a shame to waste the chance to give my feedback on them and what I thought. Just in case it might be helpful to anyone!
So, I rounded up all my current empties and divided it into two posts so it's not too overwhelming. Here ya go!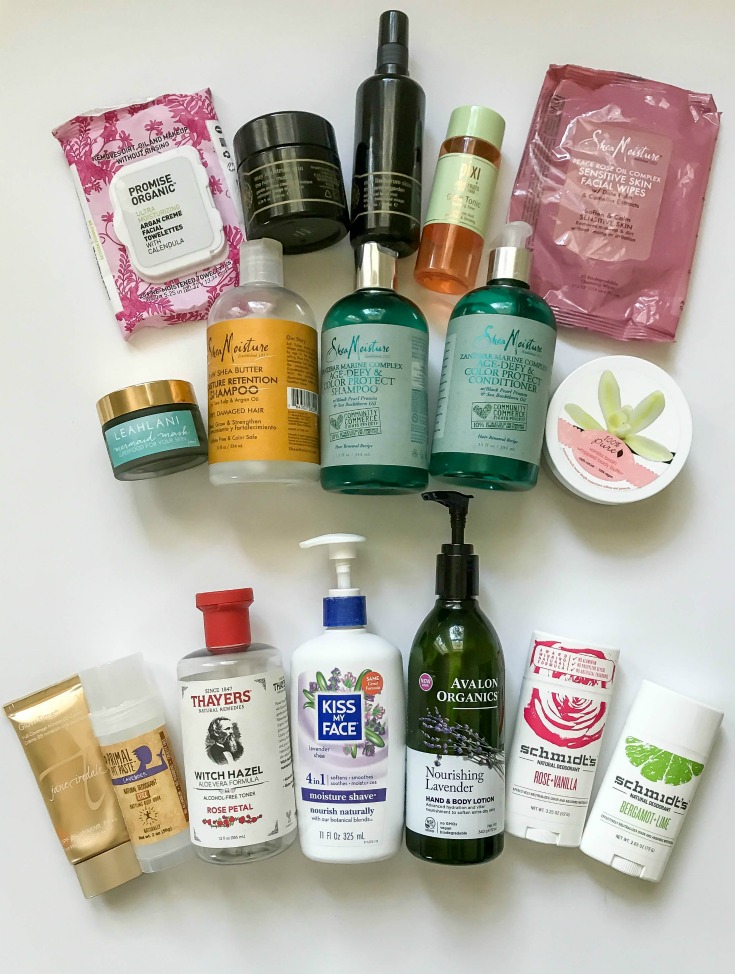 The first row from left to right:
Promise Organic Argan Creme Cleansing Towelettes: This is a CVS brand that I decided to try since I needed more makeup wipes and they didn't have my brand there. I did NOT care for them. They were not very moist at all and just didn't seem to be great for my skin.
May Lindstrom The Honey Mud: Fave, fave, fave! I plan to do a separate post about May Lindstrom products since they have been my favorite so far. I have tried quite a few of her products now, and the honey mud and jasmine garden below are my top faves!
May Lindstrom The Jasmine Garden: See above! Full post with more details will be coming soon.
Pixie Glow Tonic: This stuff is really great actually. It pretty much does what it says, which is to make you glow! On my second bottle, I seemed to have kind of plateaued on the benefits, but I am using it morning and night every day now per the advice of a YouTuber who says she saw the best results when using very regularly. We will see how that works out on my current bottle!
Shea Moisture Peace Rose Oil Sensitive Skin Cleansing Wipes: LOVE these. They are my new fave go-to makeup remover wipes. They are super gentle, never sting, and my skin seems to always look better the morning after I use these. I am pretty much in love with everything I have tried from the Peace Rose Oil line from Shea Moisture, and I love the smell!
The second row from left to right:
Leahlani Mermaid Mask: This one is tough for me. I think the founder of this line is absolutely lovely and I adore the packaging on everything. I just didn't find this mask to do anything noteworthy for my skin. I know lots of people love it though!
Shea Moisture Raw Shea Butter Moisture Retention Shampoo: The tried and true classic for me and the hubs. We both love it, and I keep coming back to it as my fave so far. Love the smell and love how well it cleans my hair.
Shea Moisture Zanzibar Marine Complex Age Defy and Color Protect Shampoo & Conditioner: You really can't go wrong with the Shea Moisture shampoos or conditioners, in my opinion. I LOVED the way that this scent smelled, very fresh and salty, like the ocean. My husband still preferred the raw shea scent more. It seemed to lather more easily than the raw shea one, but I feel like the overall effect on my hair is better with the raw Shea. The conditioner was just not moisturizing enough for me, but I am running into that problem with all natural conditioners. Still on the hunt for a very rich, nourishing one. Let me know if you have a fave I should try!
100 Percent Pure Vanilla Bean Whipped Body Butter: I am currently out of this stuff and miss it a ton! One of my top faves, I will definitely have to repurchase soon. Feels great and luscious on the skin and smells like cupcakes!
The third row from left to right:
Jane Iredale Full Coverage Mineral BB Cream in shade BB3: One of the natural foundations I always find myself going back and forth to. Awesome coverage, and almost a perfect color match. The only con for me is it is quite dewy and really needs to be set with powder, and there is a slight ghostly cast from the SPF. Still love it though. Last FOREVER. I think it lasted like a year or something crazy.
Primal Pit Paste Lavender: Really great. Used to be my top fave, but I developed some sensitivity to baking soda and am trying out other deodorants currently.
Thayers Witch Hazel in Rose Petal: Tried and true fave. Will keep repurchasing. I always use this as a toner and it helps a lot with redness. And I use it on my face in the morning, instead of washing my face. Is anyone else SO sad that they changed the packaging on this?? I used to love the pretty pink packaging and kept it out on my vanity tray. Not a huge fan of the new look.
Kiss my Face Moisture Shave in Lavender: This is a pretty great natural shaving cream. I liked it a lot but decided to get the unscented after this bottle and think I will stick with that for my sensitive skin.
Avalon Organics Nourishing Lavender Hand & Body Lotion: Really like this hand lotion and have repurchased it several times.
Schmidt's Natural Deodorant in Rose + Vanilla: This was my favorite deodorant I had found to date until just recently. I LOVE the smell of the rose one, it is my fave. And the odor control was actually better than primal pit paste for me, like perfect even at the end of the day. But..there are a few cons. I still get irritated under my arms from the baking soda and the color of this scent is very dark. I don't like how easy it is to get on my clothes, especially tank tops.
Schmidt's Natural Deodorant in Bergamot + Lime: I tried this one first and I did like it, I didn't get more irritation until I tried the rose one. Very cool that they just started carrying this line in Target! I am having a tough time with natural deodorant at the moment. The ones without baking soda don't ever seem to work for me to kill odor, and the ones with it keep irritating my armpits. I might try the Native one next or give the Schmidt's sensitive scents a try. Any suggestions?
Alrighty then, I'll be back soon with the second half of my last empties! Let me know if you have any thoughts or suggestions on these products or things I should try!