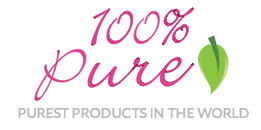 This post contains affiliate links. For more information, see my full disclosures here.
I first heard about this cool new company called 100% Pure probably a year or two ago but I took my time jumping on the bandwagon. As their name suggests, they are a completely natural and pure makeup company. All their colors are created using fruit pigments, which is super cool and they are also cruelty-free!
I love everything they stand for and the all natural ingredients got me really excited but…I don't know, I think I wanted to see more people review it before I knew if they would actually work you know? My BFF Rachel had tried a few of their products and totally loved them so I think that is what finally convinced me to dive in! I have ordered from them about 2 or 3 times now, so this is a compilation of all the products I have tried so far.